Wesfarmers' whopping takeover premium for Kidman puts value spotlight on lithium producers
---
The conglomerate's surprising decision to pay a 47% share price premium for half a lithium project which won't be in production for three years poses interesting questions about the upside for existing producers. Plus, New World Cobalt turns its hand to a promising gold-base metals project. And Vale, Sir Arvi.

There was lots to cheer about for the ASX-listed lithium stocks when Wesfarmers (WES) rolled out its $776 million, or $1.90 a share, friendly takeover bid for Kidman Resources (KDR).
First there was the 47% premium to Kidman's last sale, confirming what was said here last month that there was value to be had in the lithium stocks because the equity market had overdone last year's great sell-off in the sector.
The sell-off was a response to price pressure on the lithium ion battery material caused by lithium supplies temporarily getting ahead of the ability of the battery materials supply chain to absorb all the new production.
But that is temporary stuff. The entire battery materials supply chain is flat out expanding capacity to meet the wall of demand coming from the global revolution in electric vehicles and renewable energy storage.
Some of the lead lithium producers acted on that thematic well before Wesfarmers arrived on the scene, funnily enough arguing that it tries not to get seduced by a thematic or a trend.
It's why US group Albemarle bought a 50% stake in Mineral Resources' (MIN) Wodgina project $1.16 billion last year and why Chile's SQM bought a 50% stake in Kidman's Mt Holland project two years ago while Wesfarmers was sleeping for $150m.
Importantly for the rest of the lithium sector, Wesfarmers is not an incumbent in the industry. So there is now third-party recognition that WA's hard-rock lithium industry is the place to be as the EV and battery storage revolution unfolds.
It has be noted that the integrated Kidman-SQM Mt Holland project needs to have $1.2b spent on it to get into production by 2022 and that the Albemarle-MinRes joint venture is looking to spend $1.6b to make Wodgina a bigger and integrated business.
Run the see through values on all that – and take the Wesfarmers endorsement of the lithium thematic for what it is worth – and up pops some interesting valuation implications for some other lithium players, most notably the two existing lithium producers from separate parts of the Pilgangoora resource in the Pilbara – Pilbara Minerals (PLS) and Altura (AJM).
Pilbara popped 9% higher yesterday to 66c and Altura also gained 9% to 12c.
They might both work the Pilgangoora spodumene deposits but they are at very different positions. Pilbara is tracking towards full production from its stage 1 development while Altura is under pressure to recapitalise after project problems it is now overcoming.
Altura's weak financial position makes it an obvious acquisition target.
But then again, Pilbara is out there now looking for a buyer for a 20-49% stake in its project as a sure-fire way to make two more expansions of its project a reality. Maybe, just maybe, a buyer comes along and says thanks, but we'll take the lot at a Kidman-type premium.
New World Cobalt
Spare a thought for the cobalt explorers who rode with gusto the thematic that end-users in the lithium ion battery space would increasingly want alternatives to conflict and slave-labour sources of supply from the DRC.
The thematic drove prices for the battery ingredient to more than $US90,000/t before the rot set in early last year, pushing prices to below $US30,000t early this year before the recent rally to $US$34,000/t caused by BMW saying it too was looking for non-DRC supplies.
The magnitude of the price fall naturally enough pulled the rug on the share prices of the crop of ASX-listed cobalt explorers that popped up in response to the magic of $US90,000/t prices.
While most analysts reckon a further rally to around a longer-lasting $US40,000/t by next year is on the cards, investors couldn't care less at the moment.
So what is a cobalt explorer to do? Most are crying in their beer. The more get-up-and-go types have gone off and added a non-cobalt project to their portfolio while preserving their cobalt position for when the good times return.
New World Cobalt (NWC) is in the latter category. While it preserves and nudges along its Colson cobalt-copper project on the "Made in America" cobalt belt in Idaho, it has secured a low-cost option over 100% of the Jones Hill volcanogenic massive sulphide (VMS) deposit down in New Mexico.
For a $7m junior (1.2c share a share), it is a neat pick up given the high-grade nature of VMS deposits. It means big tonnages are not required to have a potential early cash flow opportunity. VMS deposits also tend to occur in clusters, so a starter development could be the "hub" for others.
There is a "historic" mineral resource estimate (not stock exchange compliant) at NWC's Jones Hill deposit pick up. It is 5.78mt grading 1.96g/t gold, 1.02% copper, 0.24% lead, 1.46% zinc and 21.4g/t silver. It gives a feel for why the company was attracted to the opportunity.
Lots of work to do before it has a project on its hands and the exploration upside is pinned down, but at least the company has been able to pull in $2.2m from an underwritten rights issue to get going on the opportunity.
Vale: Sir Arvi Parbo
It is hard to find a more respected and liked figure in the Australian resources industry in the past 50 years than Sir Arvi - call me Arvi - Parbo. It is because none can be found.
Sir Arvi died at his home in Melbourne's eastern suburbs on Wednesday morning and fittingly, his life and achievements were remembered at Thursday's luncheon meeting of the Melbourne Mining Club, of which he was the patron.
He was 93.
The immigrant from war-ravaged Europe was always as comfortable sharing a red wine or two in the side bar at Kalgoorlie's Palace Hotel as he was presiding over an annual meeting of the company he was synonymous with, Western Mining Corporation.
A fierce advocate of the good the industry did but also a critic of how poorly the industry sold that message, Sir Arvi was a disarming leader of an industry that has faced one challenge after another over the decades.
When the anti-nuclear campaign was in full flight a protestor threw a bag of alleged uranium "tailings" at Sir Arvi's feet while he was addressing a WMC annual meeting. "Thank you, I will put them on my bedside table tonight," Sir Arvi quipped.
As journalist and author Martin Summons said on news of Sir Arvi's passing, while he was commanding, he never intimidated.
Summons got to know Sir Arvi well between 2014-2018 while researching "Mandarins and Mavericks,'' a history of WMC published by Hardie Grant.
"At the outset, he waved an arm towards a raft of fat lever-arch files standing side-by-side and said: 'This is what I've collected and written about WMC. It's about a million words'."
Summons says he told Sir Arvi it would be impossible to get it all in to a 120,000-word book. "Do your best," Sir Arvi said.
"And do you mind if we use just first names?"
Summons says Sir Arvi was always convivial, proud of his home and garden in an unassuming way, conversational and rarely judgemental.
"He was sharp of mind, succinct in speech and not given to trifling talk. I'm the better for having had the opportunity to talk freely and closely with him during the writing of the WMC history. He was the constant, ever-reliable, go-to person."
So even well in to retirement from the upper echelons of the resources industry, Sir Arvi had not changed from his early arrival in the country, to his roles at WMC, Alcoa and BHP, and in to his later years.
And that's nice to know.
---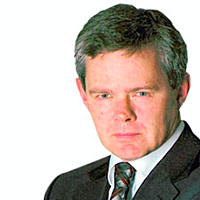 Principal
Independent Journalist
One of Australia's leading business journalists, Barry FitzGerald, highlights the issues, opportunities and challenges for small and mid-cap resources stocks, and most recently penned his column for The Australian newspaper.
Expertise