What does Modi's crushing victory mean for India?
---
Incumbent Prime Minister of India, Narendra Modi, swept to a significant victory as the National Democratic Alliance (NDA) captured an estimated 357 seats of the 543 seat Lower House (Lok Sabha). Modi's Bharatiya Janata Party (BJP) captured a majority on its own right (303 seats up from 282 in 2014).
Over the last 12 months the BJP and Modi have been criticized for their reforms given hardship for most of the rural population and small-medium enterprises operating India. This posed a serious threat to Modi's leadership of the country given GDP growth should have climbed above 8%.
Additionally, a banking system suffering from poor lending practices during India's last business cycle (2003-2010) and a revolving chair at the Central Bank, did not help the cause. However, since February this year, with the Government delivering a voter friendly budget which were full of handouts to rural and low-income India and swift action on the crisis with Pakistan (related to terrorism), sentiment towards Modi and the BJP Government shifted dramatically to a favourable bias. So much so that the victory was by a more resounding margin than 2014. Hard to believe when six months ago his faulty reforms were being thrown around both western and local media outlets as limiting India's growth potential.
The outcome of this election signals that there is no alternative to Modi's leadership, and he is perceived as most likely to take India forward. Most have voted for Modi given his hard-working ethos as an individual willing to roll up his sleeves to improve India over the long term.
With the election outcome now banked and another strong mandate for change, much will be expected in the next five-year term. India faces significant challenges in increasing its focus on manufacturing to drive jobs growth. Given an estimated one million people are turning 18 every month, we can expect close to 10 million to be added to the workforce every year. GDP is currently being driven by consumption and government spending. Looking forward, private investment and value-added exports must rise, to create jobs and drive growth higher, especially in an era of increasing automation.
Infrastructure development is also expected to reduce bottlenecks towards increasing urbanisation. It is expected 500 million people are likely to undertake a shift to from a rural location to a city over the next decade. However, this isn't possible without initiatives like the Smart Cities and Make in India projects and an ongoing push to develop roads, rail, electricity and power.
The BJP, in its campaign to voters, focused on expected infrastructure spending of US$1.5 trillion over the next five years. This will be a fillip for companies in Engineering, Construction, Capital Goods, Cement and ancillaries of those, benefitting from increasing use of under-used capacity. Capacity utilization, after peaking in 2011 at over 83%, is only now showing signs of some recovery at 76%. Indian corporates have spent the last decade deleveraging their balance sheets and are now in a good position to benefit from financial and operating leverage from rising demand. During the last business cycle, corporate earnings growth rose at an annualized pace above 20% per annum and this is very possible over Modi's next term.
Consumption will remain strong, despite weakening demand in the last two quarters. This is typical of pre-election behavior as corporates and consumers withhold purchases. However, the Central Bank is now in rate-cut mode (given high real interest rates and under control inflation) and with the Government's focus on improving rural welfare through income support, expenditure and crop price support, we are likely to witness a pick-up looking forward to 2020-21. This will accelerate if the Modi Government can leverage off greater financial inclusion through increased banking and smartphone penetration (rising from 21% to 39% in just five years). A rising tax base (12% to GDP versus a global average of 34%) to be delivered through the GST and increasing compliance as well as an asset divestment program will also help to fund the balance sheet for infrastructure development.
It is likely that Modi will continue to drive progressive reforms (there is acceptance of a J-curve on some of these) and therefore we are likely to witness an increase in private investment through rising corporate confidence both in India and globally. Over Modi's first term, the ease of doing business as stated by the World Bank has increased dramatically which has led to global businesses either shifting or considering shifting their manufacturing bases to India e.g. Samsung, Apple. These factors are likely to kick-start a new business cycle, driven by a rising share of GDP from manufacturing and exports.
Investing in India from a wealth perspective will prove extremely fruitful over the next two decades. The opportunity for listed Indian companies is significant given that a reform like GST and mass urbanisation will lead to a formalisation of the economy (a shift from unorganised to organised business). Additionally, India stands to gain from the trade war between the US and China, with US firms looking for a more cost-effective manufacturing hub and China looking for a broader set of trading partners.
Australian investors should sit up and take notice of these points given India's low correlation to their own economy – a point not missed by sovereign wealth funds of the commodity-producing Canada, Norway and the Middle East.
---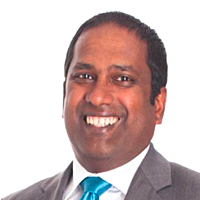 Managing Director
India Avenue
Mugunthan Siva is Managing Director of India Avenue, an Australian based boutique asset management company with offices in Sydney and Mumbai. He has over 25 years experience in Australia and is lead portfolio manager for the India Avenue Equity Fund.
Expertise