What's coming for Fintech lending in 2018
---
I have been active in the Alternative Finance (AltFi) sector since 2011 and have observed significant progress across lending, payments and fintech in general in the Australian market since then. 
I expect to see 3 key themes in the Australian AltFi market in 2018:
Continued Growth
The alternative finance industry had a strong period of growth last year as borrowers become increasingly aware that there are financing options outside of the banks. The 2nd Asia Pacific Region Alternative Finance Industry Report conducted by The University of Cambridge in conjunction with Monash University and Tsinghua University released in September 2017 showed 53.3% growth from 2015 to 2016 in the Australia Alternative Finance market.  The largest market sub segment was balance sheet business lending, followed by peer-to-peer (Marketplace) consumer lending, and invoice trading. Discussions with lenders across both consumer and SME sectors indicate higher growth rates for 2016-2017.
The loan enquiry levels across the sector have increased for lenders I have been in contact with. Continued growth is expected to increase across both consumer and business lending in 2018, as individuals and businesses become increasingly aware of the financing options they have outside of the banks.  Consumer and business awareness continues to increase as AltFi lenders continue to gain market share, albeit off a low base. Marketing efforts of some of the larger market participants in the space have assisted this awareness. Campaigns across mainstream television, radio and outdoor have ensured that the sector exposure has increased across both consumer and business lending.
Lenders can also gaining better access to debt capital markets predominately via specialist funds, and select industry funds, providing lending capital for their business. A strong capital position for a number of participants has allowed acceleration of marketing plans, knowing there is reduced settlement risk (due to a lack of funding) and subsequent book growth. 
Consolidation of Lenders
Several acquisitions are anticipated in the sector this year as larger players look to move into adjacent product verticals and smaller lenders combine books with the view to achieve scale. One announcement of a sale has been seen in the consumer lending space in January 2018. ASX announcements show Auswide Bank selling their 62.4% stake in MoneyPlace for a $1.1m gain (25% on written down value). The buyer has been disclosed to the market as Liberty. Stuart Stoyan the CEO of MoneyPlace has stated that MoneyPlace were attracted to Liberty by their ability to access capital markets for debt funding.
Transparency via Listings 
ASX listing of the larger players in the market is anticipated, as they look to build on their brands, access additional equity capital for growth, and provide a liquidity event for existing shareholders.    
The size of these floats will bring increased financial press around the sector, and greater transparency around the lending books and underlying financials for larger businesses in the sector.
Whilst open data will commence this year, and the likes of Macquarie are providing access to date, I expect the real benefits to commence in 2019.
2018 will be a big year for alternative finance, I look forward to keeping close to the major issues and developments as the year progresses.
AUTHOR BIOGRAPHY
Brett Craig | Director/Portfolio Manager
Brett is responsible for portfolio management and asset origination for the Aura High Yield SME Fund. Prior to joining Aura, Brett held a number of roles at Macquarie Group, Australia's largest investment bank over an 11 year period including Vice President role within the Debt Markets business where he focused on originating, structuring and distributing debt products primarily in the Australian market.
Brett is renowned as the first portfolio manager to originate, structure, negotiate and execute an Australian Bank Debt facility for an AltFi lender. Prior to the Debt Markets role Brett ran the financial management of the equity derivatives and loans book for the Metals and Energy Capital business. Brett holds a B.Comm from The University of Wollongong and is also a Chartered Accountant.
Disclaimer
This document is dated February 2018 and has been issued by Aura Funds Management Pty Ltd (ABN 96 607 158 814, AFSL Authorised Representative no. 1233893 of Aura Capital Pty Ltd AFSL no. 366 230, ABN 48 143 700 887) This document is for information purposes only and does not constitute an offer or invitation for the subscription, purchase or transfer of units in Aura High Yield SME (Fund). Accordingly, this document does not constitute an information memorandum, prospectus, offer document or similar document in respect of units or the Fund. This document is only directed at persons who are wholesale clients within the meaning of the Corporations Act. This document may not be made available to any retail client. Neither this document nor anything contained herein nor any presentation in connection with this document shall form the basis of any contract or any obligation of any kind whatsoever.
This document must not be distributed to any party without the express written consent of Aura Funds Management Pty Ltd. All information and opinions expressed herein are subject to change without notice. Neither Aura Funds Management Pty Ltd nor its affiliates, associates, directors, officers, agents, employees or advisers warrant the accuracy of the information provided in this document. The offer of units in the Fund will only be made in, or accompanied by, a copy of information offer document. This presentation contains only indicative terms. Investors should read the offer document, and in particular the risks section therein, before deciding to invest in any securities.
Every care has been exercised in compiling the information contained in this presentation.
Past performance cannot be used as an indicator of future returns. Information on taxation is for general information purposes only and cannot be construed as taxation advice.
---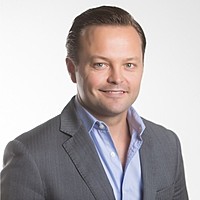 Head of Credit Funds
Aura Group
Brett is responsible for portfolio management and asset origination for the Aura High Yield SME Fund. He has over 15 years' experience in sales, origination and analysis of debt finance. More on the Fund https://bit.ly/AuraFunds
Expertise