What's next for our largest global position?
---
The European financial sector has offered a rare pocket of value globally, and has started to see buying in recent months. One of the largest global positions in our portfolio sits in this thematic, and has gained 27% year-to-date. In this short blog for Livewire we give an overview of our thesis for the stock, and what we expect going forward.
What is the stock?
Deutsche Boerse (ETR: DB1) is the dominant European exchange operator based in Germany, offering derivatives and cash equities trading as well as settlement, clearing and custodial services. The Eurex business offers the main trading and clearing services for futures and options contracts in Europe. The Clearstream business offers post-trade services for bonds, equities and other asset classes, along with custody services. The Market Data and Services business is an annuity-style service offering, providing information to key market participants.
How long have you held the stock?
We initiated our position in October 2016, on the back of share price weakness stemming from a depressed operating environment and European stability concerns. We continue to hold the stock.
What do you like about it?
We were attracted to Deutsche Boerse given its leading, defendable position in key markets through collateral positioning, scale and capital efficiencies. The company has a long history of fundamental operations yielding strong free cash flow and stable, growing dividends. The company has a predominantly fixed cost base, which leads to operating leverage from any potential improvement in cyclically depressed market dynamics – namely rising interest rates and cyclical volatility improvements.
How is it better than its competitors?
When we initiated our position, Deutsche Boerse was trading on a forward P/E multiple of 14.5x, representing a 20 – 30% discount to global peers. We believed this to be unjustified and more a reflection of sentiment towards the environment than a reflection of the company's fundamental value given its high quality operations.
What do you like about its management?
Despite a cyclically depressed operating environment in recent years, management have continued to reinvest in technology to improve their service offering and competitive position in the market. Since becoming CEO in 2015 after 12 years with Goldman Sachs as a managing director and partner and 2 years as sole CEO and Chairman of UBS Investment Bank, Carsten Kengeter has improved the organisational structure within the business and continues to focus on technology and operational excellence.
What is your target price?
We have a valuation above €95 per share.
At what point would you sell it?
We would look to reduce our position when the company exceeds what we consider to be fair value.
How much has it added (subtracted) to your overall portfolio over the last 12 months?
As at 30 May '17, Deutsche Boerse has contributed 1.94% to the portfolio.
Is it a liquid stock?
Yes, average daily volume traded over the last 3 months is in excess of 350,000 shares.
Where do you see the value?
We see value in Deutsche Boerse's strong market position and operating leverage to any increase in volatility and exchange volumes, and interest rate increases. There is value in the improving operational efficiency within the business, as well as improving returns to shareholders with the significant deleveraging of the company and as they continue to generate strong cash flow.
Find out more
Perpetual Equity Investment Company Limited (ASX: PIC) is a listed investment company providing exposure to an actively managed concentrated portfolio of ASX-listed stocks and up to 25% allocation to global stocks. To find out more click here.
---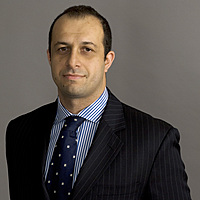 Deputy Head of Equities
Perpetual Asset Management (Australia)
Vince is the Deputy Head of Equities at Perpetual Asset Management Australia and is the Portfolio Manager for Australian Share, Geared Australian Share and the Perpetual Equity Investment Company Limited (ASX:PIC).
Expertise