What Telstra's proposed restructure means for shareholders
---
If you're a shareholder in Telstra (ASX:TLS), some good news could be on the horizon courtesy of the company's proposal to restructure its business. The restructure would split TLS into four distinct subsidiaries, and promises to boost the value of the company's diverse infrastructure assets.
Telstra is Australia's incumbent full-service telecommunications company offering consumers, businesses, enterprise and governments, fixed line and mobile telecommunications services through owned infrastructure. The company owns 58 data centres across Asia, Europe and the Americas, is also one of the largest operators of submarine cables in Asia with a core undersea network of over 400,000km, owns almost one-third of pay-TV company Foxtel, and through four Telstra teleports, provides access to 60 satellites.
It's really been a boring investment, for many shareholders since it listed just ahead of the DotCom bubble in 1999.
But a transformation is afoot. This week Telstra announced a further step in its T22 restructuring plan. Telstra will swap shareholders' existing shares in the company for a like-for-like stake in a new holding entity called Telstra Group, subject to shareholder approval at TLS's October 2021 AGM (Figure 1.).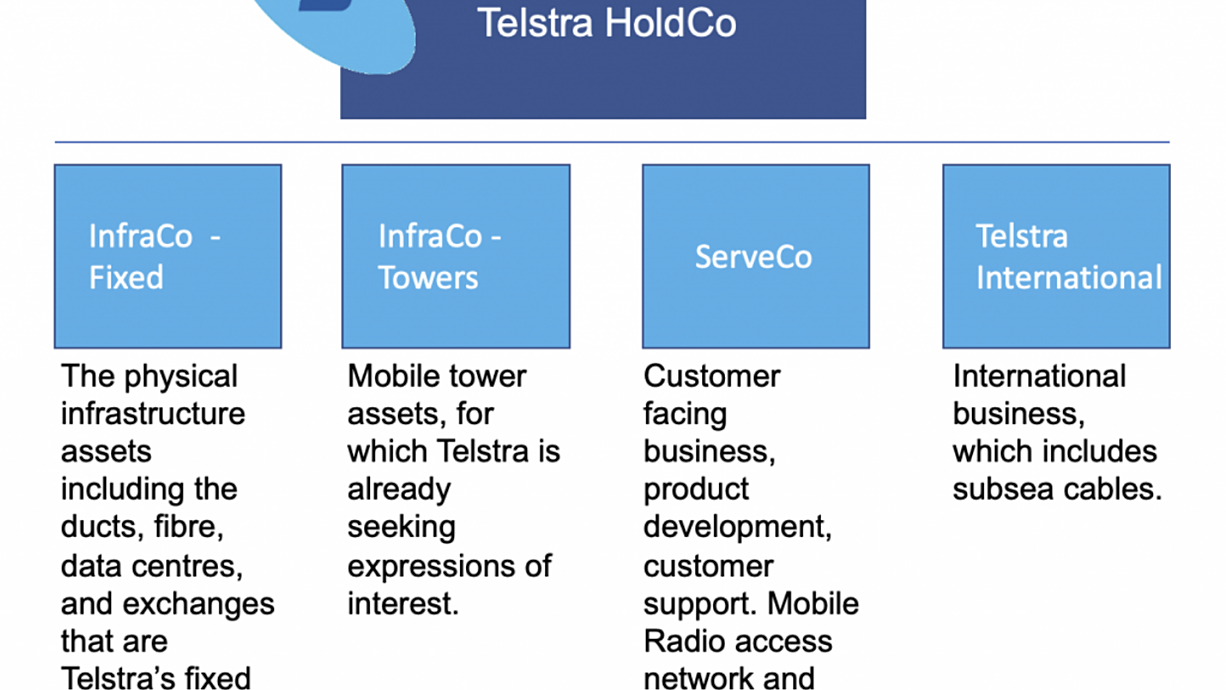 The existing Telstra will form the basis of InfraCo Fixed Assets which will then be transferred to the other subsidiaries by way of a scheme of arrangement.
The legal restructure with four distinct subsidiaries represents a refinement of an earlier plan for the company to separate into three entities. Principally, the planned separation enables the company to achieve a higher market value for its infrastructure assets. A potential monetisation of InfraCo Towers is already on the cards with the company seeking proposals including indicative, followed by binding, offers by the end of the year.
NBN Co
It has long been part of our thesis for owning Telstra that it could one day have a seat at the table of any sale by the government of NBN Co. In the past both sides of politics have indicated they do not wish to own NBN Co at the end of the current term. That subject was front of mind for many analysts, with the company reiterating this week:
"To contemplate a business combination with NBN at a future point in time, it would probably require a more substantive delinking of InfraCo Fixed and the Telstra Group as we would need to be not vertically integrated."
This is in keeping with Federal Minister for Communications, Paul Fletcher's, comments in 2019, when he said he can't "see any scenario" where the national broadband network could be sold to Telstra after construction of the NBN is completed in 2020, noting any sale would be prevented by the legislation that established the NBN to avoid the formation of a monopoly.
In 2019, according to the Sydney Morning Herald, Paul Fletcher said the NBN Co policy structure meant Telstra, or any other "vertically integrated telco" would be prevented from acquiring the network, effectively preventing any organisation that provides retail network services from acquiring the wholesale network.
Telstra's InfraCo is the division in charge of the company's fixed infrastructure, which includes connection pits and ducts, and these are presently leased to the NBN.
In order to be able to bid for NBNCo, Telstra would need to demerge its fixed-line telecoms business.
We believe the most recent restructuring steps do indeed give shareholders the ability to realise greater value for the company's infrastructure assets. We have written extensively about our view that low interest rates have set large pension funds, for example, on the path to acquire boring annuity style income streams.
We also believe, however, an ability to potentially bid for NBN Co is a welcome and somewhat predictable bonus. Telstra's Andy Penn was quoted saying, "I just want to make the point clear … buying the NBN is not necessarily our end-game," adding, "We'd be doing this [restructuring] in any event."
For the government it's deJa vu; selling NBNCo is just selling Telstra 2.0. And Telstra buying NBN Co neatly closes the government's foray into telecommunications.
Investment candidate?
We believe our investment in Telstra remains attractive, not least because of its lower beta compared to unprofitable growth stocks in a world of rising long bond rates and steepening yield curves.
Andy Penn's cost out strategy remains on track if not ahead of schedule. This was a major requirement to plug the revenue gap left after government compensation, for customers leaving Telstra's copper network to join the NBN, ran out. Pessimism about filling that gap was one of the major reasons we were able to begin acquiring Telstra towards $2.75.
The rollout and take-up of 5G remains a massive competitive reset for the telecommunications sector and Telstra will have the broadest network allowing it to convert those customers it retained (by price cutting during the period of intense mobile competition) to higher priced packages and therefore higher ARPU (Average Revenue Per User). 65 per cent of the company's EBITDA comes from mobile and fixed services.
Following the restructure analysts will also be better able to value the company on a sum of the parts basis, particularly InfraCo assets.
---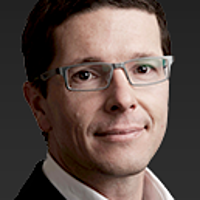 Chief Investment Officer
Montgomery Investment Management
Roger Montgomery founded Montgomery Investment Management, www.montinvest.com in 2010. Roger brings more than two decades of investment, financial market experience and knowledge. Roger also authored the best-selling investment book, Value.able.
Expertise