When beaten up companies change - the changing landscape of Sony Corporation
---
When Sony's co-Founder, Akio Morita, passed away in 1999 there was no forewarning of how bad things would become. The company he had built over 50 years had grown to be one of the most successful and admired companies in the world. It's value had grown to ¥13 trillion (US$120 billion), tripling in the last year alone.
For much of the next two decades, Sony struggled as technology shifted. Sony's music business was hit by digital piracy and iTunes enabling single song downloads ("breaking" the album). At the same time, Sony's camera business suffered as smartphones were substituted for cameras. Its mobile business failed in spectacular fashion, and its Vaio computer business declined and was sold in 2014. And to top it all off an earthquake devastated its image sensor factory in 2016. A shareholder who invested in Sony in 2000 lost more than 80% of their capital over the next 15 years while the market was up 40% (in Yen).
But the tide turned for Sony in 2017, with subtle changes at first - that are now gaining pace across its main businesses. Music. Sony is the #1 music publisher globally and the #2 music label. US music sales fell from $14 billion in 2000 to just $3 billion in 2017. But now technology is moving in Sony's favour as consumers have started paying for streaming services like Spotify and Apple Music. In 2016, for the first time US consumers paid more for streaming than for CDs and music downloads and the recorded music market has started growing again. Sony's Music business has doubled earnings in 4 years. Image sensors. Sony is the global leader in image sensors, enabling cameras in smartphones and other electronics. It has over 50% market share. This business is growing rapidly even without smartphone growth as phones move to two and soon three rear-facing cameras.
Games is Sony's largest business. Sony owns the dominant gaming platform, with its PlayStation console at double the market share of its competitor Microsoft Xbox. Once a cyclical business, with hardware sales fluctuating with each generation of PlayStation, the profile of the business has changed. Game sales have transitioned online with over 40% of games sold today being downloaded directly. Sony receives 30% of every digital sale (of both games and in-game purchases) - about double the royalty it earns on physical software. Its games division grew 36% last quarter and profit jumped despite being in the mature phase of its console cycle.
A comparison with Netflix and Spotify contrasts how the market can take a very different view on certain businesses. Sony trades on 14x earnings. Sony's gaming business revenues and profit are 30% larger than all of Netflix and excluding hardware, is growing just as fast. Its business model is similar: It has 34 million users paying a monthly subscription for PlayStation Plus to play online, an installed base of 80 million console users regularly downloading new content or digital items, and it makes its own gaming titles for exclusive distribution (just like Netflix). If Sony's gaming business was valued on Netflix's multiple it would be worth US$200 billion or over three times the current market value of all of Sony. Sony's music business is larger than Spotify and highly profitable. Using a revenue multiple (because Spotify is losing money) Sony's music business alone is worth around US$40 billion or 60% of Sony's value. So together gaming and music would be four times Sony's current value, and you get the other 45% of non-gaming/music earnings for free.
Sony's outlook started improving in January 2017. We invested in June 2017, and by that time estimates had already increased 12%. But when a company with Sony's chequered history improves the market is usually slow to react; since investing estimates are up another 70% with the share price increasing 50%. Markets only gradually recognise a trend change such as we have witnessed at Sony.
---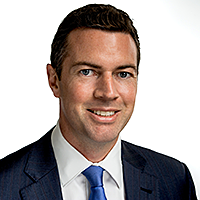 Portfolio Manager
Alphinity Investment Management
Lachlan is a Global Portfolio Manager of Alphinity Investment Management. His focus is on the Technology, Communication Services and Utilities sectors, as well as portfolio management oversight. Lachlan was previously a senior member of Platinum...
Expertise