Where can I buy the next Westfield?
---
Westfield is a name all Australians know well. The company originated in 1959 and was floated in 1960 and now has operations in the US, UK and New Zealand as well as small operations in Europe and Latin America. In 2014 the Group split into two independent companies called Scentre Group operating the Australia and New Zealand Westfield Shopping Centre portfolio; and Westfield Corporation, which operates the US and UK portfolios.
The prime focus for the company was development, design, construction, property management, leasing and marketing activities. The company benefitted from Australia's retail industry growing to A$330bn at a pace of 3.1% (over the last 5 years). Additionally, Australia is predominantly urbanised, largely "organised" in retailing  and we have a high GDP per capita (above US$55,000) – all of which are highly conducive to mall style retailing.
However, looking forward, Australia's retail sales growth has been slowing given higher levels of household debt, lack of wage growth, therefore lower growth in GDP per capita and alternative modes of retailing emerging, which is leading to disruption, competition and a more challenging environment. An investment in Scentre Group has led to approximately a 0% return, when accounting for share price growth and dividends, since 2016.
Now let's switch our attention to another country where the environment is very different. India has significant differences to Australia in the size of its population, level of urbanisation, GDP per capita and organised retailing. India is forecast to be a consumption economy of US$4tn by 2025[1], the third largest in the world. The retail market should be approaching US$1.7tn by this date from just over US$1tn now (with a growth rate of 13%)[2]. Yes that's USD and in trillions!
India's population is over 1.3 billion, with an average age of 29 relative to Australia's 40
Over 50% of Indian's still live in rural areas, with rapid urbanisation to occur over the next two decades (300m over the next 30 years – by 2050 it is forecast that India, China and Nigeria account for 35% of the world's urban population)[3].
Organised retailing is still only 12% of India's overall retail market
GDP per capita is just over US$2,100, but set to grow rapidly, particularly given its low base
One company which is at the epicentre of land ownership, mall development and entertainment complexes is Phoenix Mills (coincidentally listed at a similar time in 1959 on India's stock exchange). The group is involved in all the same activities as Westfield and has real estate assets in India's fast-growing cities of Mumbai, Bengaluru, Chennai, Pune, Agra, Indore, Lucknow, Barielly and Ahmedabad.
In terms of retail space, the company is growing its presence from 6 to 12 million square feet. This development is occurring given India's retail sales growth is in low double digits compared to other geographies like Australia (2%)[4]. Most of the rest of Asia is experiencing retail sales growth of 4-8% i.e. China, Vietnam, Philippines and Indonesia.
India's retail market is now extending to significant growth from its Tier II and III cities also. As internet penetration rises and more international retailers start operating in India, the share of organised retail is expected to reach 22-25% by 2021[5]. Leveraged by development, augmentation and modernisation of infrastructure in major Indian cities, the scope of retail has increased in the economy.
Phoenix Mills stock price has increased from Rs.324 to Rs.888 over the same six-year period since the split in the Westfield business. Meanwhile Scentre has had a price rise from $3.08 to $3.79, with its returns primarily being driven by its 6% dividend yield.
The chart below illustrates the growth opportunity which stands before both companies, given the regions they operate in. To a large degree the same parallel can be drawn between the Indian stock market and the Australian stock market going forward as the success of these companies is based on urbanisation, shift to organised retailing, wealth and demographics.
Fundamental data below illustrate again the key differences between the opportunity and the companies. The Indian company has a higher ROE and strong earnings growth, which places it on a higher valuation. Ultimately it depends on whether you search for growth or search for yield. On a PEG basis the Indian opportunity appears more attractive given the longevity of the demographics at play – and it's just getting started!

Source: Refinitiv consensus date

Importantly, India's landscape for retail is uniquely different to Australia's. Indian's have limited scope of entertainment available to them given lack of land resources and population density. This means that malls are a major source of entertainment and lifestyle. Perhaps the thought process we apply in stock selection in developed economies need a fresh set of eyes when considering the potential of emerging market companies operating in a totally different volume-driven aspirant ecosystem. Active management and a local presence on the ground in India allows us to identify names like Phoenix Mills which cannot be found in any ETF or large cap index. 
---
---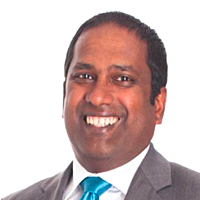 Managing Director
India Avenue
Mugunthan Siva is Managing Director of India Avenue, an Australian based boutique asset management company with offices in Sydney and Mumbai. He has over 25 years experience in Australia and is lead portfolio manager for the India Avenue Equity Fund.
Expertise