Where Livewire readers are investing in 2022
---
It still hasn't quite hit me that it is 2022. From what I can see, isolating in my apartment, the streets seem eerily quiet, an unwelcome flashback to the early months of the pandemic; an awfully rude hiccup in what was meant to be a better year than the two before. 
Who could have guessed that Australia would be reporting a daily total of nearly 65,000 new infections in the first few days of 2022? Or that thousands would have to spend Christmas and New Year in isolation? Or that rapid tests would fly off the shelves and become a political pain point? 
It's difficult to predict what could happen in our communities and cities, let alone hazard a guess at how international and local markets could perform over the 12 months ahead. But they say there is strength in numbers. Which we certainly have.
This year, more than 4,100 readers responded to Livewire's 2022 Outlook Series Survey - our annual survey which over the years has become the biggest (and ahem, best) survey of investors down under. 
In this wire, I'll review the results. You'll get a sense of what respondents are confident in and what they are nervous about, which megatrends they think will dominate 2022, the headwinds they expect will push investors about, and a good deal more.
For instance, of those that responded, 30.4% were feeling bearish about risk assets (namely, equities) over the months ahead, noting they would be reducing their exposure in 2022. Meantime, 37.1% were happy to sit on the sidelines, waiting to see what comes next, while 17.8% said they would be ready to pick up the stocks that the first group are selling out of (a reminder that one man's trash can be another's treasure). 
Our readers also reveal what headwinds they will be watching for over the coming 12 months, as well as the asset classes they will be adding to in this prickly environment. Plus, readers say house prices will outperform bitcoin in 2022... but only just. 
Survey quick stats
4,140 responses
30.4% were feeling bearish on the equity market, while 17.8% were feeling bullish. 
60.5% believe the RBA will lift rates in 2022.
Inflation, COVID variants and the removal of stimulus were identified as the three biggest headwinds facing markets this year. 
Aussie equities, global equities and infrastructure were the three asset classes in which readers revealed they would be increasing their exposure over the next 12 months. Corporate bonds and private debt received the fewest votes.  
Readers are feeling cautiously pessimistic about markets this year...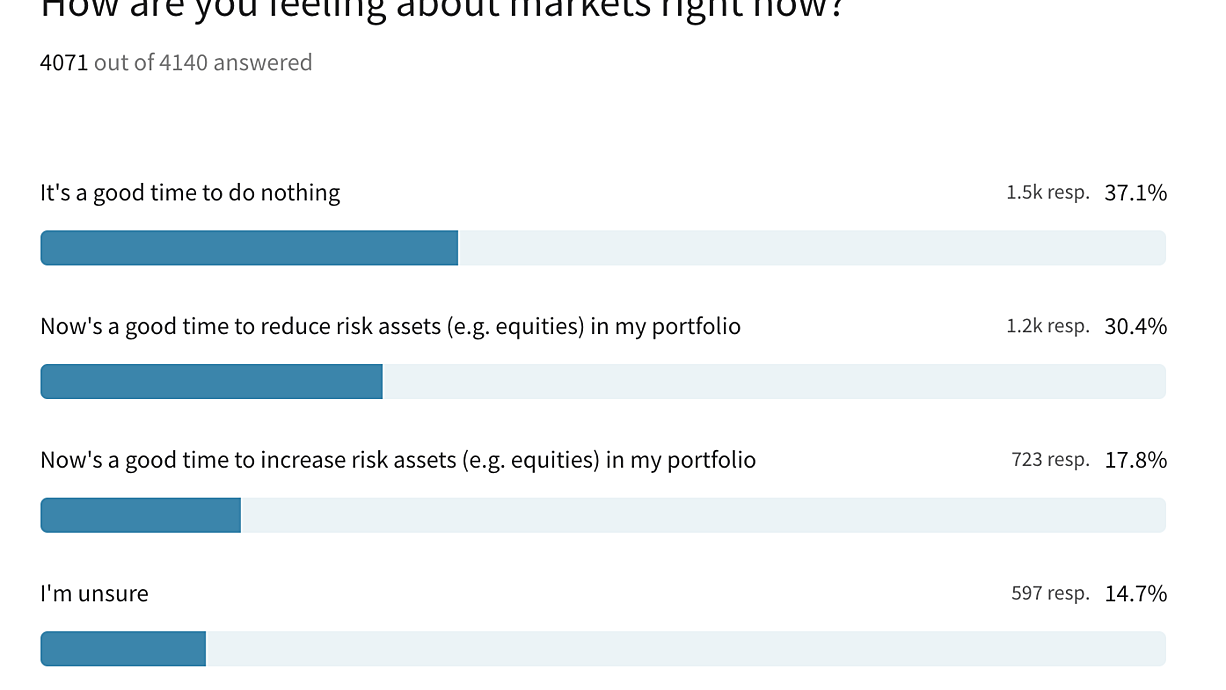 Gone are the days of feeling "cautiously optimistic" about markets. Now it seems cautiously pessimistic is the new black, with more than 30% of our respondents feeling bearish on markets, and believing now is a good time to reduce their exposure to equities.
And while the majority of our readers are happy to sit on the fence (37.1%), patiently waiting to see 2022 pass them by, a further 14.7% are unsure of how they are feeling about markets. 
Just 17.8% are feeling bullish about equities right now, or just short of 1 in 5 people. When we asked you the same question last year, nearly 40% of our readers said they would be adding to their equity exposures over the months ahead (which was the correct decision, good on you). 
... So it makes sense then, that they think the RBA will hike the cash rate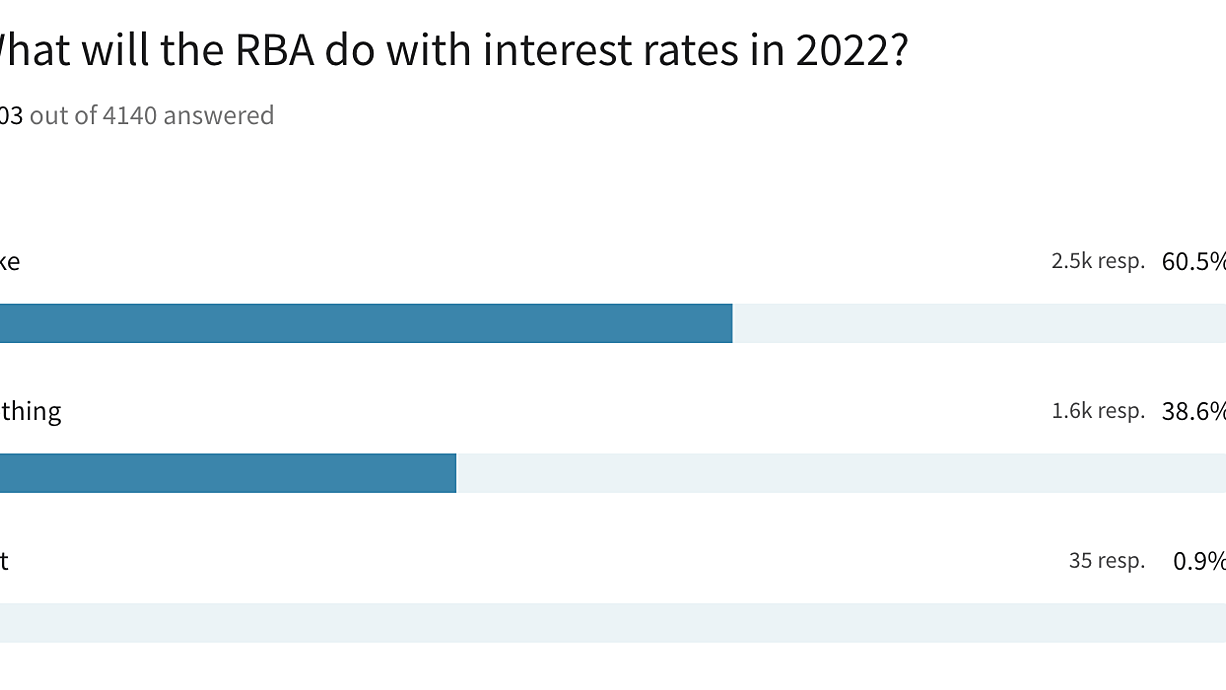 The majority of our readers believe the RBA will lift interest rates from record lows in 2022, despite the RBA itself remaining steadfast that the cash rate won't rise over the 12 months ahead. 

Meantime, nearly 39% of respondents believe the RBA will do nothing in 2022, maintaining interest rates at just 0.1%. Just 35 respondents said the RBA will cut interest rates in 2022. But how low can Phil Lowe go? 
Adding fuel to the fire, 65.7% believe the yield on US 10 Year Treasuries will rise - which is not great for equities (and growth stocks in particular)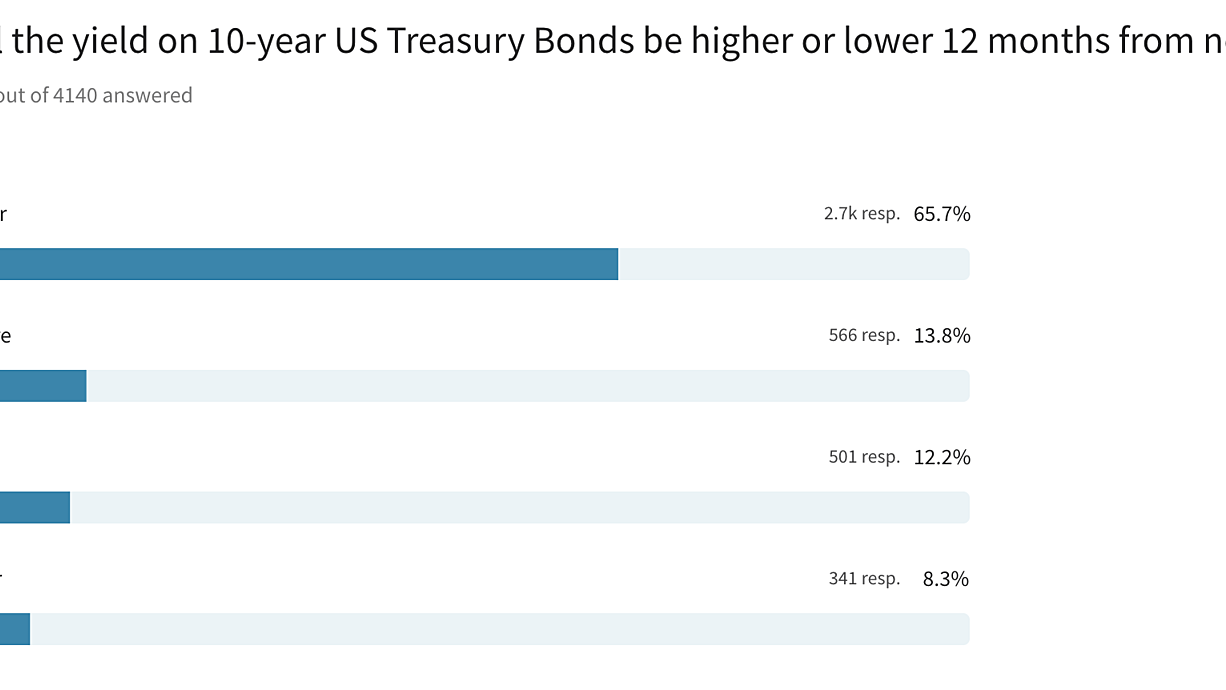 All of these predictions so far are not painting a great (or good, even) picture for equities in 2022. Perhaps worse still, nearly 66% of readers believe the yield on US 10 Year Treasuries - the benchmark against what most asset classes are measured, often dubbed the "risk-free rate of return" - will continue to rise over the coming 12 months. 
For those who are unaware, this is NOT GOOD for equities, particularly not growth stocks (as well as stocks with high levels of debt). However, it may be better for cyclical stocks - for example, financials, energy companies etc. 
Square loses this round... but wins the battle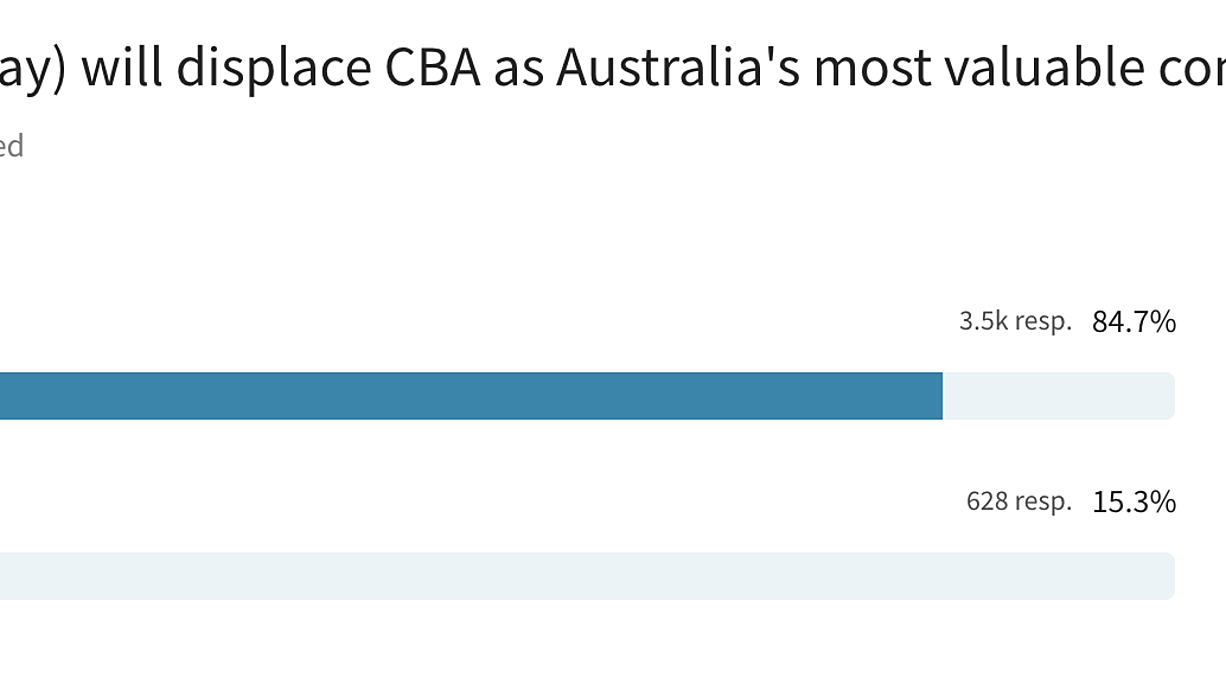 With a market capitalisation of US$83.64 billion, compared to the Commonwealth Bank's $172.34, readers agree it is highly unlikely that Square (now Block Inc) will usurp Australia's biggest bank in 2022 - even after the acquisition of Afterpay is complete. 
While Block Inc may have lost this round, in reality, it has won the battle. The value of its now-legendary takeover of Afterpay has been falling with its share price (thanks to the fintech's all-scrip deal). In fact, the weakness in Block's share price now values the deal at $85.36 per share, a 1.78% premium from where Afterpay finished trading on Tuesday (and a 32.4% discount from the original $126.21 per share deal that got investors excited to begin with). Bargain. 
Most of Livewire's readers are betting on the house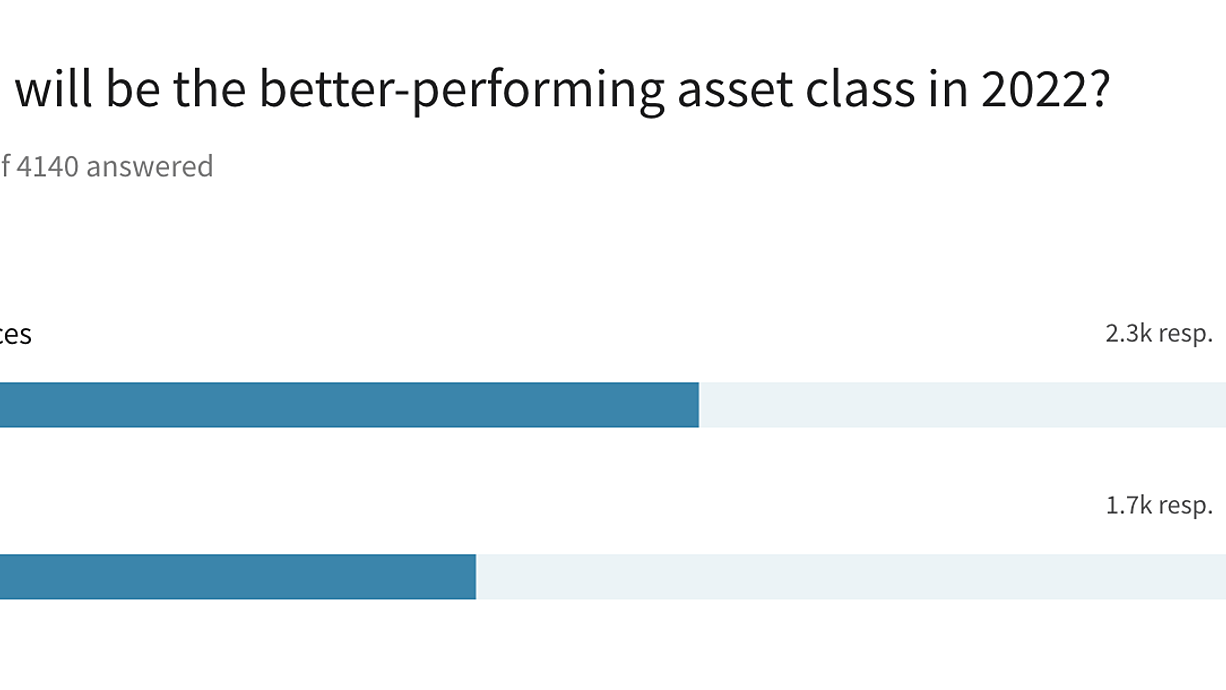 A bit of a fun one. This year, we asked our readers what asset class will perform better in 2022 - and house prices took out the top gong, but only just. While 57.7% of respondents believed real estate will continue on its upward trajectory, 42.3% said bitcoin would outperform. 
Interestingly, Bitcoin returned around 57% (in AUD) in 2021, while house prices in Australia lifted around 22% (according to CoreLogic) over the same period. 
Inflation is the biggest headwind facing markets...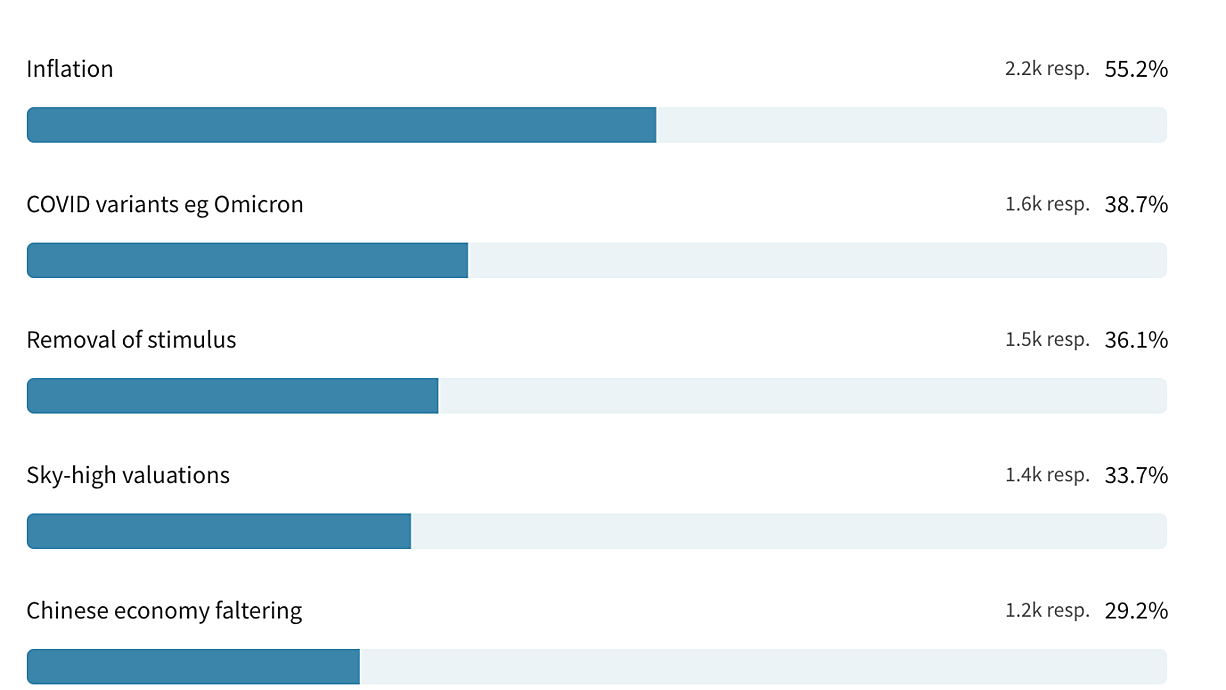 Just like that Kylie Minogue song, investors can't get inflation out of their heads. In fact, 55.2% of our respondents said inflation would be the strongest headwind facing markets in 2022, far more than the removal of stimulus (36.1%), sky-high valuations (33.7%), or a faltering Chinese economy (29.2%). 
Slightly less threatening to the market outlook than inflation, but still high up on investors' watchlists was the risk of new COVID variants (or well-established ones, like Omicron) at 38.7%. That said, we collated answers for this survey in mid-December when Omicron felt more like a distant threat. 
Investors are going green...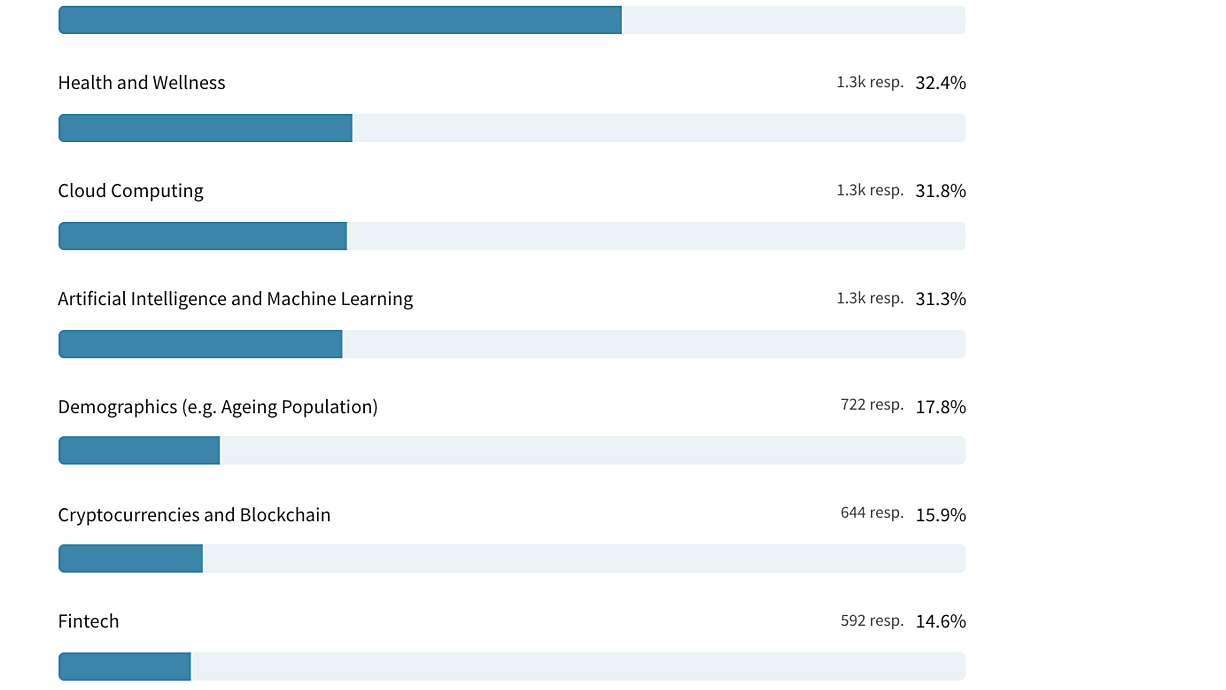 Decarbonisation received the most votes from readers as a megatrend they will be adding to their portfolios in 2022. More than 62% of our respondents said they would be allocating funds towards ideas like ESG investing, electric vehicles and renewable energy, practically double that of the next most popular theme - health and wellness. 
Speaking of health and wellness, this megatrend, as well as cloud computing, and AI and machine learning, received similar levels of interest from our readers (around the 30% mark). Meantime, virtual reality and the metaverse were far less popular (take that, Zuckerberg). 
... but are sitting on the fence when it comes to ESG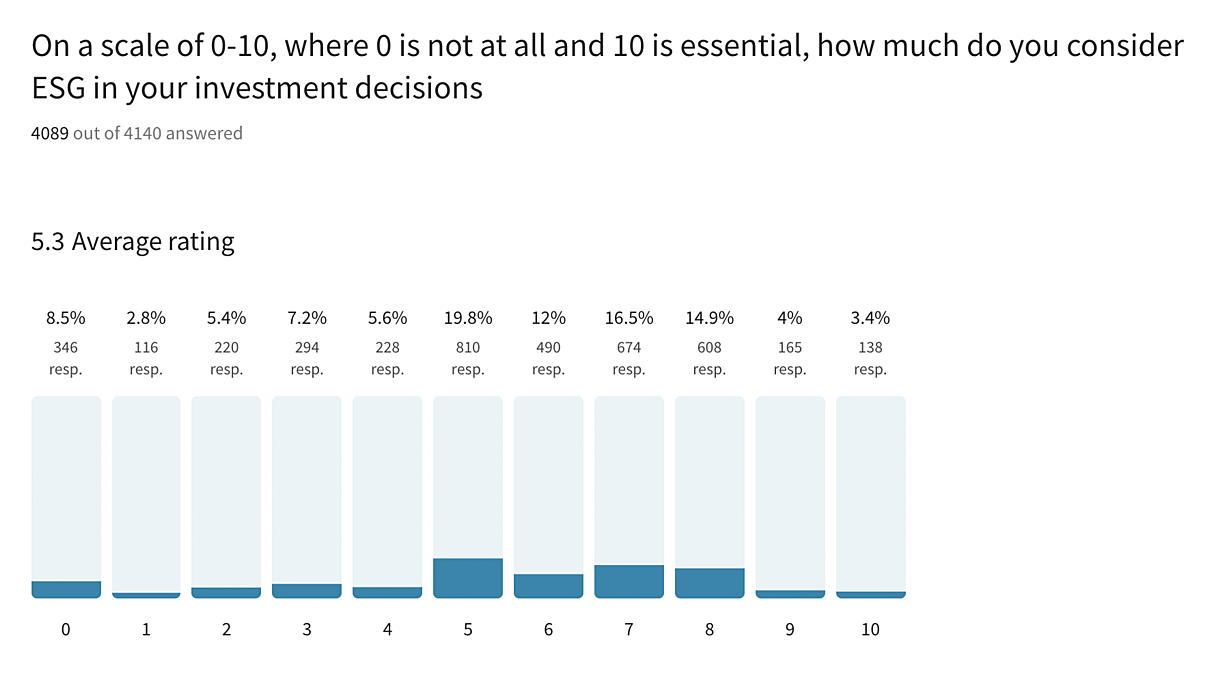 In keeping with readers' desire to invest in decarbonisation, there was evidence of a growing commitment to ESG, with more than 60% rating it between 5 and 8 out of 10 in importance. (We also note a not insignificant group opting for a zero of a different kind altogether.)

Equities win the lion's share of investors' funds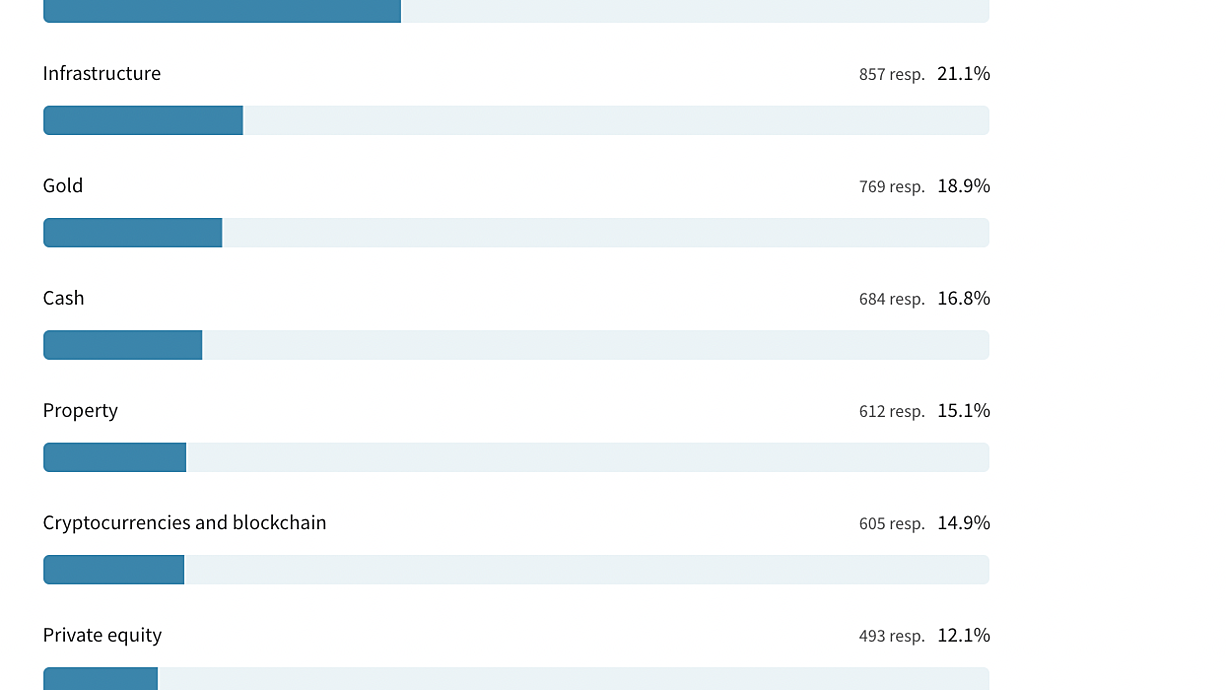 Last but not least, equities have taken out the lion's share of investors funds over the coming 12 months, with 52% of readers noting they would be allocating more of their savings to Aussie equities in 2022, and 37.8% saying they would be snapping up global stocks.  
Infrastructure continues to be a popular alternative in a world of inflation and (possible) rising interest rates, with more than 21% of our readers noting they would be adding infrastructure exposures to their portfolios over the 12 months ahead. 
Gold and cash were both surprisingly high, coming in at 18.9% and 16.8% respectively, likely reflecting the bearish stance of many of our readers on markets. 
Interestingly, corporate bonds and private debt receive the fewest votes, with just 5.1% and 2.6% of readers noting they would be adding to their exposures in these asset classes during 2022. 
Be sure to catch the rest of our 2022 Outlook Series
Hit the 'follow' button below for our fundies' number one picks for the year ahead and other great content from our 2022 Outlook Series. Enjoy this wire? Hit the 'like' button to let us know or click the button below to view all the content on the dedicated landing page. 
........
Livewire gives readers access to information and educational content provided by financial services professionals and companies ("Livewire Contributors"). Livewire does not operate under an Australian financial services licence and relies on the exemption available under section 911A(2)(eb) of the Corporations Act 2001 (Cth) in respect of any advice given. Any advice on this site is general in nature and does not take into consideration your objectives, financial situation or needs. Before making a decision please consider these and any relevant Product Disclosure Statement. Livewire has commercial relationships with some Livewire Contributors.
---
Content Editor
Livewire Markets
Ally Selby is a content editor at Livewire Markets, joining the team at the end of 2020. She loves all things investing, financial literacy and content creation, having previously worked for the likes of Financial Standard, Pedestrian Group, Your...
Expertise