Where there's muck there's brass*
---
A few months ago, we wrote about taking a position in Hong Kong-listed China Everbright International (CEI), a pioneer in providing waste to energy (WTE) solutions for urban and agricultural waste.
The CEI investment was part of Morphic's quest to find companies with shares trading at low prices that have good growth prospects, are well governed and are actively engaged in trying to make the world a better place.
What was clear is that China has an enormous household waste problem, diminishing capacity to use landfill as a solution, and that a policy commitment to incineration as the only viable solution. Our research also showed that CEI was gaining market share, thanks to leading in-house technology and track record of operating to high environmental standards. Our enthusiasm saw the stock become a top five investment in both the Morphic Ethical Equities Fund and the Morphic Global Opportunities Fund.
However, after going up more than 10% after we first bought the stock late in 2017, CEI's shares began an inexplicable slump in the second quarter of 2018. Fortunately, our 'stop-loss' policies meant that rather than just scratch our heads in mystification, we sold the shares as soon as they fell to a level that suggested there was more going on than just noise.
This was just as well – and the shares have now fallen by more than 50% from their peak, and another 35% since we cut our position.
But when we sell shares we don't just forget about them. We add them to our library of experience for potential re-entries – or in some cases when we observe unsustainable business practices – as short candidates.
As so often, the reason for CEI's sell-off eventually became clear, even if it was not anything we or most analysts expected. Operationally the company continues to thrive, and if anything has done slightly better than our models suggested. The problem was that somewhere in Beijing, a decision appears to have been made that so great are CEI's opportunities, it would be appropriate for it to raise more equity to fund an accelerated growth target.
In August, CEI announced a very dilutive rights issue that expands its capital base by nearly 40%, at a price of HK$6 a share, compared to a recent peak of over HK$12 a share. Investors, other than CEI's parent, a Chinese government state-owned enterprise called China Everbright Group were furious. The company was well within the debt to equity ratios that management had previously indicated it wanted to work to. And the message that CEI wanted more equity to grow faster was not matched by any details of how it would do so. The fear amongst many is that faster growth will be driven by government desires to accelerate WTE rollout, without much interest in how public shareholders are treated.
We decided to have another look. To echo the words of Warren Buffet, this seemed a classic opportunity to be greedy when others were fearful.
We bought shares at the depressed level after the announcement and applied for all our rights and also part of the shortfall in the rights issue – which turned out to be very small.
If we believed CEI was cheap before, and should have years of growth. Now it is clearly cheaper, and has the capital to grow even faster. Meanwhile as the best capitalised player in its sector at a time when financial conditions are tightening in China, we are prepared to believe it won't have to sacrifice margins much if at all to make its growth.
In retrospect, we had most of our analysis right, with the weak spot being our view of CEI's corporate governance. In China, when you invest in private enterprise businesses, the anxiety is always fraud or theft. When you invest in SOE controlled companies these problems are quite rare, but the risk is that Beijing will have a non-commercial agenda. In this case, we have no confirmation that this is the case, but clearly the way that the rights issue has been handled – including the strong probability plans for it leaked into the market place before it was announced – has burnt up a lot of good will.
However, having been saved by our stop-loss policies from most of the recent losses we can afford to take the view that this is water under somebody else's bridge, and even on more conservative modelling that tries to reflect all the potential negatives a chastened set of sell-side brokerages are muttering about, we see at least 40% upside from here.
* "Where there's muck, there's brass" - British proverb; Dirty or unpleasant activities are also lucrative.
Want to learn more?
For more information and additional insights from Morphic Asset Management, please click here.
---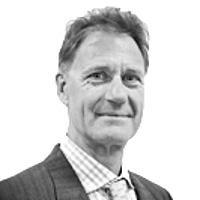 Joint Chief Investment Officer
Ellerston Capital
Jack co-founded Morphic Asset Management in 2012. As a stock picker Jack has invested in a variety of markets and sectors, but developed in-depth knowledge of markets in Asia-Pacific region as well as global finance and resources sectors.
Expertise