Which fundies are leading the 2020 Calcutta? (An update)
---
Last November, Livewire readers were given a once-off glimpse into one of the most prestigious stock tipping competitions in the country. Unlike many of these forums, the Great Charity Calcutta Challenge has been run behind closed doors since it started in the mid-2000s. Under normal circumstances, the average punter (including yours truly) has no chance of getting a sniff of the stocks nominated by the best of the buy-side.
But 2020 wasn't like most other years. And in the spirit of raising important funds for charity, the crème de la crème of Australia's stock pickers took the Calcutta to a wider audience. And for those who took note, it appears to be paying off.
After a bonanza in 2019, where the Calcutta picks crushed the market by around 50%, the 2020 race had a tough act to follow. However, the cast of 14 all-star managers have acquitted themselves well, with the 2020 picks currently up around 27% since the 29th of October 2020, which is the official start date for the competition.
It's worth noting that one fundie appears to have tapped into a rich vein of form, with the 2019 Calcutta winner again leading the pack as we approach the business end of the race (more detail below).
By the numbers
14 - the number of stocks in the running for the 2020 Calcutta.
27.6% - average performance of Calcutta picks for 2020.
22.1% - performance for the ASX200 over the same period.
124% - performance of the top pick in the 2020 Calcutta to 01/06/2021.
Priceless - the value of bragging rights for the Calcutta winner.
Click image to enlarge
Chart: Calcutta performance vs ASX200 (Source: Refinitiv Datastream)
The top three Calcutta 2020 picks at 1 June 2021
We're just a bit past the halfway point for the 2020 Calcutta and there are three standout performers battling it out for the top spot and priceless bragging rights. Stephen Bruce from Perennial Value Management is leads the pack, placing him in the box seat and follows on from his 2019 Calcutta win.
I asked the front-runners to reveal some of their initial theses, whether their tips still have gas in the tank and whether there's a dark horse that could challenge in the late stages of the running.
#1 - Virgin (ASX:VUK) +124%
What was the original thesis that prompted you to tip VUK?
On a 12 month view, Virgin Money was a reopening trade, having been sold down hard with the onset of COVID lockdowns and other challenges. Longer-term, as the leading challenger bank in the UK and now armed with the strong Virgin brand (much sexier than the old title of Clydesdale Yorkshire Bank) and a shiny new digital platform, there is the potential for it to grow its market share – although time will tell about this.
Either way, the valuation looked pretty cheap.
How much of this has played out?
The stock is now back to its pre-COVID levels, so you could say that a fair bit of this has played out. But I think the stock could go on with it for a while yet, being one of the few ways to get direct exposure to the UK economic recovery. Despite getting off to a poor start in COVID management, the UK is now leading the world in the pace of its vaccine roll-out. 
With the reopening this will bring, combined with the fact that government support measures are still in place and summer is here, then you could really see the UK economy on a tear over the coming months. 
This would be good for Virgin Money and the UK banking sector in general.
Further, the valuation still isn't particularly demanding and earnings are likely to be propped up with provision releases over the coming periods.
Are there any dark horses in the pack you are worried about as we head to the finish line?
I think there are a lot of stocks on that list that could do well. If I was looking for a wildcard, I might choose Mesoblast (ASX:MSB). The company has had many disappointments lately and I'd like to see them have some good news because, in biotech land, good news for a company means we're one step closer to having some good news for patients.
#2 - +93% Mineral Resources (ASX:MIN)
What was the original thesis that prompted you to tip MIN?
The mining services business - mostly crushing operations performed for external and internal customers- is an extremely good business with high returns and a long term track record of growth.
The persistently high iron ore price has been a bonus and is helping the company gather a 'war chest' to fund future growth. 
At the time of picking the stock, the lithium price was also in the doldrums, so the pickup in sentiment towards lithium has also helped.
Do you think MIN can challenge VUK which is out in front?
In the short-term MIN's share price is very much tied to the movements in the iron ore price. However, we remain positive on the medium-term outlook with potentially significant growth in iron ore supplemented by a recovering lithium market.
Can it challenge VUK for the top spot? Unlikely. The gap is probably too big.
Is there a dark horse in the pack that you could see making a late challenge?
It's interesting that nearly all the stocks picked last year would be classified as "value". As a unitholder in the Airlie Australian Share Fund (ASX:AASF) I'm really hoping that Ampol (ASX:ALD) can make a late challenge.
#3 - Lynas (ASX:LYC) +86%
Tipped by: Matthew Fist, Firetrail Investments
What was the original thesis that prompted you to tip LYC?

Lynas is a rare earth element producer with assets in both Australia and Malaysia. It is the largest in the world excluding China.
Rare earths are used in the manufacture of electronic goods and magnets – everything from smartphones to military aircraft. The most valuable component of rare earth production is neodymium praseodymium (NdPr) oxide which is used to make permanent magnets.
Today, 25% of NdPr demand is used in electric vehicles (EV's), wind turbines, e-transport and robotics. Demand for NdPr is expected to grow at 8.5% CAGR to 2030 requiring supply to increase by 2.4x from today's levels.
Lynas is extremely well placed to supply this growing demand with several expansion opportunities available at the world's highest quality rare earth mine, Mount Weld. Lower quality, higher cost operations will also be required to be built to satisfy demand growth and, for these assets to generate an appropriate return on capital, we expect current prices will need to rise by approximately 50%.
How much of this has played out?
Since October last year the electrification thematic has continued to strengthen. An increasing number of automotive manufacturers have committed to partial or full electrification of their range. We still believe that EV adoption is likely to outperform linear consensus projections.
Rare Earth prices have risen substantially, and this has enabled a number of junior mining companies to raise capital to develop new, higher cost assets. 
To quote a mining shift boss "the red pen mines faster than the yellow truck".  
That is, new projects are easy to put into a spreadsheet, however, this supply is likely to take longer, and cost far more than the typically bullish mining companies expect. It took Lynas several challenging years to ramp up production!
Do you think LYC can challenge VUK for the #1 spot?
As shareholders of VUK we are very conflicted here! While Firetrail investors stand to benefit either way, we expect Lynas to cross the finish line touch ahead. 

It's not over yet
5 months is a long time in markets and 2020 was a reminder of just how quickly fortunes can change. The field is full of quality stock pickers and there's no doubt that a decent strategy sits behind each nomination.
Below is the full list of 14 stocks in the running for the 2020 Calcutta, let me know via the comments if you think there is a dark horse that could make a late surge into contention.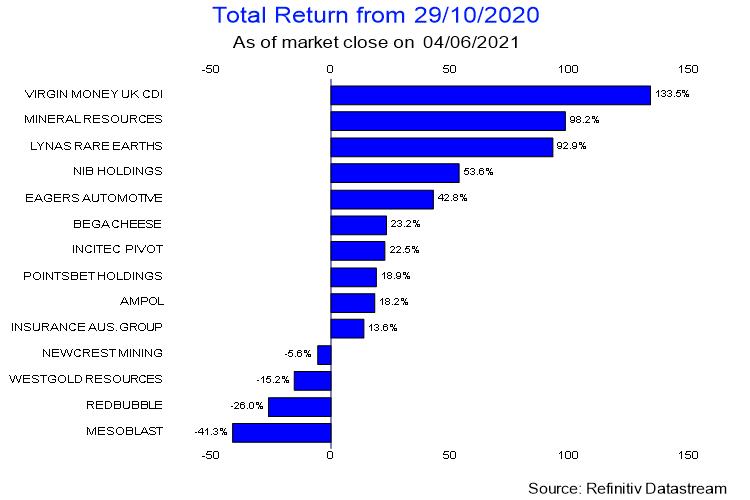 An update on the Golden Calf
While the Calcutta is the arena of the all-star managers in 2020, a second competition called The Golden Calf, inviting stock picks from the general public, was also opened, attracting 43 entries the prize pool growing to a healthy $21,500.
The competition has attracted an eclectic mix of companies you may or may not have heard of. But while the participants (and some of the stocks) remain under the radar, there have been some spectacular performances.
The top three performers in the field are shown below and the full list of stocks and their returns can be seen here.
Imugene (ASX:IMU) + 337%
Incannex Healthcare (ASX:IHL) + 206%
Eagle Mountain Mining (ASX:EM2) +173%
Who knows, based on the tipping prowess on show we may unearth a future star from the ranks of the 2020 Golden Calf Alumni. 

Track the 2020 Calcutta and Golden Calf
To learn more about the Australian Fund Manager Foundation and to keep track of the 2020 Calcutta and Gold Calf, please click here.
........
Livewire gives readers access to information and educational content provided by financial services professionals and companies ("Livewire Contributors"). Livewire does not operate under an Australian financial services licence and relies on the exemption available under section 911A(2)(eb) of the Corporations Act 2001 (Cth) in respect of any advice given. Any advice on this site is general in nature and does not take into consideration your objectives, financial situation or needs. Before making a decision please consider these and any relevant Product Disclosure Statement. Livewire has commercial relationships with some Livewire Contributors.
---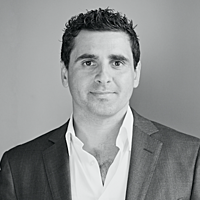 Co Founder
Livewire Markets
Livewire is Australia's #1 website for expert investment analysis. We work with leading investment professionals to deliver curated content that helps investors make confident and informed decisions. Safe investing and thanks for reading Livewire.
Expertise