Why big brands thrive in a digital age
---
A mass-market brand aims to sell to all the buyers of the category. In fact, the typical buyer of a brand is a light buyer. Take a certain globally known soft drinks manufacturer: according to data from Kantar (a market research firm in the U.K.), the average consumer of its namesake beverage buys a can almost 12 times a year. However, this average is misleading. The average buyer is not typical. At one end of the spectrum, there are people who consume 1,000 cans a year. This means that in fact the typical consumer purchases just one or two cans a year. This buying frequency is witnessed across all brands, small or large. Another way of showing this is to calculate what percentage of volumes is accounted for by the heaviest 20% of buyers. The empirical evidence shows it is a long way from the 80/20 rule, where the heaviest 20% of buyers account for closer to just 50% of purchases.1
That means that in order to grow, brands need to target the other 80% as well – the millions of people who occasionally buy a can of this well-known fizzy drink, i.e., those who scarcely think about or buy it. These consumers could easily forget about it and not make their semi-annual or annual purchase. Advertising is needed to retain and prompt these buyers. If the advertisement works, it changes the probability of buying tomorrow from almost nothing (say one chance in 300 days) to slightly more (two chances in 300 days). The change is so slight we'd hardly notice, but if every person exposed to the advertising increased purchases from once every 300 days to twice, sales of this carbonated beverage to its largest buying group would double.
So how do brands grow? They need to expand their mental and physical availability.
Our life experiences create our memories; our memories are based on our own encounters with brands
First, let's break down "mental availability". One human brain operates largely in the same way as another – neurosurgeons don't need to know which country you are from to perform brain surgery. However, our life experiences create our memories, which means we all hold different ideas in our brains. Said another way, how a brand is encoded, stored and retrieved from a buyer's memory is similar across buyers, but what our memories contain varies based on our own encounters with categories and brands.
Associative network theories are a commonly accepted group of theories of memory that share common foundations. One of these foundations is that memories consist of nodes, which when encountered together can form links (become associated). For example, if you see an advert featuring David Beckham and a certain sportswear brand, the two may become linked in your memory – such that the next time you see Beckham, there is a chance you may think of that sportswear brand.
Large brands have greater mental availability
In order to identify something to buy, we seek out a reason for that situation. This is referred to as a retrieval cue. What we (easily) think of largely determines what we buy. So, what determines what we (easily) think of in a particular instance? Let's take an example: if you feel tired (a cue), you might then look for a pick-me-up, and so options (soft drinks, coffee, caffeinated carbonated beverages) will pop into your brain. These common thoughts buyers use to locate options to buy are called useful category entry points (CEPs). And guess what? Large brands are linked to a broader range of CEPs than smaller brands. In other words, large brands have greater mental availability. For example, there are numerous CEPs for the reasons you'd want a soft drink – such as it's a warm day, the kids would enjoy it, to treat myself, it goes well with meals, etc.
Now let's turn to "physical availability". The key to physical availability is about making the brand easy to find and buy. Without physical availability, investment in mental availability will be largely wasted, and vice versa.
Grocery buying is part of most people's day-to-day life, with staples products in constant need of replenishment. And the penetration and importance of each channel varies across countries and between rural and urban areas. As more options of where to shop become available, people add them to their repertoire, rather than totally substituting one for another. Multiple channel shopping is normal regardless of the country. Accordingly, brands need to cover multiple retailers and channels as shoppers rarely only shop at one outlet. In a store, brands are surrounded by plenty of clutter. Mental availability and distinctive assets (logos, packaging), along with physical availability (premium shelf space), help a buyer find the brand. These factors help to fortify the strength of large brands.
The digital world
A brand's growth depends on deepening penetration and recruiting a greater proportion of light category buyers. Therefore, all marketing activities need to have reach. Reach refers to the size of the audience exposed to a brand's marketing activity in a specific time period. Social media and digital advertising simply usher in more ways of reaching buyers. And critically, the more data a brand has on its consumers, the more targeted and effective the advertising becomes. Big brands have more consumers and more data, resulting in a return on advertising spend online that is two times higher than offline.2
"A brand's growth depends on deepening penetration… therefore, all marketing activities need to have reach"
Online (and mobile) shopping extends physical availability. Unsurprisingly, the internet is the fastest-growing distribution channel – where some argue there is a level playing field for brands large and small. The argument goes that within an e-retailer's shopping environment, physical availability evens out across brands, as bigger brands do not command the same shelf space advantage that they typically do in-store, and a small brand has similar real estate to a large brand on the "infinite shelf". The reality does not back this up. Online shopping offers saveable shopping lists, with frequently bought brands popping up first on the list. Remember, we all want to spend less time shopping for essentials. On average, more than half of purchases are made in 13 seconds.
COVID-19 accelerated these digital trends and underpinned the relevance to consumers of big brands. For example, in 2020, the world's largest cosmetics company's e-commerce sales grew 62% and now account for 27% of sales, helping the group to almost offset the hit to sales from the closure of department stores and travel retail channels, and resulting in full-year sales falling just 4%. An American multinational consumer goods company's e-commerce sales (14% of total sales) grew 50%, helping to drive group sales growth of 8%. A British multinational consumer goods company's e-commerce sales (12% of total sales) grew 56%, with group sales growing 12%. As a result, we remain confident these 100-year-old (or more) corporations are adapting to the digital age and can continue to compound sales and profit whilst sustaining high returns in the coming years.
Invest in quality
Morgan Stanley Investment Management is a global franchise delivering innovative investment solutions across public and private markets worldwide. Click the 'FOLLOW' button below for more of our insights.
Footnotes
Source: "How Brands Grow" by Byron Sharp.
Source: (VIEW LINK)
---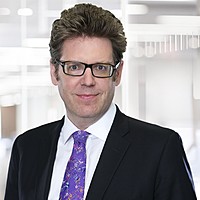 Portfolio Manager
Morgan Stanley IM
Bruno is a portfolio manager for Morgan Stanley Investment Management's London-based International Equity team. Prior to that, Bruno worked for Sanford Bernstein, where he was a Senior Analyst covering the financial sector for eight years.
Expertise