Why investing in fads can end in tears
---
Back in the 1960s, a group of companies listed on the New York Stock Exchange called the Nifty Fifty grabbed the attention and dreams of a generation of savvy investors.  As we know, investing in the Nifty Fifty ended badly for many of them, and showed the downside of investing fads. 
Investment advisers called the Nifty Fifty stocks 'one-decision' investments, with their growth for decades assured.  And enthusiasm for their collective potential, and their blue-chip status as buy-and-hold investments, drove the so-called 'go-go' years of the stock market in the late 1960s and early 1970s.
As a result of their 'almost certain' growth investors ascribed very high price-earnings ratios and 50 times earnings was not uncommon.
Eventually – and, with the benefit of hindsight, somewhat predictably – they collapsed under the weight of expectations they couldn't possibly meet and so began the bear market of the 1970s, with most of the Nifty Fifty under-performing the broader market.
Many of the Nifty Fifty not only exist today, but have prospered.  Companies in this category include McDonalds, Disney and Walmart.
But not all companies that were hailed as world beaters, met the expectations of their investors.  Xerox, Polaroid, Kodak and Simplicity Pattern hurt investors who mirrored management in their inability to foresee the changing competitive landscape's impact on their technology and business models.
Then in 2000 it all happened again with the Nasdaq's price-to-earnings hitting a dizzying 150. Big-cap components of the index, including Cisco, Qualcomm, Oracle and Amgen were all selling at extraordinary multiples even though many had little or no earnings and collapsed losing all of their investors' money.
Today the Nasdaq 100 is dominated by a few names as investors pile, indiscriminately, into index funds that care little about future prospects or value.  Apple (NASDAQ: APPL) alone accounts for 12 per cent of the Nasdaq 100 index.  Alphabet (NASDAQ: GOOGL) at 9.4 per cent, Microsoft (NASDAQ: MSFT) at 8.2 per cent, Amazon (NASDAQ: AMZN) at 6.9 per cent, and Facebook (NASDAQ: FB) at 5.5 per cent are the next four largest companies. Importantly, a significant part of the gain in both the Nasdaq 100 and the S&P500 indices this year can be attributed to these five companies.
Longer term, however, which of the 100 companies in the Nasdaq will still dominate? Is it possible that a few will stumble, causing the de-rating of many?  With Netflix, Godaddy, Yelp and Salesforce on price-earnings ratios of more than 200 times, can you discern the difference between the future winners and losers?
The outcome is no mystery, only its timing, and it will be essential that global investors employ fund managers who can tell the difference.
If you would like to read more articles by me, please click here. 
---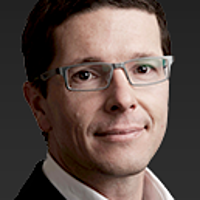 Founder and Chairman
Montgomery Investment Management
Roger Montgomery founded Montgomery Investment Management, www.montinvest.com in 2010. Roger has than three decades of experience in investing, financial markets and analysis. Roger also authored the best-selling investment book, Value.able.
Expertise