Why this fuel source could knock battery power off its perch
---
The hype around hydrogen is heating up. Hydrogen has been used as an alternative energy source since 1807. But higher costs, transportation and storage difficulties have restricted its use over the past 200 years… Until now!
The urgent need to curb climate change, declines in renewable energy pricing, and changes in supply/demand are creating new opportunities for hydrogen as a viable alternative energy source. While the range is high, medium-term forecasts point to hydrogen demand growing around ten-fold. In this monthly insights piece, we discuss the implications for investors and why Fortescue's former CEO Andrew "Twiggy" Forrest (and also Firetrail) are getting excited about the opportunities that will arise for Australian investors over the next decade in alternative energy sources
The hype around hydrogen
Last month, Forrest used his second Boyer Lecture to make the case for green hydrogen as the solution to reaching net-zero emissions. He also highlighted Fortescue's plan for a hydrogen-powered 'green steel' plant in the Pilbara. Elsewhere, US President Joe Biden signed an executive order on his first day in office recommitting the US to the Paris Agreement, and all signs are that he will push ahead with the stated target of 100% clean energy in the US by 2035. Closer to home, Australia's Prime Minister Scott Morrison has shifted his stance, stating that the nation's goal is to "reach net-zero emissions as soon as possible, and preferably by 2050".
Hydrogen is the most common element in existence, making up 75% of the universe by mass. It is almost 1 million-times more abundant than fossil fuels, is highly combustible, and only emits water when burned. 
Perhaps of most interest is the energy density of hydrogen. The combustion of one kilogram of hydrogen produces more than three times as much energy as one kilogram of diesel! In a hydrogen-based economy, so the story goes, "green hydrogen" produced using renewable electricity could be used in place of fossil fuels that currently provide around 80% of global energy and are responsible for the bulk of emissions. But there are drawbacks. Hydrogen is currently expensive to produce and difficult to store and transport.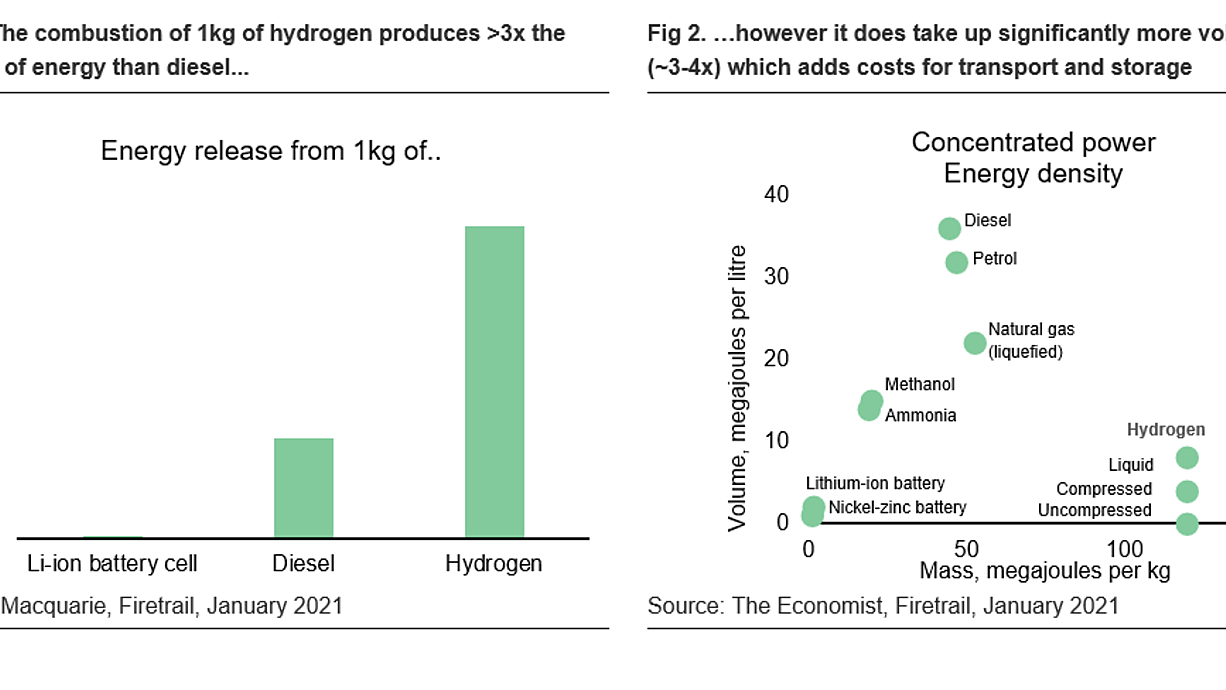 Back to 1807
The first internal combustion engine that used hydrogen as fuel was constructed as far back as 1807. Similarly, the potential for hydrogen to replace coal as a means of electricity generation emerged in the 1860s. This leads us to the most obvious question – is it really different this time? The case for the 2020s being the decade where hydrogen finally fulfils its long understood potential rests on two key premises:
Curbing climate change. Meeting the climate targets of the Paris Agreement dictate decarbonisation across all areas of economies, not just electricity generation. This includes 'hard to decarbonise' sectors such as shipping and steel production that contribute a significant level (around 11% combined) of global emissions. Due to the chemical properties of hydrogen, it is uniquely suited to provide a solution to many of these sectors. In other words, to curb climate change, hydrogen can be used to decarbonise parts of the energy system that electricity cannot reach.
Falling cost of electricity. Historically, potential use cases for hydrogen have been made impossible by the sheer amount of energy required to produce the gas from water via electrolysis. Recent enthusiasm has, in part, been driven by continuous declines in renewable pricing, with current projections indicating that renewable energy prices of around $10-20/MWh (where hydrogen becomes an attractive proposition) will be common over the next decade.
Ultimately, for green hydrogen to fulfil its promise, both demand and supply sides of the equation must come together. Supply must be provided in suitable quantities at a cost that competes directly with incumbent technologies and other new green solutions. Similarly, on the demand side, technology must be developed and refined such that green hydrogen can replace current processes.
Supply
The economics of the conversion of energy into green hydrogen depends primarily on:
the quality of the renewable resource,
the cost of the renewable generation asset, and
 the cost of the electrolyser that converts electricity to green hydrogen. 
Solar is an abundant resource when compared to all other forms of both renewable energy and fossil fuels, as can be seen in Figure 3. In Australia, because of our massive share of solar energy and large landmass, just 0.13% of land area would be required to provide enough energy to cover all our energy requirements. Many studies have been undertaken on the likely trajectory of solar and hydrogen production, with most predicting price parity with fossil fuel derived hydrogen gas between 2030 and 2050, broadly equivalent to the current cost of gas in many developed markets and a price that could see uptake across a range of industries. Importantly, Australia is forecast to be one of the lowest-cost producers of hydrogen.
Demand
While the supply side of the hydrogen equation and cost trajectory is relatively well understood, the same cannot be said for demand. Various studies on pathways to decarbonisation suggest hydrogen's long-term share of energy supply could be as high as 30%. Most estimates, such as those forecast by BP and Bloomberg, fall in the order of 15-30% by 2050. 
At an industry level, there is significant debate about the suitability of hydrogen from both an economic and technological perspective. Consider, for example, passenger vehicles. Hyundai and Toyota are both due to start around 20-unit hydrogen fuel-cell fleets in Australia by the end of March. At the same time, Volkswagen concluded last year that "everything speaks in favour of the battery and practically nothing speaks in favour of hydrogen". Elon Musk calls the fuel cell-powered cars "fool cells".
Two areas of consensus on the demand side for hydrogen centre around long-duration backup power for renewable-based grids and the production of steel.
Power. Hydrogen has a unique ability to provide reliable, long-duration power to stabilise grids reliant on intermittent renewable sources. Hydrogen can play a role in the grid by providing large amounts of energy over long time periods, which is simply not feasible with battery solutions or pumped hydro storage solutions. Green hydrogen is an attractive proposition for storage where excess electricity generation (for example in the middle of the day) is produced at nil marginal cost.
Steel. For Australian investors, one of the most topical areas is the potential for "green steel" made from hydrogen. Steelmaking generates around 8% of global emissions, and for the most part, the process from which steel has been manufactured has stayed the same for over a century. Iron ore is smelted in a blast furnace with coke, (derived from coal) leaving behind pure metal and emitting carbon dioxide. By contrast, direct reduced iron (DRI) can use hydrogen, rather than coke as the reducing agent, and instead of carbon dioxide, only water is emitted. The Pilbara region of Australia has been slated as a potential green steel and hydrogen export hub given access to iron ore, sunlight, water and Asian customers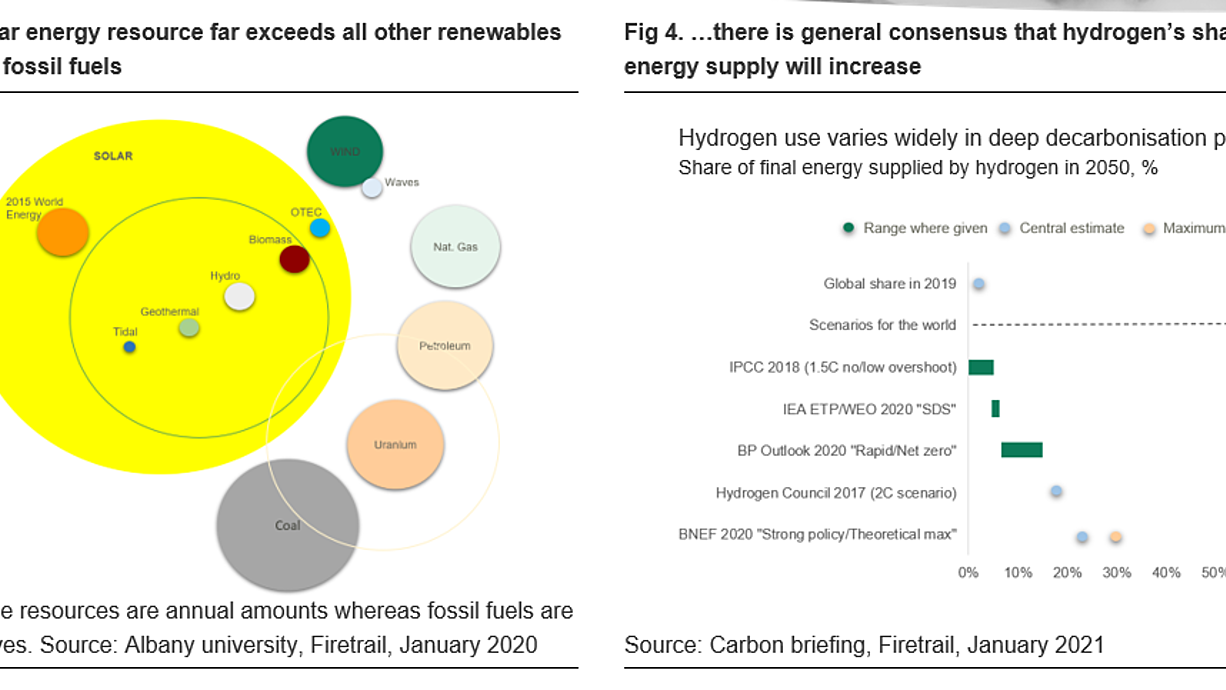 The market opportunity for investors
While the range is wide, medium-term forecasts point to hydrogen demand growing around ten-fold. As Forrest put it in his Boyer Lecture, Australia's "characteristic good luck" extends to hydrogen. Given Australia's natural solar resource endowment and proximity to Asian markets, it is only a matter of time before small-cap investment opportunities arise. Australia's 'good luck' is not lost on large corporates - companies such as Woodside (ASX: WPL), Incitec Pivot (ASX: IPL) and APA Group (ASX: APA) are all actively investing and exploring potential opportunities. 
Conclusion
More than 200 years since it was first used as a source of fuel, the hype around hydrogen is growing. Improving economics and an increasing focus on curbing climate change is creating new opportunities for hydrogen as a viable alternative energy source. On the demand side, medium-term forecasts point to hydrogen demand growing around ten-fold, paving the way for future investment opportunities for Australian companies, entrepreneurs like Andrew Forrest and investors like Firetrail.  
Discover new investment insights
Every month, myself and the Firetrail Investments team provide insightful commentary on the stock market and our best ideas. Make sure to hit the 'FOLLOW' button below to get our updates.
---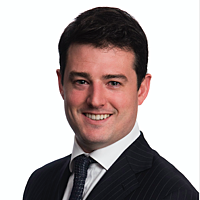 Portfolio Manager
Firetrail Investments
Matthew is a Portfolio Manager at Firetrail Investments for the Firetrail Absolute Return Fund. Matthew's primary sector responsibility is Australian and Global Small Companies. 9+ years relevant industry experience.
Expertise