Why this retailer is still a buy despite the looming consumer slowdown
---
Ask the average punter about the fortunes of the retail sector over the past 12 months and the response is likely to be somewhere in the range of average to poor.

Surging prices, rising rates, falling house prices, and worries about economic growth have weighed on all of our hip pockets and added to the malaise in which the sector is viewed.
However, there are still diamonds in the rough and few have shone more brightly this earnings season than Wesfarmers (ASX: WES).
The company's portfolio of brands, operational excellence, and explosive growth in certain segments – particularly the chemicals, energy, and fertiliser business – have seen it post results that have beaten expectations. 
In this wire, I sat down with Vinay Ranjan from Airlie Funds Management for his take on the numbers. He pointed to the resilience of Wesfarmers' brands and the results from Bunnings as the highlights and noted a solid outlook moving forward. 

"Bunnings, which is the core earnings driver of the business and the most important division, grew sales 9% in the second half. To give you some context, across a three-year period Bunnings sales have now grown about 35%, from FY19 to FY22, so it's a pretty impressive result," said Ranjan
Wesfarmers (WES) FY22 key results
Revenues up 8.5% to $36.84 billion
Net profit down 1.2% to $2.35 billion
EBIT down 2.3%, to $3.63 billion
Return on equity up 3.3ppt, to 29.4%
End-of-year dividend of 100cps, up 11.1%
Earnings per share 207.8c, down 1.2%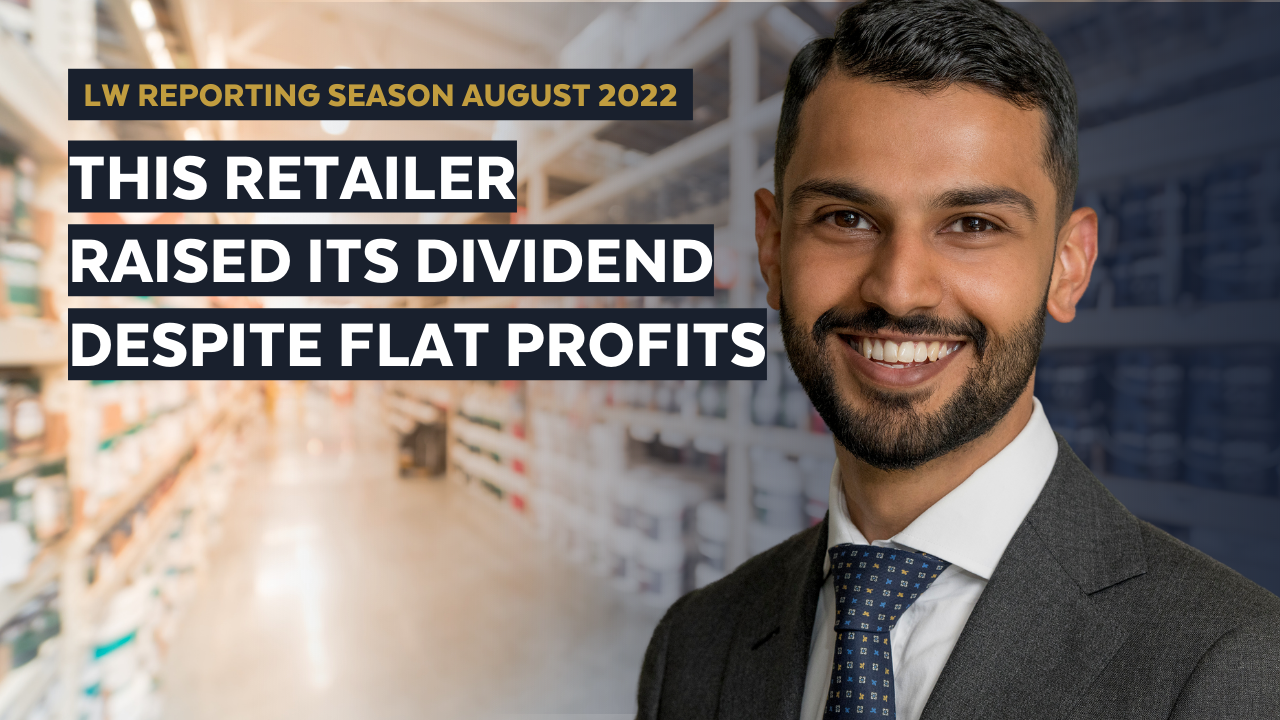 Note: This interview took place on Friday, 26th August 2022. This stock is a top holding in the Airlie Australian Share Fund To learn more, click here. 

What were the key takeaways from this result? What surprised you the most?
The key takeaway for us was definitely the strength and resilience of the brands that Wesfarmers owns. It was a challenging first half for the retail companies in particular, given lockdowns, so they had a lot of catching up to do in the second half. But they've delivered some pretty impressive sales growth. Bunnings, which is the core earnings driver of the business and the most important division, grew sales 9% in the second half. To give you some context, across a three-year period Bunnings sales have now grown about 35%, from FY19 to FY22, so it's a pretty impressive result.
The other key takeaway for me was the strength of some of the non-retail businesses. 
WesCEF (the chemicals, energy and fertiliser division) saw profit grow 40% on the back of some pretty strong commodity prices for ammonia, natural gas and fertilisers.
In terms of surprises, the one thing that stood out was when considering most retail businesses, they typically have a very high fixed cost base in terms of rent and wages. So when you get that sales growth, you typically get some pretty good operating leverage at the earnings line, but we didn't really see that with Wesfarmers. Earnings growth was actually below sales growth in the second half for Bunnings. 
That suggests to me that they're investing a lot back into price and making sure the customer is getting some really good value. And I think that's really important for the long-term strategic value of the Bunnings brand, so it was good to see. 
What was the market's reaction to this result? Was this an overreaction, an under reaction or appropriate?
Interestingly the stock opened down, which is a bit surprising and I think people were a bit worried about the inventory position which had increased from the previous half. And everyone's worried about the impending slowdown in consumer spending and a higher inventory balance could lead to more promotional activity and some write-downs on the stock but, all-in-all, I think that the reaction's fair now, with the stock up 2%. I think this is as good a result as you could expect, earnings came in 5% higher than consensus expectations, and the trading outlook into '23 looks pretty positive as well.
Would you buy, hold or sell WES on the back of these results?
Rating: BUY
We'd be adding on any weakness. We are cognizant of the outlook for the consumer being a bit tougher and more challenging from here. But in saying that, if there is a business to own in this space, this is the one. 
"The brands they own, particularly Bunnings and Kmart, provide a lot of value to the customer and in an inflationary environment we expect those brands to outperform. They are real destination, highly resilient type businesses."
What's your outlook on WES and the consumer discretionary sector over FY23?
Management has given a pretty upbeat outlook, which is uncharacteristic. Usually, they don't tell you too much, but they've flagged sales growth in Bunnings and Kmart for the first seven weeks. And even WesCEF, they're saying they continue to expect elevated commodity prices. So I think that's a pretty good sign. 
I think they can hold their profitability into FY23 on the back of that. 
For the sector more broadly, I think there is a lot of concern around higher interest rates and the impact on household budgets. But I think as I mentioned, Bunnings and Kmart, they're price leaders. If people are going to shop somewhere and looking to save a penny, they're going to be shopping at Bunnings and Kmart.
Are there any risks to  WES and the sector that investors should be aware of given the current market environment?
Softening consumer confidence and higher interest rates impacting spending are the main risks. We haven't seen any evidence of that yet. And maybe that's because consumers have built up a huge surplus of savings over the last couple of years, and we're also seeing record low unemployment. So it's something to look out for, but no evidence of it just yet.
From 1-5, where 1 is cheap and 5 is expensive, how much value are you seeing in the market right now? Are you excited or are you cautious about the market in general?
Rating: 3
I think the rebound of the last two months, particularly in the consumer sector, has seen some pretty big bounces in stock prices. So I think investors need to be a bit more selective from here and if you get a chance to buy great companies, like Wesfarmers on an off day, I think that makes sense.
---
The Livewire Team is working with our contributors to provide coverage of a selection of stocks this reporting season. You can access all of our reporting season content by
clicking here
.
........
Livewire gives readers access to information and educational content provided by financial services professionals and companies ("Livewire Contributors"). Livewire does not operate under an Australian financial services licence and relies on the exemption available under section 911A(2)(eb) of the Corporations Act 2001 (Cth) in respect of any advice given. Any advice on this site is general in nature and does not take into consideration your objectives, financial situation or needs. Before making a decision, please consider these and any relevant Product Disclosure Statement. Livewire has commercial relationships with some Livewire Contributors.
---
Managing Editor
Livewire Markets
My passion is equity research, portfolio construction, and investment education. There are some powerful processes that can help all investors identify great opportunities and outperform the market, and I want to bring them to life and share them...
Expertise