Why we like a2 Milk and WiseTech Global
---
Two of the largest positions in the fund right now have been a2 Milk and WiseTech Global. Both of these are stocks that have done tremendously well and whilst we remain very optimistic about their outlook, there's always a risk that any kind of stumble is going to be really harshly penalised by the market.
The great thing out of this reporting season was that both of those stocks really nailed their result and gave investors more confidence about their future prospects and have continued to do well.
a2 Milk: pursuing growth opportunities globally
a2 is so interesting because it's a food company and food companies aren't really known for their stellar growth profiles. a2 has a differentiated product. It actually has intellectual property protection around it. It's milk and milk products that are free of a1 protein. And they've been positioning very well around that to get a foothold into new markets. People are most familiar with infant formula into China, but they're also doing fresh milk into Asia and into US and into the UK.
All of this growth is being funded by their very strong position in fresh milk in Australia. a2 is actually the only national and the largest national milk brand in Australia. So, highly profitable in this market, and able to re-deploy those returns into growing a number of growth alternatives around the world.
WiseTech Global: A lot of comfort on this stock
WiseTech was something that we initially came across as a pre-IPO opportunity. Very rare for us, obviously, we operate in the listed space; but every so often, there's an opportunity for us to look at something pre-IPO. We negotiated safeguards and, a complicated process, but we were owners of that business for a year before IPO. That gave us a long time to get to know management, to go through the financials, to really poke and prod at the business model and get a lot of comfort around it.
When the IPO came, we had the confidence to take a large position and to buy as much of it as we could and we've continued that process of auditing the management team, auditing the business model, getting our heads around what their ultimate potential could be. There are a lot of network effects in that business and a very long history, relative to most IPOs, some of which can come to market way too soon.
For further insights from Fidelity International, please visit our website
---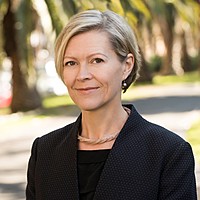 Portfolio Manager, Australian Equities
Fidelity International
Kate has sole responsibility for the Fidelity Australian Opportunities Fund. In 2015 she was named Money Management's Women in Financial Services Investor of the Year, and in 2016 was included in CNBC's "world's top 20 female portfolio managers".
Expertise