Will the Fed join the RBA in cutting rates?
---
This week the Aussie weakened a little against most major currencies but has held up against the US dollar. This is a decent performance given that it had to absorb the RBA's first rate cut since 2016 and Australia's very poor GDP data.
On Tuesday the RBA cut its cash rate from 1.5% to 1.25%. Markets had fully priced in this move so AUD/USD's initially steady response around 0.70 was reasonable. But a speech by Governor Lowe soon afterwards made very clear that more easing is ahead.
Lowe declared that the rate cut was "taken to support employment growth" and to help inflation return to the 2 to 3% target. He stressed the evidence of spare capacity in the labour market, suggesting that the unemployment rate could fall to 4.5% without unduly stoking inflation. Lowe said it is not unreasonable to expect another rate cut.
Tuesday's decision was in line with Westpac's existing call for the next cut to be in August. This was reinforced by first quarter GDP growth of just 1.8% over the year, the slowest since 2009. Perhaps most striking was that with household spending up just 0.3% - slower than population growth – housing construction falling and business investment sluggish, the largest contribution to growth in the quarter was from government spending.
We can hope for more balanced economic growth in coming quarters but at this stage, Westpac expects the annual growth rate to remain under 2% in the June quarter. The RBA rate cut and weak GDP data all seems likely to undermine the Aussie dollar for some time.
But the currency has at least been able to edge a little higher against the US dollar over the week. It was one week ago that President Trump caught markets off guard by threatening 5% tariffs on all goods imported from Mexico, starting from June 10th and rising to 25% by October if the Mexican government has not taken sufficient steps to halt the movement of migrants to the US border.
Trump's tariff threat has been received very negatively by US businesses and many members of his own party. Interest rate markets are viewing any such tariffs as a blow to US growth and so US yields have fallen sharply. Markets are now pricing 2 rate cuts by the Federal Reserve by November. This slide in US yield support is likely to keep hurting the US dollar ahead of the FOMC meeting on June 19th.
So downside on the Aussie against the US dollar may be limited for now by US trade tensions. But any rallies will be limited by the prospect of further RBA rate cuts and a fall in key commodity prices. Benchmark iron ore prices have fallen back under $100 a tonne, copper prices have been tumbling for the past month and oil prices have hit 4 month lows. This suggests some softer export revenues ahead for Australia, after this week's April report showed another large trade surplus.
There is plenty more news on Australia's economy in the week ahead, starting with business confidence and consumer sentiment surveys and then the potentially critical May labour force survey, with all eyes on whether the unemployment rate stays at 5.2%. 
---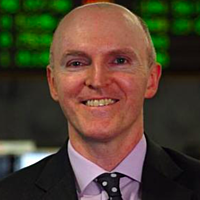 Senior Currency Strategist
Westpac Bank
Sean Callow is Westpac Bank's Senior Currency Strategist, based in Sydney. Sean focuses on the Australian dollar and other G10 and Asian currencies. He has worked in strategy and economics roles in New York, London, Singapore and Melbourne.
Expertise