Will the US-China trade deal squeeze out Australia?
---
The market focus this week was the US-China trade agreement. Leaving aside the grand pronouncements over the importance of the deal, there was plenty of interest for markets in the details.
The modest reduction in US tariffs was expected, leaving in place tariffs ranging from 7.5% to 25% on the majority of US goods imports from China. This is not a lot for China to boast about though it can at least enjoy a period of relative calm and certainty in its trade relations with the US.
But the benefits for US exporters appear to be very significant. In short, China has pledged that from January 2020 to December 2021, its purchases of US manufactured goods, agricultural goods, energy products, and services will exceed the 2017 baseline by at least $200 billion.
This would be an enormous increase. Focusing on energy, the deal requires China to import a minimum of $18.5bn of additional US energy products this year, jumping to a staggering $33.9bn in 2021. To repeat, this is not the total energy imports but the extra purchases above 2017 levels.
China cut back its US energy imports sharply in 2019, so a rebound of a few billion would not be difficult. But the trade deal pledge is for monthly purchases to average double their previous record high this year and then triple the previous next year. This looks like a huge challenge that will have a major impact on global commodities.
For short term global market sentiment, the key is that the deal is in writing and that any shortfall in China's promised US imports is some way distant. Both the S&P 500 and the ASX 200 reached record highs this week.
Indeed the US-China trade deal remains widely seen as a positive for A$. At the very least, it is better for risk appetite than a resumption of the trade war. But China's commitment to ramp up its US energy imports could come partially at the expense of Australian exporters.
Chinese imports of liquefied natural gas from the US dropped to almost zero last year, offering significant potential for additional purchases. China is of course a key destination for Australia's LNG exports. For now, we see the threat to Australia limited by its existing long term supply contracts and the glut of LNG in Asia which suggests US LNG exports may remain focused on Europe.
But there will be some nerves over LNG and also Australian agricultural exports such as beef and wheat, with China pledging an extra $32 billion in purchases of US products.
Domestically, Australia's calendar has been quiet but is very important in the week ahead. On Wednesday, Westpac's consumer sentiment survey for January will be a vital update on the public response to the bushfire crisis, which Westpac estimates will lower GDP growth by 0.2 to 0.5 percentage points.
On Thursday we see Australia's December labour force survey. Recall that November was stronger than expected, with a rise of nearly 40,000 jobs and the unemployment rate dipping to 5.2%. Any surprise in the December report will be crucial for market pricing for the RBA cash rate. Pricing for a rate cut in February has hovered around 50/50 in recent days.
While commodity prices have been trending higher in recent weeks, supporting the Aussie dollar, expectations for the RBA are likely to be critical for whether the Aussie breaks away from the 69 cent area.  
---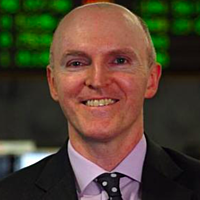 Senior Currency Strategist
Westpac Bank
Sean Callow is Westpac Bank's Senior Currency Strategist, based in Sydney. Sean focuses on the Australian dollar and other G10 and Asian currencies. He has worked in strategy and economics roles in New York, London, Singapore and Melbourne.
Expertise