With 2.6Moz under its belt, Bardoc emerges as next Aussie miner with critical mass
---
With big gold stocks looking fully-priced, the hunt is on for value down the chain. But tier-1 locations and scale are still must-haves. This is where Bardoc, led by the Pilbara Minerals trio, is coming into its own. Plus, Rio chairman says "we think we have a mine" at Winu.

Leading gold issues have become something of a value trap in the past couple of months in the absence of a breakout in the US dollar gold price.
As mentioned here previously, the ASX gold producers were priced for perfection in the back half of last year and without any stock-specific news, they have drifted sharply lower as the US gold price has come off.
Newcrest is the singular exception thanks to its pivot to copper with the March acquisition of a 70% stake in the Red Chris copper-gold operation in Canada.
The lacklustre performance of the gold producers has naturally enough prompted the more motivated investors to start looking for upside further down the food chain among the developers and explorers.
And why not? The Aussie gold price at $1835/oz remains at near-record levels thanks to Australian dollar weakness. Put simply, there has never been a better time to be drilling out a resource and getting it in to production.
Having said that, there have been plenty of stuff-ups in recent times by the developers and newbie gold producers in the WA goldfields – Eastern Goldfields, Echo Resources, Kin Mining, Blackham, Gascoyne and so on, and so on.
So if there is a caveat to the claim that more gold investment is finding a home in the developers/explorers, it is that there is a distinct preference for new stories.
Today's interest on that basis is Bardoc Gold (ASX:BDC), which has motored from 4.2c a month ago to 7c.
Populated by the trio of Neil Biddle, John Young and Tony Leibowitz, who turned the once-sleepy Pilbara Minerals (ASX:PLS) into the leading $1.4 billion lithium producer it is today, Bardoc has emerged as a force in the consolidation of the Bardoc region, 50km north of Kalgoorlie.
Exploration, mergers and acquisitions and tenement pick-ups to date have built the company's gold resource across a number of properties to 2.6Moz with a resource upgrade promised for the second half of the year.
Based on recent exploration results and a nifty technology breakthrough that zeroed-in on fractionated dolerite as a hot rock for gold, the market is warming to the idea that Bardoc is on its way to achieving the critical mass required to underpin an eventual push into production at an annual rate of 100,000oz-plus.
Whether Bardoc goes down the stand-alone path as a producer or a toll treatment operation with one of the nearby mills remains to be seen. There is also the potential for one of the gold producers to make the decision for it by taking it over.
But before any of that plays out, Bardoc will want to be sporting a resource base north of 3Moz, ideally with the additional ounces being of the free-milling type. Given its progress to date and the ground position it has to work within the Bardoc region, achieving critical mass seems doable.
Rio opens up on Winu
Play to your home audience if you want to win them over. Rio Tinto (ASX:RIO) chief executive J-S Jacques did not exactly do that in his prepared speech at Thursday's annual meeting in Perth, not when it came to the group's Winu copper discovery anyway.
Confirmed by Rio earlier this year as a big and growing find after the industry was left to follow progress at the remote Paterson Range site by satellite and the bush telegraph for a year, Winu got one line in his speech.
"Winu, our discovery of copper in this State, also looks promising," J-S said.
Fortunately his chairman Simon Thompson – a geologist to boot – got to open up on the subject in response to a question from the floor on if it was a "find" or not, and would it feature in next year's annual report.
"The whole board met the Winu project team yesterday afternoon which was great. And they are in very good spirits, as you would imagine."
(Perhaps that had something to do with an acknowledgment that in the early days of the discovery, the Winu team covered the cost of pegging additional ground with their pooled personal credit cards because the London office was proving too slow).
"It is early days, we should stress that," Thompson added.
"But this is a very exciting project for us. Copper is one of the areas where we want to grow and Australia is a country where we are very happy to grow and this is an exciting find. But at this stage we shouldn't get ahead of ourselves.
"There is an awful lot of work that we need to do on drilling out the deposit and finding precisely what the scale and grade of the resources will be and that is a process that we are targeting achieving during the course of this year.
"But we should have the sense of whether this is a Rio Tinto-sized deposit in the earlier part of next year.
"We think we have a mine. The question is do we have a mine which is large enough for Rio Tinto. So it's very exciting, but early days."
All that is music to the ears of the juniors that have long made the Paterson their focus and which are now getting stuck into their 2019 field programs – Antipa (AZY, 1.9c) and Sipa (SRI, 0.8c), or the Indian Pale Ales (IPAs) of the region as they are affectionately known.
J-S, who is not a geologist, added at later media conference that the Winu team would be trying to "look at all of the targets in the district."
He mused – and that is all it was – that a "system" of mines in the region could make the Paterson a world-class copper province. A bit obvious that one. But a clue perhaps as to what else Rio thinks might be hidden beneath the Paterson's extensive sand cover.
---

Never miss an update
Get the latest insights from me in your inbox when they're published.
---
---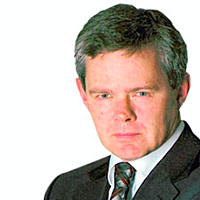 Principal
Independent Journalist
One of Australia's leading business journalists, Barry FitzGerald, highlights the issues, opportunities and challenges for small and mid-cap resources stocks, and most recently penned his column for The Australian newspaper.
Expertise