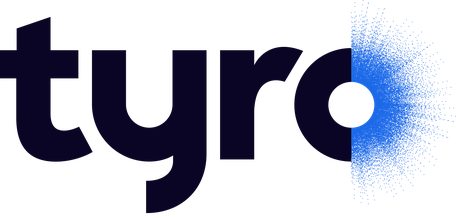 Listed Company
Tyro Payments Limited (ASX TYR)
Tyro is an Australian company founded in 2013 by Andrew Rothwell, Paul Wood and Peter Haig. TYR is an Australian Fintech company that provides payments solutions and business banking products to merchants and operates in Australia. The company headquarters are in Sydney, Australia and it's shares trade publicly on the ASX. On 1 April 2017, Tyro received the authority to call itself a "bank".
---
Sector
Information Technology
Industry
Software & Services
Latest
News
on Tyro Payments Limited
Frequently
Asked Questions
Featuring answers to some of the most frequent questions asked by investors about Tyro Payments Limited
Does Tyro pay dividends?
Tyro has not had a history of paying dividends to shareholders. 
Who is Tyro's largest shareholder
Mike Cannon-Brookes through his CBC Co investment company (which stands for Cannon-Brookes Collective) as of October 2022 owns 12.5% of Tyro. 
Is Tyro a public company?
Tyro listed on the Australian Stock Exchange (ASX) on the 6th of December 2019, where its shares are publicly traded. 
Covering
Tyro Payments Limited
---