11-fold increase in US jobless claims
---
Equity markets are working hard to create a market trough, with US markets overnight rising for the third day to be on pace for their best three-day rally since 1933. Of course, the largest daily spikes in history are typically reserved for bear market rallies. That's not to say that quite a number of the key signals we are monitoring for a sustained cycle bottom in equities haven't been ticked off our list. These include panic and policy response from governments and central banks (massive by anyone's measure), at least an approach to the historic 'zone' of valuation support, and at least a glimpse at just how catatonic the data in Q2 is going to be (with this week's historic declines in global purchasing manager indexes (PMIs) starting that process). While we continue to encourage selective rebalancing into equities, 'peak disease' continues to allude us. And despite historically low PMIs, have we really grasped the magnitude of the collapse in Q2 growth and the likely spike in unemployment (not to mention the social and human cost of COVID-19)?
And on this latter point, it's no surprise that today's chart is last night's US jobless claims data, which spiked to 3.285 million for the week ending 21 March. Let the hyperbolic comparisons begin—the prior week, claims were only 282,000 (that's an 11-fold increase or 15 times from two weeks ago); the spike was twice the consensus of 1.5 million; and it far exceeds the prior weekly record of 695,000 in October 1982.
However, for now, last night's jobless claims data only highlights the rapid nature of the US (and other countries') lockdowns and how an unprecedented and deep 'supply shock' impacts an economy (relative to a more typical drawn out recession). Initial jobless claims eventually become continuing claims which, by and large, is what drives the unemployment rate. Most forecasts of US unemployment are for it to rise to somewhere between 7-10% over the coming year (from its current 50-year low of 3.5%). Some back-of-the- envelope calculations suggest three more weeks at 3.3 million new initial claims means we will be over 10% unemployment in a month. That either means the pace of claims will slow sharply in a week or so, or unemployment is going to be much higher than 10%.
Initial US jobless claims
Source: Tradingeconomics.com; US Department of Labor
Be the first to know
I'll be sharing Crestone Wealth Management's views as new developments unfold. Click the 'FOLLOW' button below to be the first to hear from us.
........
General advice notice: Unless otherwise indicated, any financial product advice in this email is general advice and does not take into account your objectives, financial situation or needs. You should consider the appropriateness of the advice in light of these matters, and read the Product Disclosure Statement for each financial product to which the advice relates, before taking any action. © Crestone Wealth Management Limited ABN 50 005 311 937 AFS Licence No. 231127. This email (including attachments) is for the named person's use only and may contain information which is confidential, proprietary or subject to legal or other professional privilege. If you have received this email in error, confidentiality and privilege are not waived and you must not use, disclose, distribute, print or copy any of the information in it. Please immediately delete this email (including attachments) and all copies from your system and notify the sender. We may intercept and monitor all email communications through our networks, where legally permitted
---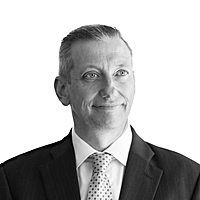 Chief Investment Officer
Crestone
Scott has more than 20 years' experience in global financial markets and investment banking, providing extensive economics research and investment strategy across equity and fixed income markets.
Expertise