16 Top Australian Stock Picks
---
This publication, Top Australian Stock Picks, contains our top 16 stock picks across a diverse group of sectors including Diversified Financials, Software & Services, Internet, Communications Equipment, Healthcare Services, Industrial Services, Mining Services, Metals & Mining, Oil & Gas and Engineering & Construction.
We include the following companies in the Top Australian Stock Picks and the report available below also provides a one-page summary of each company including our investment recommendation, potential catalysts and bull/base/bear target price scenarios.
Bellevue Gold Limited (BGL-ASX)
BGL is the most exciting exploration/development story in the Australian gold space, in our view, and with eight diamond rigs on site we should see a number of important catalysts delivered in 2020.
Bigtincan Holdings Limited (BTH-ASX) 
BTH is swimming downstream as the sales enablement industry evolves at a rapid pace. BTH is a leading provider having achieved a 6yr organic revenue CAGR of +50% with guidance of organic revenue growth in FY20 between +30% and +40%. We expect continued share-price outperformance as BTH stock benefits from the strong forecast revenue growth (>+30%) and a multiple rerate (-50% discount to global peers) throughout CY20.
City Chic Collective Limited (CCX-ASX) 
CCX is a high-growth, plus-size women's fashion retailer that recently acquired the e-commerce assets of a failed US physical store retailer. We think the synergies will be significant and expect continued expansion in both offshore and online sales in 2020.
Carnarvon Petroleum Limited (CVN-ASX)
A final investment decision at CVN's large, high returning, short gestation Dorado oil discovery is expected in 2Q CY20. This, in our view, should result in a catalyst-rich year for the stock. With CVN trading on an EV/2C of US$2.2/boe, a 20% discount to the mean transaction multiple for an undeveloped resource and a 42% discount to the top end of recent comps, we also believe the stock has corporate appeal.
Elmo Software Limited (ELO-ASX)
ELO is a leading integrated cloud-based Human Resources (HR) and Payroll software provider in ANZ. ELO has enjoyed an impressive 6yr organic revenue CAGR of +35% (FY19a +38%) which is set to continue into FY20. We believe ELO exhibits a number of growth levers that should sustain its above-average revenue growth over the coming years, including i) new customer adds (S&M +35% in FY20, LTV/CAC 10x); ii) increasing the avg. modules/revenue per customer (modules/client, FY19a 2.4x, new cust. 3.7x); and iii) strategic bolt-on acquisitions ($83m net cash) targeting client/product expansion.
Healthia Limited (HLA-ASX)
Subsequent to listing in September 2018, HLA has expanded its clinic portfolio from 104 allied health businesses to 135 as the business capitalises on being the first mover in consolidating the highly fragmented allied health services industry. A strong pipeline of acquisition opportunities currently exists for which we estimate HLA will continue to acquire at ~4x EBITDA.
Kathmandu Holdings Limited (KMD-ASX)
The A$350m acquisition of action sportswear company Rip Curl suggests to us that Kathmandu is positioning itself to become a house of iconic brands, with increased product diversity, geographic diversity, and less reliance on physical store retailing. We believe the stock looks mispriced if management can execute on this strategy.
Macquarie Telecom Group (MAQ-ASX)
MAQ is in the process of constructing a new data centre in Sydney (IC3) which will bring an additional 17.5MW of capacity and allow the growth in its Hosting business to continue. The Telecom business should start to see the benefits of its wholesale agreement with the National Broadband Network (NBN), which should materially increase MAQ's addressable market in the segment. Customer Growth capex, a lead indicator of revenue, was a robust $24-25m for FY20, signalling continued confidence in the growth trajectory in the business.
MNF Group Limited (MNF-ASX)
We are positive on MNF given its exposure to fast-growing markets in Unified Communications as a Platform (UCaaS) and Communication Platform as a Service (CPaaS), which are disrupting some traditional telecom services. As an operator of a software-based telco network, MNF is well-positioned to service the technology businesses which are driving the growth of these sectors. In our view, as its high-margin recurring revenues grow, the contribution of the less-predictable transactional component should decrease, increasing the quality and predictability of the earnings.
Nearmap Limited (NEA-ASX)
While operating metrics (revg, sales efficiency, cash burn) are likely to be below previous periods, we believe this is well known by investors, with NEA expected to reap the rewards of its substantial reinvestment in CY20 across its capture technology and coverage, new product initiatives (3D, ML/AI, embedded applications, etc.), new geographies (Canada/NZ) and expanded sales force. We believe, a reacceleration of revenue growth throughout CY20 should result in a multiple re-rating as the group approaches FCF breakeven.
Nickel Mines Limited (NIC-ASX)
2020 shapes as a transformative year for Nickel Mines as steady state nickel production of ~23ktpa is achieved at its 60% owned rotary kiln (RKEF) facility at the world class Morowali Industrial Park in Indonesia. First quartile operation costs should lead to strong cash flows providing an ability to fund an increased earn in to 80%, providing the best leverage to a tightening nickel market over 2020.
Next Science Limited (NXS-ASX)
NXS is commercialising its Xbio technology platform to disrupt biofilm structures that are integral to myriad bacterial infections. Several product approvals and distribution agreements are in place in the US market, with several more to come in CY20, in addition to pending approvals for the European market. NXS has a unique position in addressing antibiotic resistance, with several products having blockbuster potential. We believe CY20 is an important year in the commercial development of NXS which should drive investor sentiment.
NextDC Limited (NXT-ASX) 
As its second Sydney facility (S2) approaches full completion, we expect NXT to be in a position to announce new capacity sales at the facility, whose capacity is already around half-contracted. The receipt of Development Approval (DA) for the third Sydney data centre (S3) means that NXT has flexibility to meet any rapid changes in customer demand. In our view, the recurring revenue nature of the business means that FY20 earnings guidance should be well underpinned, reducing the risk of a negative earnings surprise.
Primero Group Limited (PGX-ASX)
We include PGX in our Best Ideas given its strong track record, impressive growth, conservative balance sheet, high likelihood for positive catalysts in the form of contract wins and its highly attractive valuation (~2.4x FY20e EV/EBIT).
Perenti Global (PRN-ASX)
PRN is attractively valued, and, in our view, it is now a stronger business that should see the full benefits of its Barminco acquisition in 2020. The company now has greater earnings quality, with lower capital intensity and potential for material contract wins in the coming six months.
Resolute Mining Limited (RSG-ASX) 
We include RSG in our 2020 Australian Best Ideas, with our target price of $1.80/share implying a potential return of 59%. We believe RSG has the potential to close the valuation gap with peers through successful delivery of the Syama UG, debt refinancing, and a significant increase in FCF in 2020.
Access the Top Australian Stock Picks here
We provide a one-page summary of each company with our investment recommendation, potential catalysts and bull/base/bear target price scenarios, which you can access by clicking here. 

---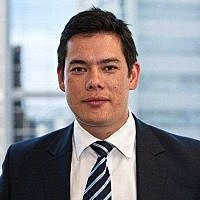 Head of Research
Canaccord Genuity
Aaron is Head of Research for Canaccord Genuity (Australia), part of Canaccord Genuity, an independent global investment bank with expertise across investment banking, equity research, and sales and trading services.
Expertise