21 funds the professionals would invest in
---
A big part of investing is humility – namely, understanding where your strengths lie and where they don't.
It should come as no surprise, then, that when we asked our experts to name another fund manager who they'd trust to manage their money, most of them pointed to funds that have very different mandates to their own.
It's also an implied testimonial of sorts to the need to diversify when investing. As good as you might be managing your own investments, there's always someone out there who has the expertise to do the same in a different asset class.
And special mention must go to Fairlight Asset Management and Baillie Gifford, both of which were picked by two of our fundies. 
The responses touch on everything from venture capital through to international equities and short sellers. There's even a crypto fund in there. 
And who better to recommend an expert than another expert?
Read or watch the full interviews below to find out where our fundies would park their hard-earned capital. 

Click on the image below to enlarge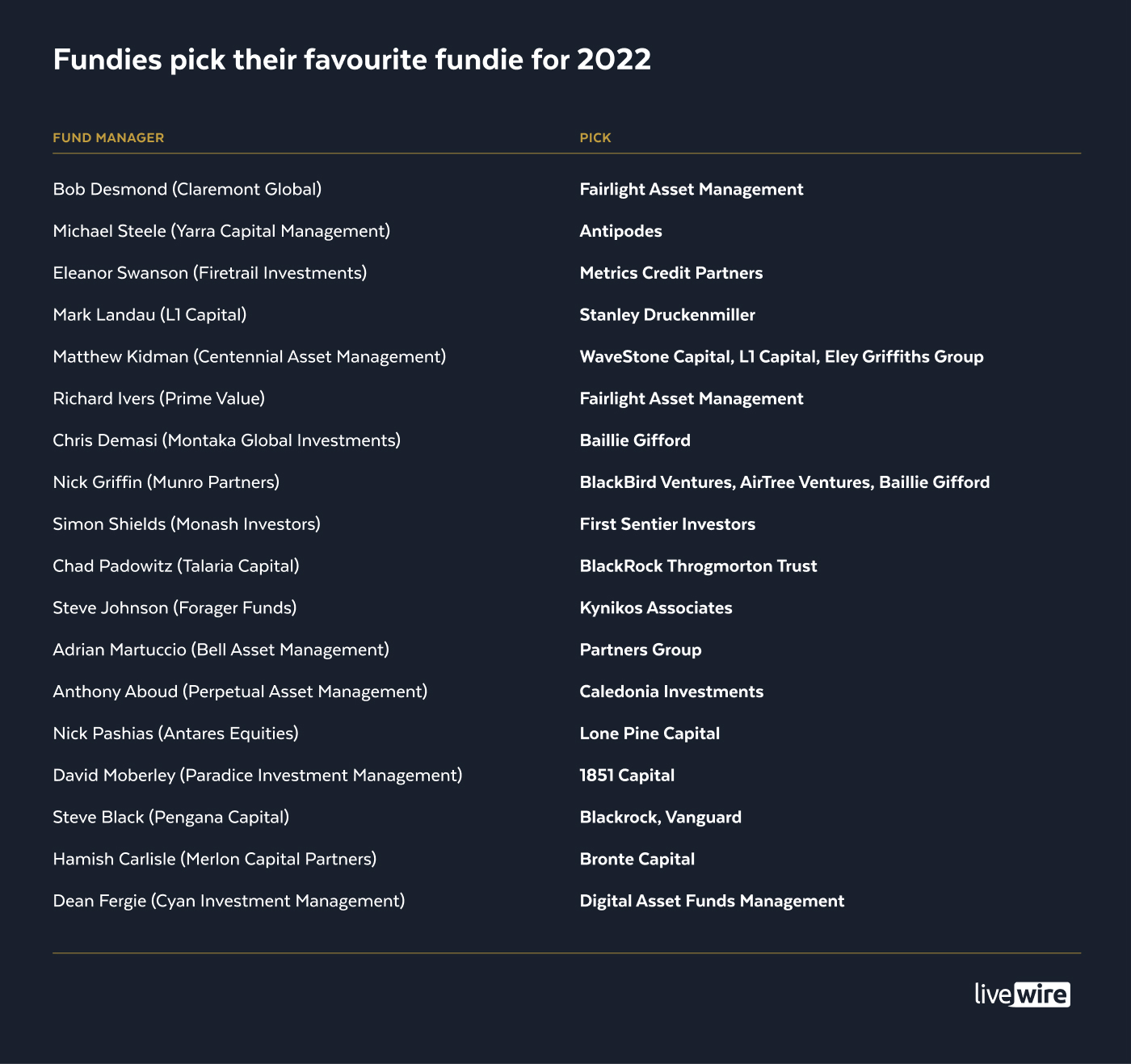 Note: This vision was shot on the 6th, 7th, 8th, and 14th of December 2021. 

Bob Desmond, Claremont Global 
Pick: Fairlight Asset Management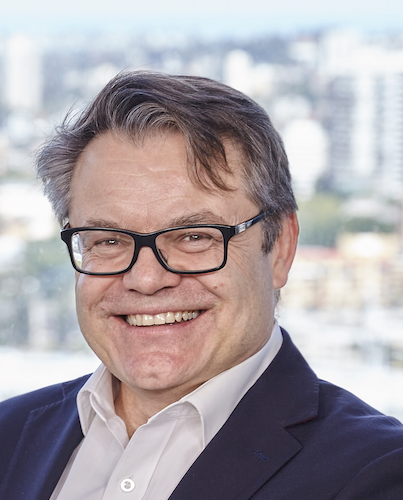 I think it would probably be Fairlight Asset Management, mainly because I know Nick and I've worked with them. I think they have a good process.

They do pretty similar stuff to what we do. Very bottom-up, quality-driven, very aware of valuations and culture, but they do it more in the small-cap and medium space. If I was to give someone else some money to manage, it'd probably be them.



Pick: Antipodes Global Fund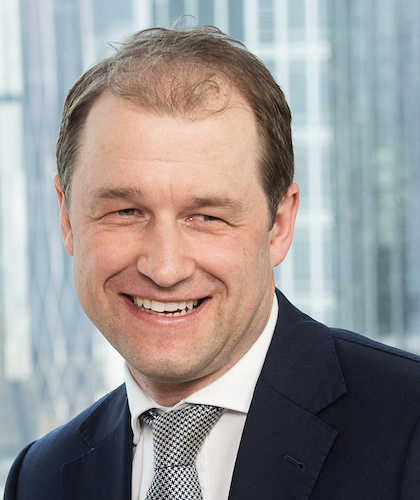 At this point. They seem to be clearly finding a number of very attractive opportunities within that global context, much broader than the Australian market, and some great value opportunities.
Managed Fund
Antipodes Global Fund
Global Shares
Pick: Metrics Credit Partners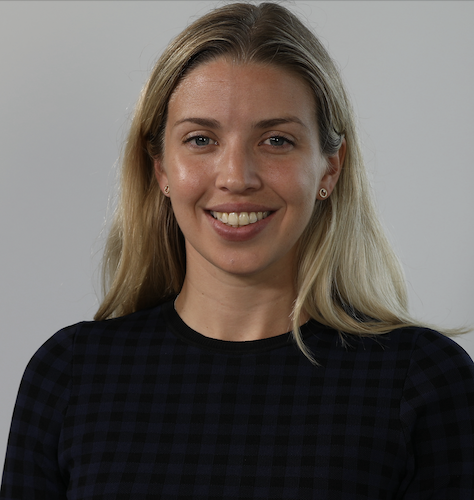 We've chosen something that's actually outside the equity part of the market. We think this is actually a fund manager that would provide good diversification for an investor who's got a portfolio of stocks, and that manager is Metrics Credit Partners. They're actually part of the Pinnacle Investment umbrella. What they specialise in is private debt. That's usually a part of the credit market that's been off limits, I guess, to retail investors. It's been very hard to access and it's really attractive, given low interest rates at the moment. It's really hard to get regular income. That's exactly what this fund provides. It gives you regular income and it also provides investors with really good risk adjusted returns.
Managed Fund
Metrics Direct Income Fund
Australian Fixed Income
Pick: Stanley Druckenmiller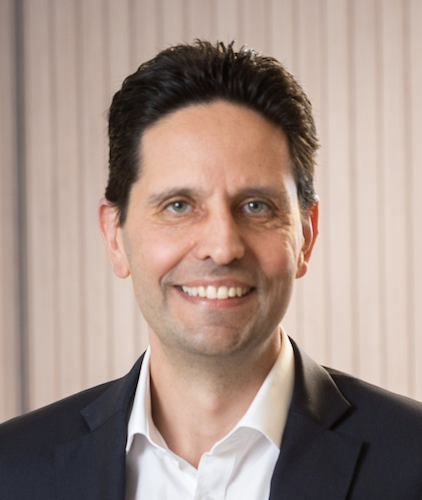 If I could pick one anywhere in the world, it would be Stan Druckenmiller. I think he is, in my mind, the best investor of all time. He's done a 30% return per annum for 30 years, and he's never had a down year in that time. So I think he's pretty incredible in terms of what he's delivered. The other thing I like about him is that anytime I to hear him speak, I find him incredibly insightful and articulate. He's also very humble and philanthropic as well. So not only a great investor, but a great person and someone I really admire.
Matthew Kidman, Centennial Asset Management
Picks: WaveStone Capital, L1 Capital, Eley Griffiths Group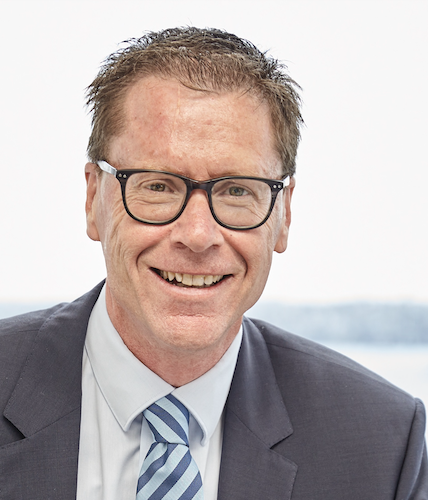 I've found it difficult to come up with a nice, simple answer. So, the way I manage money is a man for all seasons type of thing. You've got to adjust to what's in front of you. Try to protect your capital. It's not about indexing. So I'm going to give you a couple of names that I think covers everything that I can do. In the big cap area, which I don't specialise in, is probably WaveStone, Catherine Allfrey and her team. I really think they do a lot of work and they're terrific. 
I think, as a generalist, it might be someone like an L1. Mark Landau and his team, but they both go long and short and they are very stock selective, so there's a bit of protection on both sides. 
In my neck of the woods, which is small caps, the list of good managers is unbelievable. We're really lucky in this country. But I would say someone who I think has done a great job over a long time, is the guys at Eley Griffiths, and especially now. Well, Ben Griffiths has been the boss of that business, and now we've got David Allingham. I think they do a great job. They're very market aware, that they pick their stocks incredibly carefully.
Managed Fund
L1 Capital Long Short Fund – Wholesale
Alternative Assets
Managed Fund
Eley Griffiths Emerging Companies Fund
Australian Shares
Pick: Fairlight Asset Management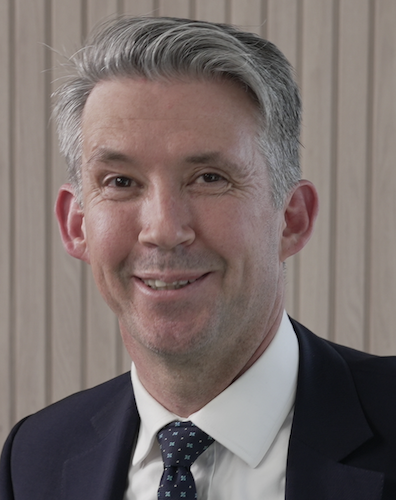 There's an old colleague of mine called Nick Cregan, who started up a fund at Fairlight Asset Management, and they do global small and mids with a quality bias. Nick's a good operator and the team around him, I think, is very good as well. They've been set up for, I think, three or four years now, and putting some really good scores on the board. I think small caps are a good place to be and a good place to generate really good returns.

Chris Demasi, Montaka Global Investments
Pick: Baillie Gifford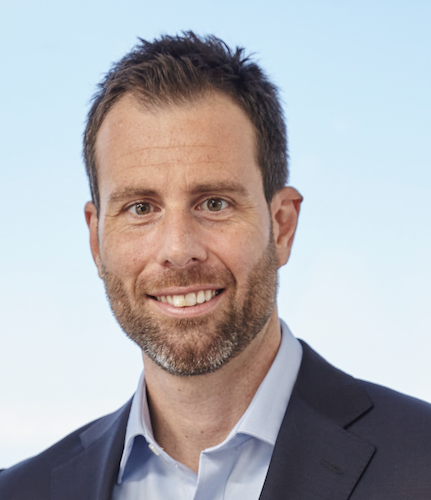 I think it's going to be Mr. Slater at Baillie Gifford in the UK. The reason that I would say him is because he really understands and appreciates the power of investing in a concentrated way, and very, very patiently, and looking for exceptional businesses that can really deliver extraordinary returns over time.







Picks: BlackBird Ventures, AirTree Ventures, Baillie Gifford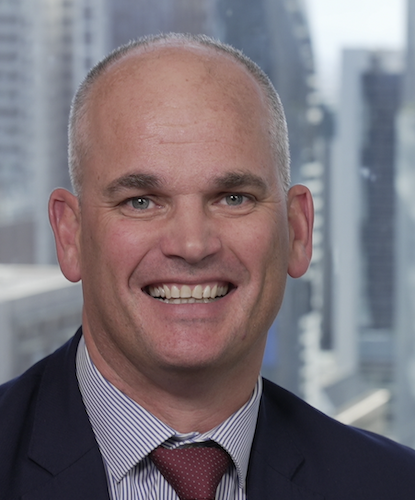 The reality is, it's a game of very few winners and lots of losers. Not all of them are listed. There are some really exciting ideas that are not listed. I think there's some emerging private fund managers in Sydney, like Blackbird and AirTree. I'd point to groups like Baillie Gifford offshore, et cetera, that also put private stocks in their fund. These guys are getting access to some of the most exciting companies in the world and they're getting access pre IPO, and they've got the talent to find it. So, those would be the guys that I would put a portion of my capital with.
Pick: First Sentier Investors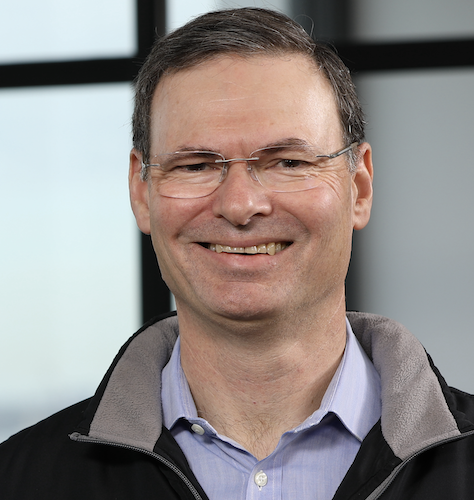 That's a great question and I actually gave this a lot of thought. There were two guys that I used to work with when I was at Colonial First State, 15 or 20 years ago, and they cover small caps, developing companies, emerging companies. Tim Canham and Wik Farwerck. The name of the company is now called First Sentier, because it got sold by the CommBank, but if I had $100 million and I had to stick it somewhere and want to go to sleep and give it to guys that would do well for me, it'd be those two.
Pick: BlackRock's Throgmorton Trust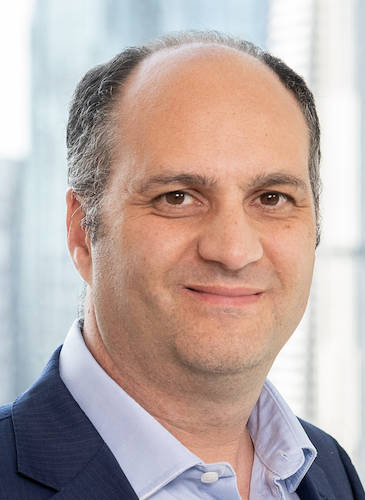 When looking at another process or fund I would look to invest in, would certainly look into things that we think are important, like a long term track record of return, sustainable points of differentiation, an area or region or regional sector or process that we think is conducive to the current environment. An example of that is BlackRock's Throgmorton fund, which is a UK based small and midcap equity manager that has delivered significantly over many periods of time. It's also consistent with our view that, as I mentioned, certain regions are more attractive than others, and Europe, including UK, certainly fits that.
Pick: Kynikos Associates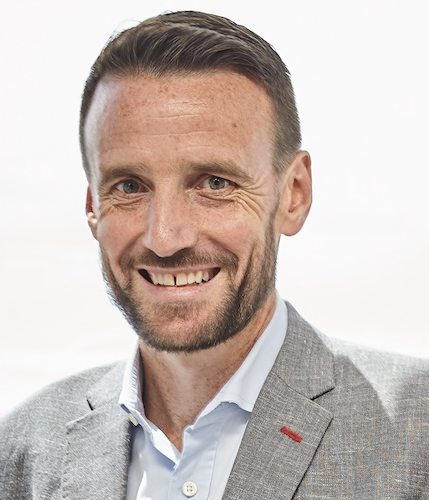 Maybe Jim Chanos's Kynikos. I think it's going to be a really ripe environment for the short-sellers. They've had a horrible, horrible time of it. I think his FUM has gone from $2 billion down to $300 million, or something like that.

It's been a horrible time to be a short seller. I think it's going to be a pretty ripe environment, for exactly that reason, over the next couple of years. That would be a really nice compliment in my portfolio. I'm generally a boring, long only guy. I like owning businesses. I like getting paid dividends. Be nice to have something in my portfolio that's just a really nice piece of downside protection here.
Pick: Partners Group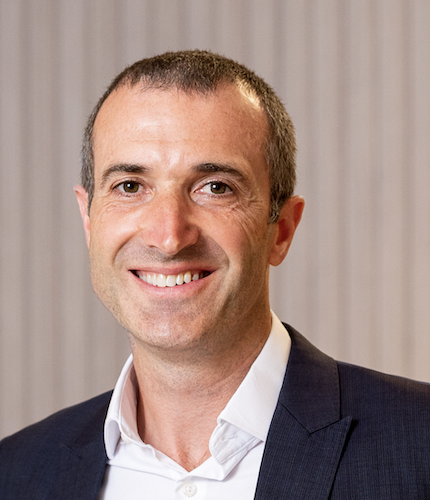 It's a difficult choice. We've got, actually, a fantastic Swiss company called Partners Group in our portfolio, which is a diversified private equity, quasi fund manager across all asset classes. We've owned them for about 10 years. If I had to give anyone money, I'd give those guys money, because they're very consistent performers and they'll pay themselves only after they've made the returns for their investors. So, very well aligned, I think.

Anthony Aboud, Perpetual Asset Management
Pick: Caledonia Investments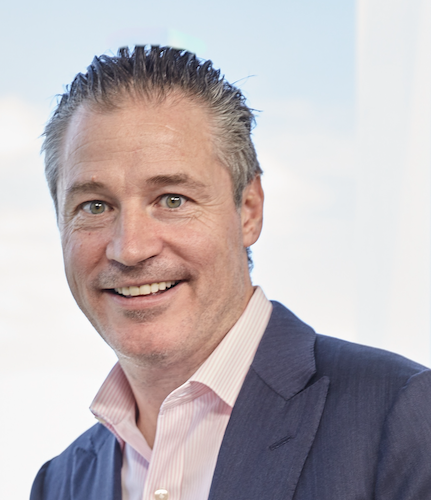 Why I look at stocks is I love looking for a quality stock, but waiting for some short term issues, and the share price reflects it, and I buy it. Caledonia is a portfolio manager who I respect. They've had a 20 year track record. They're very concentrated in their bets, but they've just had a really tough time. I think they had their worst month ever, had a really tough period at the moment, and the unit price reflects that. That's probably the one I'd look at.
Pick: Lone Pine Capital 
It would be a group called Loan Pine Capital. They're probably not well known. They're quite secretive. They're actually a Tiger cub. So they're one of the offshoots of the Tiger fund. It's one of the guys that have gone out on their own. They only own about 30 to 40 stocks. They do a lot of work, a lot of detail, and they back themselves, and that appeals to me. It's pretty simple, but I think it's effective.

They're in the US. They're in Connecticut. They got about $30, $40 billion under management.
David Moberley, Paradice Investment Management
Pick: 1851 Capital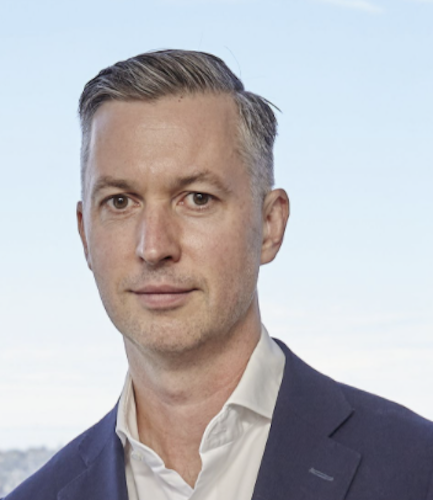 If I'm looking at a fund manager from the other side of the lens, I like someone who's been very sensible about their capacity. As we said earlier, I think there's going to be a lot of volatility next year. So I'll probably want someone who's seen a few cycles. I also want someone who has got a lot of alignment, and by that I mean they're a big investor in their fund. So, with those three things, I think, Chris Stott from 1851, who you know well, would be a good place to put some money. 
Steve Black, Pengana Capital Group
Picks: Blackrock, Vanguard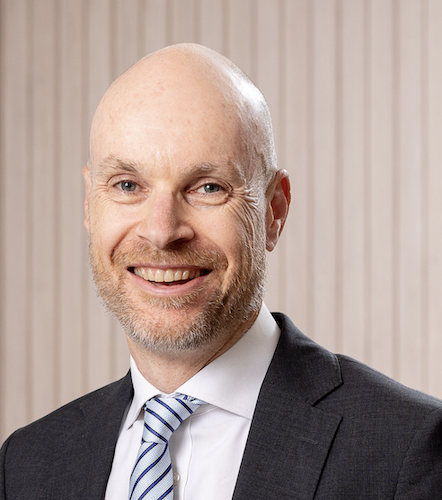 Active funds management is very, very difficult. There's very few instances of active fund managers outperforming consistently over time. I think most of the statistics show that, over a 10 year period, it's something in the vicinity of 15% of fund managers outperform, which is insanely low. So I think, back to where I started, probably BlackRock or Vanguard, an index fund, take the long term view, recognise that it is hard to outperform and management fees are very low.
Managed Fund
Vanguard Active Global Growth Fund
Global Shares
ETF
Vanguard Australian Shares Index ETF
Australian Shares
ETF
Vanguard Australian Fixed Interest Index ETF
Australian Fixed Income
Pick: Bronte Capital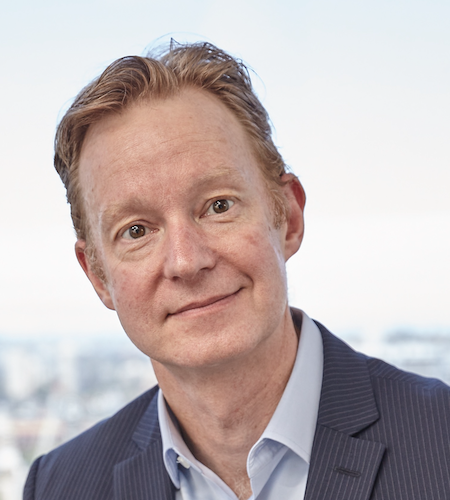 Well, I do have money with other fund managers, as it happens, around global equities. I've got money with Bronte Capital that I like. They're short some of the more low quality, garbage type tech names around the world, where there's indications of fraud and the like. (Ed's note: The video here says they're "positioned towards" these companies, but should've said they're short.) We do feel like it's very late cycle in terms of the asset pricing cycle, and again, those long duration tech names, recent IPOs and the like, will all be very, very vulnerable as we move into '22 and '23.
Dean Fergie, Cyan Investment Management
Pick: Digital Asset Funds Management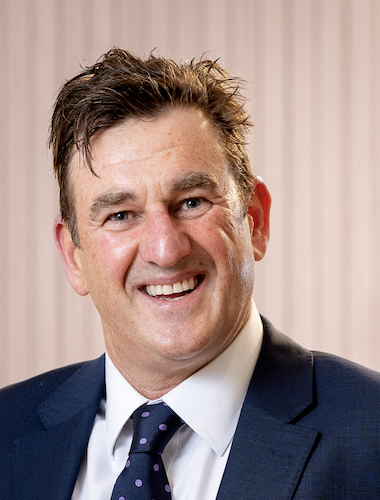 It's an interesting question, one I thought long and hard about. I've given some money to some guys called Digital Asset Funds Management and they do an arbitrage trading in cryptocurrency. So a couple of things.
It's really unique. So I don't know anything about it. I'm not an expert in how to trade it, really how to understand the currency, the custody of it. These guys, Clint and Mike in Sydney, know their stuff. They don't make substantial returns every month, but we're making 2% or 3% per month. So I think it's a really good, long term investment. Also, I think, in that market, there's so many speculators involved. There are a lot of inefficiencies. So I think, as a new asset class, if you've got that kind of strategy that's really defined, it's probably not a bad place to invest.
---
Be sure to catch the rest of our 2022 Outlook Series

Hit the 'follow' button below for our fundies' number one picks for the year ahead and other great content from our 2022 Outlook Series. Enjoy this wire? Hit the 'like' button to let us know or click the button below to view all the content on the dedicated landing page.
Never miss an update
Enjoy this wire? Hit the 'like' button to let us know. Stay up to date with my current content by
following me
below and you'll be notified every time I post a wire
Welcome to Livewire, Australia's most trusted source of investment insights and analysis.
---
To continue reading this wire and get unlimited access to Livewire, join for free now and become a more informed and confident investor.
---
---
Buy Hold Sell is a weekly video series exclusive to Livewire. In each episode two fund managers give their views 'Buy, Hold or Sell' on five ASX listed companies. Not recommendations, please read the disclaimer and seek advice where appropriate.
---
18 contributors mentioned
Buy Hold Sell is a weekly video series exclusive to Livewire. In each episode two fund managers give their views 'Buy, Hold or Sell' on five ASX listed companies. Not recommendations, please read the disclaimer and seek advice where appropriate.
Buy Hold Sell is a weekly video series exclusive to Livewire. In each episode two fund managers give their views 'Buy, Hold or Sell' on five ASX listed companies. Not recommendations, please read the disclaimer and seek advice where appropriate.