As an unusual and challenging year draws to a close, many investors may wonder what's in store for 2021. The prospect of vaccines, a return to travel and more 'normal' life has given hope to a better year in terms of personal lives and has interesting implications for investing.
I spoke to James Gerrish, Senior Investment Adviser for Shaw and Partners and author of investment newsletter, Market Matters, about the trends leading into the new year.
Growth was the theme for 2020
In a year dominated by pandemic and bushfires, growth stocks were the key focus for investors, with many traditional value investments hit hard by lockdowns.
"Growth stocks are dominated by IT names. They've benefited from lockdowns, they've benefited from more movement online, etc, and they've also benefited a lot over the last couple of years with declining interest rates," says Mr Gerrish.
The technology trend had already been playing out for some years, but the COVID-19 pandemic accelerated adoption as millions around the world were forced to switch their work and life needs to virtual format. The FAANG stocks formed part of this surge in interest, with Australian investors using a range of entry points, such as the ETFS FANG+ ETF (ASX:FANG), to access the growth potential.
While such stocks will continue to play an important role in portfolios going forward, Mr Gerrish believes that the outlook may be promising for values-based sectors in 2021.
A return to value in 2021
Mr Gerrish says, "in Australia, we had the value index up around 17% in the month of November. The growth index in Australia was up around 5%. There's a huge rotation out of growth, into value from a relative standpoint."
He views this as an ongoing trend and expects value investments to outperform growth investments across the next year but warns against skewing portfolios too far away from growth given the longer-term trends and prospects involved. The reason for this movement towards value comes down to a favourable environment for such investments, assuming a vaccine comes into play in the new year.
"We've got really supportive monetary policy around the world, so interest rates are at record lows, liquidity is high, we've got growing support being provided by fiscal measures in Australia. We're going to be spending on infrastructure, that's going to be a theme around the globe. I think the market is in a really strong spot and could really surprise investors on the upside next year"
The sectors he views as particularly benefiting from this include financials, infrastructure and resources.
He says, "the environment for banks is improving significantly. The loan growth is starting to come to fruition in the bank. We've seen a change in lending standards, which are supportive of loan growth. The long end of the yield curve is steepening, which is positive for bank margins. I think building stocks would do particularly well. I think there's been an underspend on new mine development over the last couple of years. And we're starting to see that through higher commodity prices. So, I think there's going to be some make-up there. If I think about resources, some of the lithium producers in the Australian market are really starting to show some form. The space is more mature now and we're starting to see more sustainable capital go into that area of the market."
He notes the ETFS Battery Tech and Lithium ETF (ASX:ACDC) offers exposure to lithium miners as well as offering thematic exposure to renewable energy, a theme set to continue once US President Biden is inaugurated, given his vocal commitment to sustainable energy.
In addition to value sectors, Mr Gerrish still views gold as an important investment in 2021, despite the drop in prices.
"I think we're going to have that concept of negative real rates for the next five years at least. Inflation running above interest rates is really supportive of physical assets like gold. There's one fund manager I met last week who rightly pointed out he can't print more gold. So he can print money, you can create cryptocurrencies and the like, but he can't print more gold. We're in the market today increasing our gold exposure."
A promising outlook for Australia?

From an Australian perspective, the return to value and likely sectors to benefit could be supportive of the domestic market.
"Our index has got banks and resources, which makes up about 40% of the index, whereas banks and resources make up about 15% of the S&P 500. So that's more skewed towards growth. I think it sets it up for a really high chance of Australia outperforming over the next 12, 18 months or so," says Mr Gerrish.
While positive on Australia's outlook, he is conscious of potential risks, with two in particular concerning him.
The first is interest rates.
"Over time, they will be increasing interest rates. We've got an environment where investors have got used to record low-interest rates. So there will be a tipping point."
Mr Gerrish is also maintaining a close watch over the relationship between Australia and China.
"It's deteriorated pretty markedly over the last couple of weeks. If that was to turn towards more of our important exports to China, iron ore namely, that could be a real risk for Australia. So, you know, I painted a really bullish scenario at the start of this discussion. The China relationship with Australia is probably one of those left-field events that could bubble away in 2021," he says.
Easy access to a range of opportunities
Interested in incorporating Australian investments in your portfolio? ETFS S&P/ASX300 High Yield Plus ETF (ASX:ZYAU) provides exposure to a selection of quality dividend stocks from the S&P/ASX 300 Index.
Click the 'FOLLOW' button below for more of our insights.
---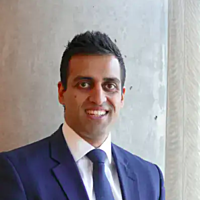 ETF Specialist & Head of Distribution
ETF Securities
Kanish Chugh is responsible for distribution covering sales and marketing strategy for institutional, intermediary and retail clients. He joined ETF Securities in 2015 and has previous experience with Fidelity International, BlackRock and...
Expertise