Key takeaways from the world's biggest technology show
---
Attending the Consumer Electronics Show (CES) held annually in the US is always an amazing experience. 180,000 people from 150 countries with 4,500 exhibitors spread over 2.9 million net square feet of exhibit space. It is pitched as the Global Stage for Innovation and it doesn't disappoint!
CES has served as the proving ground for innovators and breakthrough technologies for 50 years — the global stage where next-generation innovations and technologies are introduced to the marketplace.
I attend for the conference program, 250 sessions covering a variety of topics including the ongoing trends in consumer viewing habits, the future of brand marketing and entertainment, home automation, ageing in place, artificial intelligence applications, 5G, robotics and autonomous driving. With technological advancements moving at such a rapid pace, these sessions provide invaluable information and insight.
Is silence a virtue?
Voice applications, which are being enabled by an improving user interface, were a key topic in many discussions especially around Google Assistant and Amazon Alexa.  As these applications benefit from "learning" through AI interactions with users, the ability to converse and interact with these voice assistants will no doubt improve over time. 
Parks Associates estimates that the penetration of smart speakers in the US has increased from 3% at the beginning of 2016 to over 28% today.  Adoption rates continue to accelerate and smart speaker penetration enabled by voice is expected to reach 50-55% by 2021 – truly explosive growth rates! 
Now let's think about the privacy aspect of this for a second. I am sure that I am not the only one in the market who gets a bit uneasy when I have had an interaction with my chosen voice assistant only to be served with an online ad on the same topic shortly after. 
Data gathering, security and the use of data was a key point in many discussions and there does feel like there is a growing mistrust on how data is used and an increasing risk around the potential to violate consumer trust.  We have disparate ecosystems each with the agenda of owning the home and associated data streams. Perhaps "neutral" voice applications such as those offered by Nuance will become more in demand as its business model is not based just on advertising or the sale of consumer products.
There was a great quote in one seminar
"If you want to go fast, go alone.  If you want to go far, go together".
With Google and Amazon competing aggressively for a place in the home, the risk is that they will go fast, but potentially not far as data distrust and complexity become bottlenecks to sustained consumer adoption.
That said there were several examples of how interactive voice can really enhance current business models and one of the most broad-based opportunities in my mind is in home automation and security. 
"Consumers will pay for security and healthcare monitoring"
It does feel like we are at an inflexion point around voice applications in the smart home industry.  Voice has made it simpler (well it will when it understands us better!) and easier for consumers to adopt smart home applications.  Companies providing smart home products must realise however that consumers want easy, secure homes, not only smart but functional. 
With so many products and applications in the market today the complexity is increasing, and this is creating significant opportunities for companies like Control4 and Resideo who provide professional installation services for the consumer.  These companies address a real need for the consumer as frustration and return rates associated with installing "smart" products by yourself run incredibly high.
A potentially large market may be opening up in conjunction with the smart home and that is ageing in place. 
Ageing in place
In one seminar it was highlighted that there are 650m seniors globally who are relying on caregivers as 90% of seniors want to age in place.  The problem is that caregivers are stretched both financially and geographically and finding it difficult to provide the appropriate level of care.  It was exciting to see how technology, especially with intuitive voice and robotics, can really help with this ongoing social issue.
We will likely experience increasing economic and social challenges associated with our ageing demographics with enormous pressure on carers as hospitals become increasingly incentivised to promote out of hospital care.  Technology in the home can provide peace of mind for both the senior and their carers as sensors and voice built into the home can be used to provide predictive and preventative services in the future.
The exciting shift will be in seeing "what is the home of the future" as both seniors and those with disabilities can potentially benefit from enhanced independent living.  The ageing in place opportunity will be fascinating as the applications enabled by cameras and voice are potentially game changing.
5G is real, it is here and it is happening
At the CES, the entire 5G ecosystem was on show right from the integral network required for next generation data transportation through to the potential end devices and use cases which will be enabled over time.
There were many seminars highlighting how 5G has the potential to change and create many new business models in gaming, healthcare, sport, education, entertainment, agriculture, smart homes/cities and even journalism. 
Microsoft highlighted that 5G is a catalyst technology which will enable moving to the cloud much faster (think data centers such as Interxion in Europe) while driving data from the edge to the cloud.  Connectivity is key and the transformation will be based on how existing businesses can adapt and new businesses be enabled.  Microsoft is seeing commercial companies, energy, healthcare, transportation etc looking at how they can utilise 5G. 
"Technology is not about what technology can do, but what people can do with it"
Qualcomm contends 5G will be a transformative experience and is not only about smartphones but also autonomous cars, Industrial IoT and the connected home. Latency is one of the main benefits of 5G vs 4G – new industries which were not using wireless will do so under the new 5G architecture. 
Qualcomm 5G Use Cases Presentation
Factories, automotive and healthcare companies are embracing the opportunity of 5G.  Also, cities want to be the first to adopt this new technology from an economic advantage standpoint as it attracts businesses while providing economic improvements such as traffic and infrastructure management.

In summary, 5G will be the enabler of home, city and industrial smart connectivity.  5G will permeate many new consumer devices as use cases grow, especially in smart glasses longer term.  The standards and adoption timeline associated with 5G are still being discussed however it did feel that all industry players are working together to make it a commercial reality – "if you want to go far, go together".
There are many more insights and learnings that I have taken away from attending the seminars at CES which underpin current investments while highlighting future opportunities for the Ellerston Global portfolio. 
The long tail opportunities in 5G, autonomous driving and smart device testing will continue to drive earnings at leading testing companies such as Keysight.  The amount of data that will be generated will continue to grow exponentially and drive earnings at companies such as Ciena and infrastructure owners such as Interxion and Cellnex Telecom. 
As technology change accelerates, existing business models will need to adapt while new business models are formed.  We will certainly benefit as investors by attending forward looking events such as the CES to keep in front of disruptive forces in the market as "the only certainty of the future is disruption". 
Want to learn more?
Ellerston Global Investments (ASX:EGI) is a concentrated global mid/small cap portfolio based on high conviction best ideas which is benchmark independent. Providing true diversification to investor's global equity portfolios. Find out more
---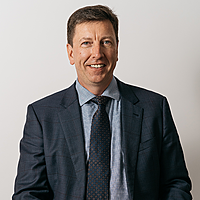 Portfolio Manager
Ellerston Capital
Bill is Co-Portfolio Manager for Ellerston Global. He has over 19 years of financial markets experience, previously working for UBS, MMC Asset Management, QIC and Kira Capital. Bill has a Bachelor of Commerce and is a CFA Charterholder.
Expertise