7 reliable income stocks in an unreliable market
---
With offshore developments becoming increasingly difficult to predict or heaven forbid, with Trump's seesaw battle with China on trade, political opaqueness in Britain before what seems like a hard Brexit and inverted yield curves globally pointing to a potential recession, what does a humble investor in Australia look for in secure long-term investments.
Mason Stevens has done some searching to try and identify some domestic unicorns out there which fit a pretty conservative, but hopefully reliable and safe investment criteria for the next 12 to 18 months.
The criteria are
Earnings principally generated in Australia
Dividend yielding above 4%
Robust earnings outlook
Spark Infrastructure Group
Spark invests in infrastructure assets principally in electricity in Australia through its 49% ownership of Victorian and South Australian Power networks. It supplies power to 5.6m homes and businesses.
Share Price: $2.28
Market Cap: $3.835Bln
Dividend Yield 6.8% or 15 cents per share.(Forecast)
Stockland Group
Stockland is a property group that a diversified set of assets. With a focus on Regional and outer Metropolitan areas, Stockland develops and manages retail centres, residential communities and retirement assets as well as commercial office and industrial assets.
Share Price $4.45
Market Cap. $10.61bln
Dividend Yield 6.2% or 27.6 cents per share (Forecast)
Origin Energy
Origin Energy is an integrated energy company throughout Australia, selling residential and commercial businesses electricity, gas and LPG. It also holds upstream energy assets with renewables being an ever-increasing focus.
Share Price $7.63
Market Cap $13.4Bln
Dividend Yield 5.1% or 39 cents per share (Forecast)
Sydney Airport
Sydney Airport operates Kingsford Smith airport, the principle domestic and international gateway for air traffic. Sydney Airport develops and maintains the airport infrastructure and leases terminal space to airlines and retailers.
Share Price. $8.37
Market Cap. $18.93Bln
Dividend Yield 4.6% or 39 cents per share.(Forecast)
Telstra Corporation Ltd
Telstra is Australia's biggest full service domestic and international telecommunications provider. Telstra provides telephone exchange lines to homes and businesses in addition to data, internet and online directory services as well as 50 % of pay TV operator Foxtel.
Share Price. $3.65
Market Cap. $43.3Bln
Dividend Yield 4.38% or 16 cents per share (Forecast)
Wesfarmers Ltd
Wesfarmers is a true conglomerate managing a diverse range of businesses in retail, chemical, and financial services. Household names in Australia include Bunnings, Officeworks, Kmart & Target along with gas processing and distribution, chemical & fertiliser production and Insurance.
Share Price. $39.05
Market cap. $44.3Bln
Dividend Yield 4.2% or 165 cents per share (Forecast)
Transurban Group Ltd
Transurban Group owns and operates urban toll roads in Australia and Nth America.
Share Price. $14.96
Market Cap. $ 40.57Bln
Dividend Yield 4.14% or 62 cents per share (Forecast)
Source: IRESS and Bloomberg 29 August 2019
In summary
This list is by no means complete, but these companies are pretty transparent in what they do and more importantly their earnings are relatively insulated from offshore developments or commodity prices. The operations are directly influenced by Australian consumers and domestic issues, and the execution of the stated business plan by the respective management teams. 
There is no such thing a a guarantee investing in equities, but on a relative basis when one considers the likelihood of an extended period of very low interest rates, these companies have as good a chance as any of providing investors with a reasonable yield over the next 12 to 18 months.
---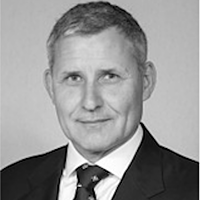 Investment Strategist, Equities
Mason Stevens
With over 30 years of experience in financial markets, Rod has a strong background in both equity and debt derivative markets and equity and debt capital markets, having held positions at ASX, Ords/JP Morgan, Deutsche Bank, BITG and Origin Capital.
Expertise