A constant theme amid the turmoil
---
The aging population is a well-appreciated phenomenon and a challenge for policy makers around the world. The combination of demographic changes resulting from declining birth rates, a shrinking working population and medical advances present policy challenges and a deepening opportunity set for investors. This article provides a broad view of the growing population of older Australians, their increasingly diverse needs, and how investors can play a role in meeting their needs and achieving compelling returns.
The Australian seniors' population (persons aged 65 and over) has grown considerably over recent decades, representing over 4.2 million or around 16% of today's population, compared with one million in 1970. This cohort is projected to represent 21-23% of our population by 2066.[1] In absolute terms, the increase may seem much more significant, as it represents approximately six million people.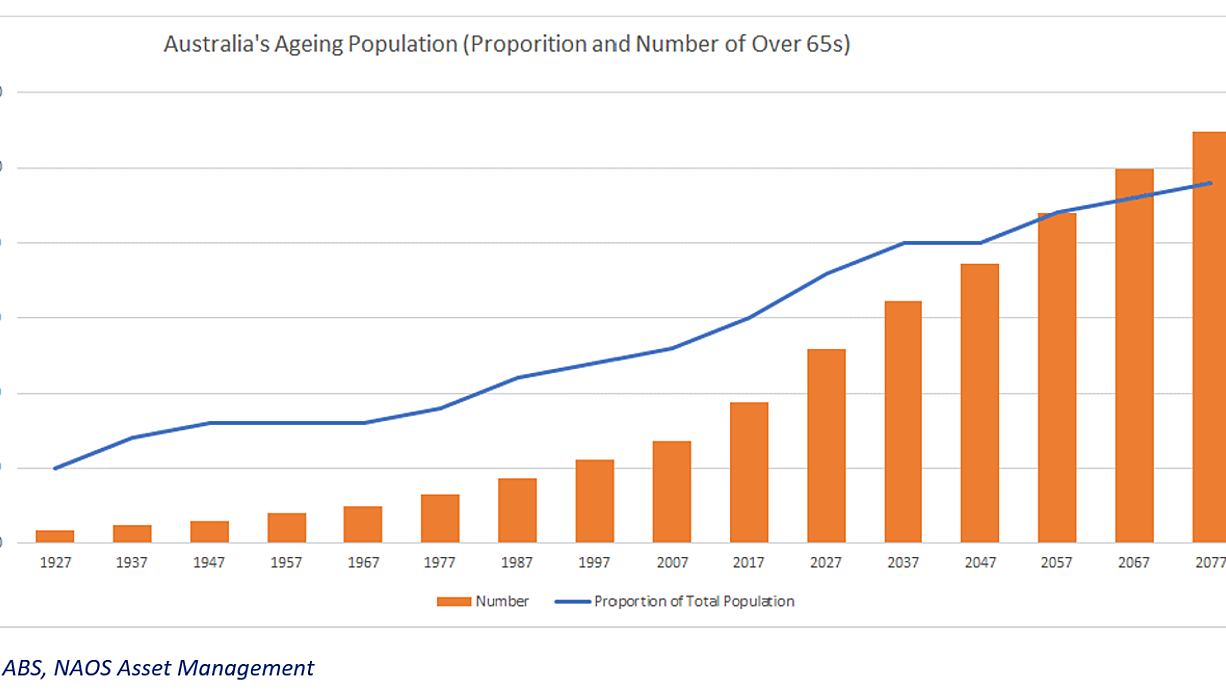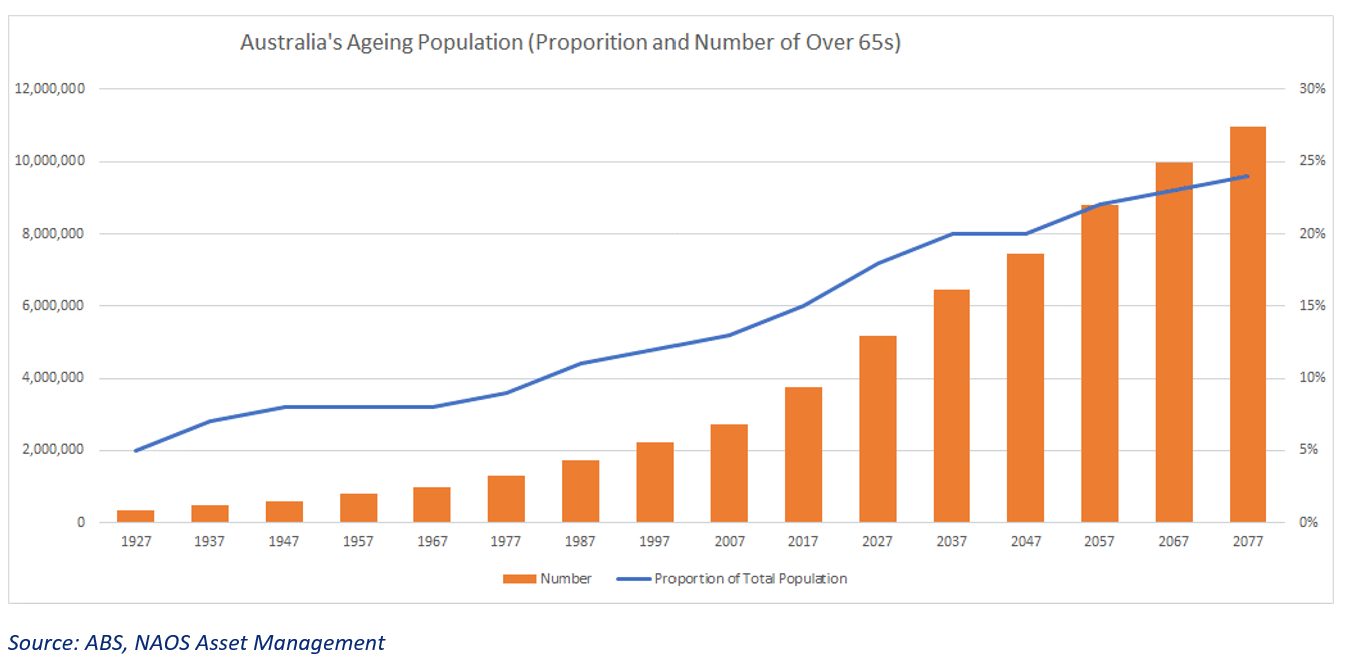 The experience isn't unique to Australia, with many countries reporting similar trends. According to the United Nations, the proportion of the global population aged 65 years or over increased from 6% in 1990 to 9% in 2019, and this figure is projected to reach 16% by 2050.[2]
This prospective growth in longevity reflects success in a number of health-related and socio-economic factors. Advances in medical technology and research means that we are progressively seeing the release of more effective diagnosis and treatments for the leading causes of mortality – cancer, cardiovascular disease and diabetes.
"Advances in cancer treatments are responsible for saving 61,000 lives over the past 20 years"
Cardiovascular disease remains the number one cause of death, with data from the Heart Research Institute showing it affects one in every 20 Australians. Cancer also remains a key driver of mortality rates, but Cancer Council Australia data suggests advances in cancer treatments are responsible for saving 61,000 lives over the past 20 years. The survival rate has increased to 69% from 49% in the 1980s.[3]
Various authorities in the field of cancer research believe that a combination of advances in genomic sequencing, data processing power and advancing methods to harness the immune system will combine to deliver effective individualised treatments for cancer. Add to this the growing influence of lifestyle practices such as diet, exercise, smoking and it is fairly intuitive why people are living longer.
Ageing gracefully – then and now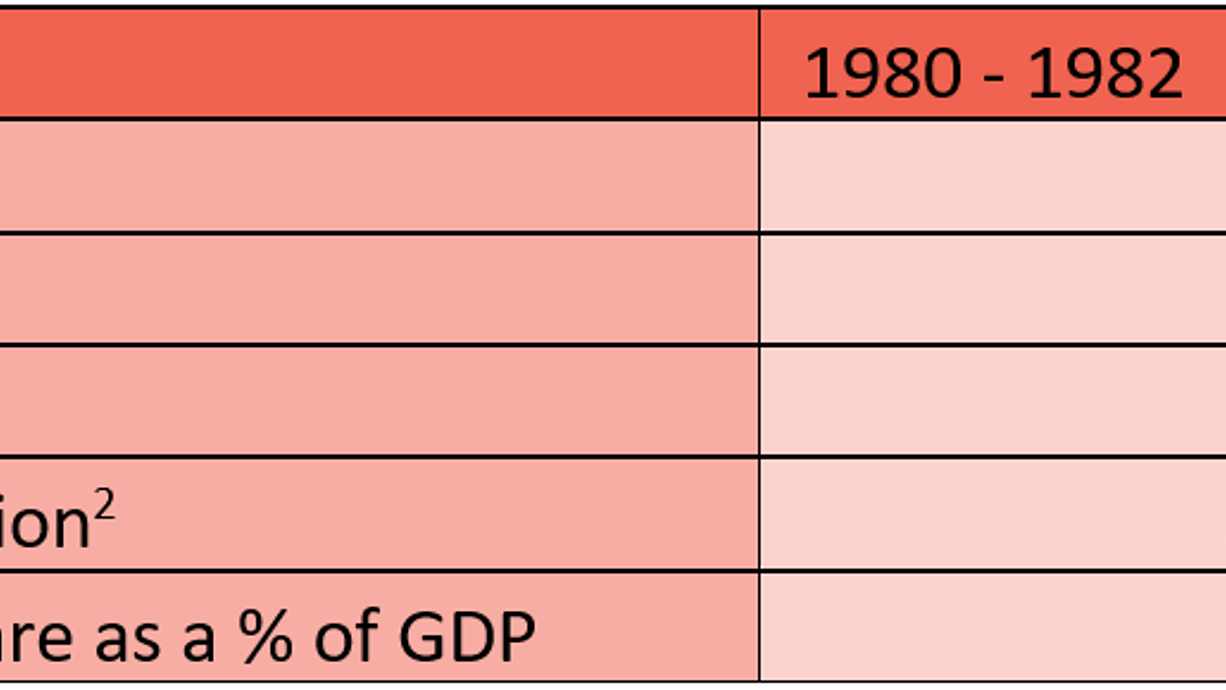 Investors ready to fill the gaps

The growing needs of an ageing population present both a challenge for governments and a broad array of opportunities for investors. These extend well beyond traditional aged care accommodation to areas like health services, supported living, recreation, administrative and financial management, security, travel and transportation. As asset managers, this is the area where we can have a mutually beneficial impact, and hence the focus of this article. Here we highlight a few of the areas and the listed companies active in the space.
Aged care – Traditional community or not-for-profit operators of low care and high care accommodation have struggled to keep pace with growing demand. Commercial operators like Regis Healthcare have sought to fill the gap and now operate residential care homes in all states. The sector has been heavily scrutinised through the pandemic and prior to this, through the Royal Commission into Aged Care Quality and Safety. Aged care providers clearly have a significant role to play in society, and in our view, the for-profit businesses will be integral to meeting these needs.
Home care – In recent years the concept is known as ageing in place, which supports older people to live out their retirement years and end-of-life in one residential setting, has gained prominence. Through government policy support and lifestyle choices, we have seen a gradual blending of retirement living and nursing home accommodation in many facilities. Operators like Lifestyle Communities (ASX code: LIC) have focused their business on the downsizer market to offer the development and management of independent living housing within centrally managed and maintained community infrastructure. As a side point, within this demographic, there will be a range of needs-based solely on socio-economic factors, such as what people can afford. In our view, this factor alone will drive significant demand for a range of service offerings such as the one provided by Eureka Group (ASX code: EGH) which offers a pure fortnightly rental model of affordable village-style accommodation for retirees.
Health care – Private hospitals and medical practices are well-established sub-sectors in Australia, which have proven efficacy over the public hospital system. Ramsay Health Care (ASX: RHC) is the largest operator in Australia, with 72 private hospitals and day surgery units. It also has clinical operations in Europe, the UK and Asia. There are also numerous listed businesses that operate within the medical device and treatment space which provide these products to the hospital operators. 
One such company that NAOS has invested in is BTC Health (ASX code: BTC) which is a distributor of medical products across Australia and New Zealand. BTC has a clearly stated strategy of targeting product distribution growth "through the hospital healthcare sector given the demand for patient care, sustainable funding and an ageing population".[4]
"Retirement income is an area that the Australian market is yet to conquer"
Financial services – Major market and structural changes following the banking Royal Commission have materially affected the major banks and insurers, which have seen an exodus from many business lines linked to meeting the needs of the retiree market. This has left the gap to be filled by smaller companies like Perpetual (ASX code: PPT) and Australian Unity (ASX code: AYU). Retirement income is an area that the Australian market is yet to conquer, with the growing need of self-funded retirees and the accelerating decline in representation of defined benefit and aged pension-dependent cohorts. Challenger (ASX code: CHG) is one of the few companies with a dominant position in the annuities business and a targeted approach to providing for its customers in retirement.
Listed and private markets melding opportunities
Recent capital market activity indicates the expanding interest in taking strategic positions within the theme. In April last year, we saw a deal that highlights the market interest in capturing a broader exposure to the ageing population theme, where the large not-for-profit Calvary Healthcare completed a $380 million acquisition of Japara Healthcare. The deal was completed at an 81% premium. Japara's 4000-plus beds around Australia were seen as a strong complement to Calvary's extensive network of public and private hospitals and aged care facilities. Then in December, EBOS Group (ASX code: EBO) announced an agreement to acquire LifeHealthcare, a large independent distributor of medical devices, consumables, and capital equipment, from private equity ownership.
Early this year, a consortium led by KKR saw value in making an offer for Ramsay Health Care at a 37% premium to the prior share price. A large component of Ramsay's portfolio is directly linked to health care services for the over 65s, ranging from specialist consulting, hospital services, medical imaging, and rehabilitation.
Naturally, each potential investment needs to stand on its own merits, but these examples do highlight the nature of aggressive positioning within businesses that have a clear exposure to the aging demographic trend.
A word of caution
The aged care and health care sectors in Australia are highly dynamic but heavily regulated. Hence, policy-driven initiatives can present both risk and opportunity for investors which need to be considered, as changes to policy instruments like the Pharmaceutical Benefits Scheme (PBS) and Medicare Benefits Schedule can exert meaningful impacts on the viability of product lines and service offerings. By way of example, in March this year, the Government announced changes to the PBS which impacted some providers of medical prostheses used in bodily function restorations. In total, five new prosthetics were added, while 322 were deleted.
"Investors need to keep abreast of specific areas of policy development, innovations and service offerings"
Today there are around 185 health care companies listed on the ASX, which cater to a range of health care equipment, pharmaceuticals, biotechnology, hospital services, and aged care accommodation, so investors need to keep abreast of specific areas of policy development, innovations and service offerings when assessing a company's earnings prospects.
An established trend worth tracking
Considering the current thematic shifts in equity market sentiment as we transition from the easy money cycle to an actual base-cost hurdle for assessing risk and potential returns, we at NAOS see the ageing population as a sustainable theme that is now structurally embedded into the economy. The theme gives rise to needs and opportunities across many industries and is an area of likely ongoing investment for the suite of NAOS-listed investment companies.
There is little doubt that more companies will emerge or adapt to play a role in fulfilling the growing needs, but past experience suggests that not all businesses will capitalise on the opportunity. Some will, some will take time to get it right and some might meet their fate. 
While medical technology, service offerings, and policy direction will naturally evolve, the one constant we can be confident in is that the number of people over 65 is going to significantly increase over the next 10 to 20 years, and likely beyond. That alone will hold the relevant sectors in good stead for growth and innovation to support companies with the right business models and management foresight.

[1] Source: Australian Institute of Health and Welfare, "Older Australians", updated (April 2022)

[2] Source: United Nations, "World Population Ageing 2019"

[3] Source: Australian Institute of Health and Welfare, "Cancer in Australia" 2019

[4] BTC Health Limited, "Annual Report 2021"

........
Important Information: This material has been prepared by NAOS Asset Management Limited (ABN 23 107 624 126, AFSL 273529) (NAOS) and is provided for general information purposes only and must not be construed as investment advice. It does not take into account the investment objectives, financial situation or needs of any particular investor. This material may include data, research and other information from third party sources. NAOS makes no guarantee that such information is accurate, complete or timely and does not provide any warranties regarding results obtained from its use. This information is subject to change at any time and no person has any responsibility to update any of the information provided in this material. Statements contained in this material that are not historical facts are based on current expectations, estimates, projections, opinions and beliefs of NAOS. Such statements involve known and unknown risks, uncertainties and other factors, and undue reliance should not be placed thereon.
---

Follow Sebastian Evans's wires
---
---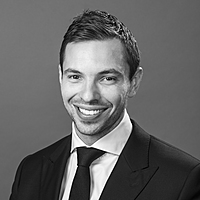 Sebastian Evans is the Managing Director and Chief Investment Officer of NAOS Asset Management Limited. Sebastian is the major shareholder of Naos and has worked in the firm for over 13 years. Sebastian has a Bachelors Degree in Commerce Majoring...
Expertise