A payments company for value investors
---
Euronet Worldwide Inc (NASDAQ: EEFT) was recently added to our portfolio. EEFT is a global electronic processing company based in the US and listed on NASDAQ. The business is split into three divisions: Electronic Funds Transfer (EFT), Money Transfer and epay. 

We consider the EFT business to have a robust medium-longer term growth outlook driven by growth in ATM distribution and ATM outsourcing.
The Money Transfer business should continue to consolidate market share and grow above market growth rates as its superior technology platform and brand reaches new markets.
We believe the epay business should see strong growth from both traditional mobile top-ups but also within the non-mobile digital transaction market as the world shifts from cash to digital.
Additionally, the company has a very strong balance sheet with net cash position.
After EEFT's share price traded at an all-time high of US$167.64 in January 2020, it collapsed to a share price low of US$61.27 in April 2020 as concerns arose that COVID-19 would materially impact the earnings of the three business lines. However, we have seen the company report a reasonably resilient second quarter result and then surprise the market with a better than expected third quarter result for 2020.
The EFT business has clearly been impacted by the decline in global travel and particularly travel into Europe. The majority of the revenue generated within this division comes from the highly profitable dynamic currency conversion component of the ATM business and a resumption of global travel to levels pre-COVID is required before this division can deliver earnings growth above pre-crisis levels. One of EEFT's key business regions is Europe and we have observed intra-Europe travel demand proving to be quite resilient. When lock-down laws were eased over the European summer, the company reported a strong pickup in demand at the ATMs which would suggest this downturn is only temporary.
There is still strong demand for cash when people travel despite the shifts ongoing from cash to digital in local economies.
Firstly, we believe the EFT business still has lots of potential for growth as banks look to reduce their ATM footprint which should see a shift in market share to EEFT as they roll out their independent ATM network and/or increase their outsourcing opportunities.
Secondly, the Money Transfer business has been a somewhat counter-cyclical business with strong growth in global remittances. As travelling came to a halt or significantly slowed this year, we observed that money is no longer being moved abroad via people carrying physical cash. Rather, we see a likely increase in demand resulting from a slowing economic outlook in many emerging markets which results in greater need for remittances "home" to friends and relatives.
Lastly, the epay business is a direct beneficiary of the shift from cash to digital and has experienced good growth during the pandemic as more people spend online for entertainment and gaming.
Interested in income and capital growth?
Our strategy is to create a concentrated and actively managed portfolio of Australian securities with typically a mid-cap focus and global listed securities. Find out more by clicking 'contact' below, or hit 'follow' to be the first to receive our latest Livewire insights.
---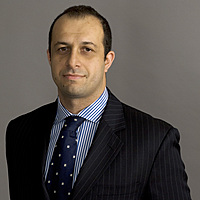 Deputy Head of Equities
Perpetual Asset Management (Australia)
Vince is the Deputy Head of Equities at Perpetual Asset Management Australia and is the Portfolio Manager for Australian Share, Geared Australian Share and the Perpetual Equity Investment Company Limited (ASX:PIC).
Expertise