A practical approach to corporate culture
---
In a world where intangible assets such as research and development, employee training and branding increasingly form the backbone of companies' competitive advantages, it makes sense that a good corporate culture can partly explain strong and consistent business performance, especially by companies who mostly rely on their people for their success. Such is the case for portfolio-holding Softcat which we profiled in January 2020.
Softcat is a leading hardware and software reseller in the UK targeting those customers too small to be reached economically by the sales force of large vendors like Microsoft or to have their own sophisticated IT teams. Softcat bridges this gap making itself an indispensable part of the value chain.
Guardians of culture
Softcat's 30-year history suggests that management has strived to create an environment that is conducive to a high-performance culture, and subsequently nurture it. There are no signs of this changing.
Softcat predominantly hires graduates providing them with comprehensive upfront training. Additionally, the sales force is typically divided into small teams which helps leaders to better support junior members and fosters healthy competition between teams. Softcat provides clear career progression too; the current Managing Director, Richard Wyn-Griffith, started his career as a sales associate in the early 2000s.
During the early months of the COVID-19 pandemic, management opted not to reduce Softcat's workforce and instead provided underutilised staff with additional training without accepting any government wage subsidies. Since then, Softcat has quickly returned to hiring new graduates. Importantly, company leaders are ensuring that new recruits can benefit from Softcat's renowned vibrant work environment despite still having to work remotely.
Notably, Softcat has preferred to grow organically, never having bought growth via acquisition. Given the IT industry tailwinds, management sees no reason to risk diluting the company's culture for a few extra points of top line performance.
This people-centric mentality has helped Softcat to retain and attract a highly engaged and motivated workforce. Softcat consistently ranks as one of the top 5 employers in the UK and enjoys a Net Promoter Score, a measure of customer satisfaction, of 66, significantly higher than the broader IT industry of about 40.
Is culture driving outperformance?
Scale advantages are important in the industry. On the demand side, larger resellers can offer customers a broader portfolio of products and deeper expertise than smaller peers. On the supply side, larger resellers allow vendors instant access to an extensive sales network of specialists. Over the past decade, Softcat has been growing its gross profit, the best measure of resellers' contribution to the channel as it is net of pass-through costs, comfortably above 20%. Whilst this is at least twice the rate of IT spending in the UK, other leading local resellers, such as Computacenter and CDW UK, have also been growing faster than the market, complicating the assessment of how much of Softcat's above-market growth is linked to scale advantages and how much, if any, to culture.
However, it's reasonable to assume that a superior culture is most helpful during periods of rapid change or a crisis. An analysis of how Softcat performed compared to other scaled players during 2020, a year heavily disrupted by the COVID-19 pandemic, should provide some insight. Despite a demanding comparison period, Softcat grew gross profit by 13%, slightly better than the local operations of Computacenter. Softcat's performance compared to CDW UK is probably more pertinent given the two firm's common focus on small-sized corporates and government clients (compared to large enterprises for Computacenter), and here its outperformance was stark (see Figure 1).
Figure 1. Source: Company data and Fairlight estimates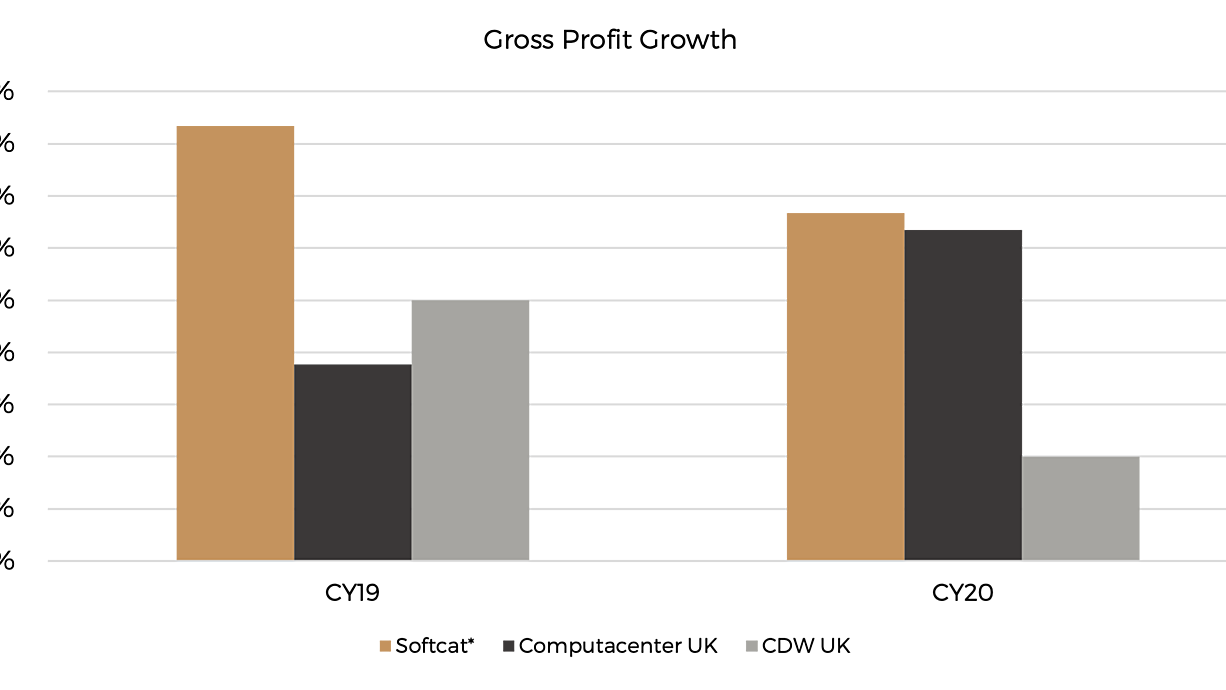 * Jan-2019 to Jan-2020 and Jan-2020 to Jan-2021
Source: Supplied. 
This analysis isn't conclusive, but the stats, at least partly, support the idea that Softcat has some intangible characteristics that help it perform better than its competitors.
The Fairlight view
Academic literature defines corporate culture as the shared values, beliefs, behavioural norms and artifacts that are present in organisations. In practice, a good culture is what makes employees perform in ways that benefit all stakeholders. From an investing point of view, a good culture is a source of sustainable competitive advantage. This implies that it must be unique and not perfectly replicable by competitors. If there is supporting evidence suggesting that a company's culture contributes significantly to its success, Fairlight employs significant effort analysing how defensible that culture is. Based on how the company was managed through the COVID-19 crisis and our discussions with the executive team, we continue to believe Softcat's culture is durable.