A warning signal for bank investors
---
Loan book growth is a function of demand for debt in the economy, as well as the competitiveness of the banking system in providing that debt, and the availability of lending capacity. The future competitiveness of the banks in providing debt is a discussion for another day, while the availability of lending capacity is a function of capital requirements and access to wholesale debt.
The demand for debt will be driven by private sector confidence (affecting both demand for debt and the willingness to lend), opportunities for investment, and the cost of debt funding.
Loan book growth was a significant driver of the strong earnings growth generated by the banks between 1995 and the GFC, albeit partially offset by falling net interest margins. The data below shows the year over year growth in the outstanding loans and advances for housing, personal credit and business according to the RBA data.
The data suggests long-term loan book growth rates have averaged somewhere in the high single digits. With loan growth currently between 6% and 7%, a superficial view would be that there is upside to loan book growth rates if they revert to longer-term averages. The problem is that this ignores the impact on loan book growth of the long-term decline in the cost of debt, which has driven a significant increase in private sector gearing levels over the last 20 years.
The chart below shows total private sector loans and advances as a percentage of private sector nominal gross domestic product (i.e., nominal GDP less Government consumption and investment). This is a measure of the gearing of the private sector (both households and business) balance sheet. It is a similar measure using gross debt to EBITDA to look at the financial leverage of a company.
This is compared to the official RBA overnight target interest rate.
Between 1995 and 2008, the growth in loan books was reasonably evenly split between economic growth and increases in the level of the private sector gearing. The falling cost of debt on the back of lower official rates has stimulated demand for debt in the private sector, leading to a significant increase in gearing over time.
This was assisted by increasing leverage in the banks themselves, given falling tier 1 equity ratios and increasing bank balance sheet leverage. This increased the multiplier effect, with banks able to create a larger amount of lending capacity for a given amount of equity capital in their balance sheets.
In recent years, nominal GDP growth has been held back by lower inflation and a weakening in export prices (i.e., commodity prices). So while real GDP growth has remained reasonable, nominal growth has been weak.
Looking forward, there are a number of factors that will constrain loan book growth for the banking industry.
First, creating inflation is a worldwide problem at the moment. While the recent bounce in key commodity prices like iron ore and coal will provide a bit of a boost through the terms of trade, nominal GDP growth is likely to remain constrained by low inflation going forward. Sustainable longer term nominal GDP growth is more likely to be closer to 5% going forward.
The next issue is that the ability to stimulate demand for debt through further reductions in the cost of borrowing is becoming increasingly difficult. This is because the average funding cost for the banks is becoming increasingly unaffected by RBA rate cuts due to the proportion of deposits that are already earning zero or near zero interest rates. Banks can't pass on lower official RBA overnight interest rates unless rate cuts also reduce their cost of funding. With around 65% of bank funding coming from deposits, each incremental RBA rate cut is delivering a smaller and smaller reduction in bank funding costs. As a result, further RBA rate cuts are unlikely to deliver a material reduction in borrowing rates from current levels.
With limited room for further reductions in borrowing costs, the ability to boost loan book growth through ongoing increases in private sector gearing will be more limited. Longer term, any normalisation in interest rates means that private sector gearing is more likely to fall than rise. This will reduce loan book growth relative to nominal GDP growth.
The last factor is around lending capacity. Increased regulatory capital requirements and leverage ratio limitations reduce the banks' loan growth capacity for a given amount of equity capital. While the equity raisings by the banks last year showed that they have accessed to greater equity if required, higher equity requirements negatively impact ROEs and therefore reduce shareholder value created by loan growth.
Combining all of these factors, long-term loan book growth is likely to be materially lower going forward than shareholders have enjoyed over the last 20 years.
Contributed by Montgomery Investment Management:  (VIEW LINK)
---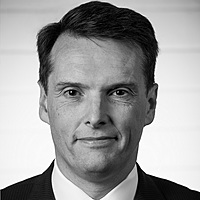 Senior Analyst and Portfolio Manager
Prior to his departure in August 2022, Stuart was employed by Montgomery Investment Management for over seven years as a Senior Analyst and Portfolio Manager of The Montgomery [Private] Fund.
Expertise