Airbus SE climbing higher as tailwinds strengthen
---
Aerospace giant enters earnings 'sweet spot' as travel demand recovers
Key points
Airbus is benefitting from rising demand for aircraft as Western airlines aim to restore their pre-pandemic flight capacity, in addition to China's reopening after the abandonment of its COVID-zero policy.
Airbus continues to increase its share over rival Boeing Co in a structurally attractive duopolistic market.
In the medium term, Airbus should benefit from rising demand for more fuel efficient and environmentally friendly aircraft.
Introduction
PM Capital established a position in Airbus SE in late 2021 after a period of price weakness in the aerospace manufacturer. Airbus fell by almost two-thirds in 2020 (peak to trough) during COVID-19 lockdowns as global travel demand stalled.
At the time, PM Capital believed the market had over-reacted to Airbus' short-term challenges and was overlooking its long-term growth potential.
We were attracted to Airbus' position as the market-share leader in the world's largest duopoly, operating in a market underpinned by long-term growth in middle-class consumers in Asia.
Despite these strengths, Airbus traded on a valuation of 12 times normalised earnings when PM Capital invested in it. We believed that valuation was undemanding given Airbus' free-cash flow, balance-sheet strength and leverage to a strong US dollar.
PM Capital expected Airbus would make a full recovery from the COVID-19 slowdown. In turn, the market would re-rate Airbus on the back of its rising market share, improving profit margins and cash flow. That has been the case so far in 2023, as Chart 1 below shows.
Chart 1: Airbus share price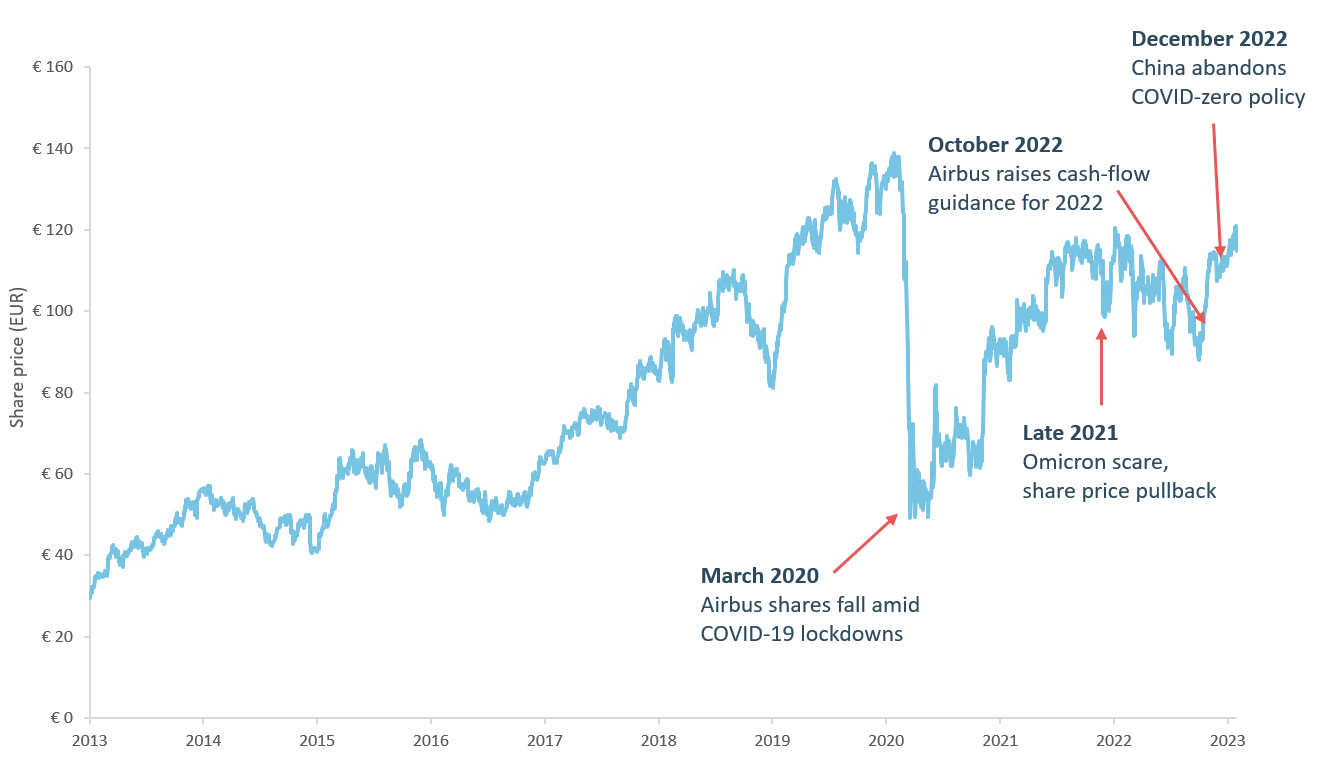 Source: Factset and PM Capital
Here are the three main reasons why PM Capital holds Airbus in the PM Capital Global Companies Fund:
1. Rising aircraft demand after COVID-19
Based in France, Airbus is best known for its design and manufacture of large passenger planes, freighters, private jets and helicopters.
Airbus' A320 family of planes leads the single-aisle plane category and its double-deck A380 is its largest aircraft (see photo below).
Source: Airbus
During its 50-plus-year history, Airbus has built more than 13,500 commercial aircraft. Its aircraft fly more than 48,000 routes worldwide and are used by over 400 operators.1
As such, Airbus is strongly leveraged to travel demand. As people fly more, airlines need to increase their capacity by ordering more planes. The resumption of domestic and international air travel after COVID-19 – in the West and now China – is a big boost for the global airline industry. Many consumers have pent-up demand for air travel.
In January 2023, some US and European airlines reported strong demand. Their results beat market expectations, such has been the strength of the recovery in air travel.
Upon announcing American Airlines' FY22 results, its CEO Robert Isom, said: "We're proud to have led the industry in operational performance over the holidays while producing record full-year and fourth-quarter revenues, resulting in a third consecutive quarterly profit and a profit for the full year".2
Airbus announced in late January 2023 that it intends recruiting more than 13,000 people this year, adding about 10% to its workforce. Extra staff are needed to help Airbus quicken production of its jets as demand rises.
2. Favourable industry dynamics
Airbus operates in an attractive market. Demand for commercial aircraft has decades of gains ahead amid population growth and rising travel demand. As incomes in Asia rise, more people there are travelling, meaning more planes are needed.
In its latest Global Market Forecast, Airbus forecast demand for 39,490 new passenger and freighter aircraft over 20 years to 2041.3 Four-fifths of these aircraft will be single-aisle airplanes – a market Airbus leads.
The Airbus diagram below shows the importance of China and the Asia Pacific for long-term aircraft demand.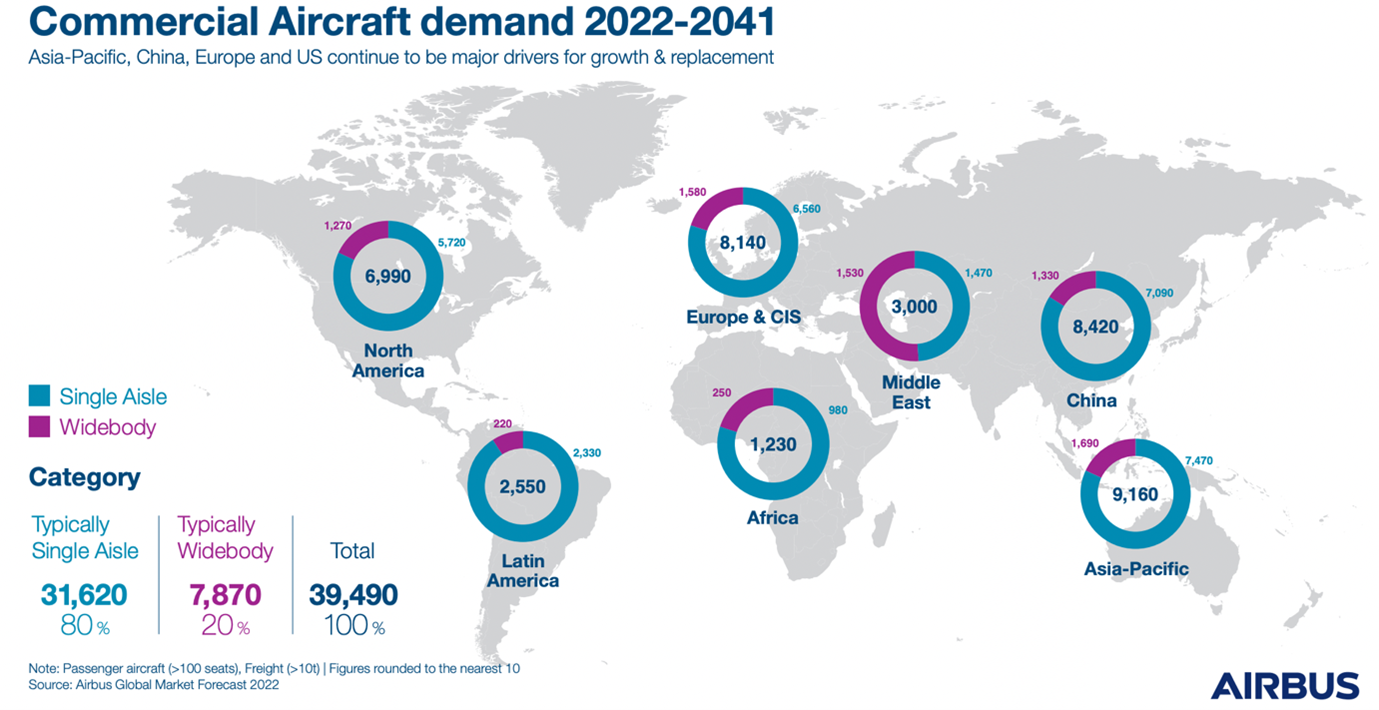 Source: Airbus Global Market Forecast 2022
As aircraft demand grows, Airbus and Boeing are the only two aircraft-manufacturing companies that make large planes. They have been arch-rivals for decades; Airbus' A320 planes compete with the Boeing 737.
Airbus has increased its lead over Boeing, a US manufacturer, in recent years. Airbus delivered 661 aircraft last year; Boeing delivered 480.4 That was the fourth consecutive year that Boeing delivered fewer aircraft to customers than Airbus.5
Boeing has had several problems in recent years. In 2019, the Boeing 737 MAX passenger jets were grounded worldwide for more than 18 months after crashes in Indonesia (2018) and Ethiopia (2019).
The two Boeing 737 MAX crashes damaged the company financially and reputationally – and shook market confidence in Boeing Co shares.
With higher market share comes greater economies of scale and profit-margin gains. As Airbus delivers more planes over coming years, it will become more profitable.
3. Demand for more fuel-efficient, environmentally friendly aircraft
Airbus says 80% of its fleet is not to the latest standard of the Airbus product line6. Just 20% of Airbus aircraft currently in service are the latest generation of its most fuel-efficient planes, such as the A320neo.
That means airlines that upgrade their fleet to next-generation Airbus aircraft this decade have significant scope for efficiency and environmental gains.
Airbus says its next-generation aircraft could yield 20-30% savings in carbon emissions as new aircraft use lightweight materials, have optimised wings, more efficient engines, and use electricification/hybridisation as their power source.
Moreover, Airbus' next-generation aircraft are significantly more fuel efficient than its older planes. That reduces operating costs, creates more route options for airline operators and boosts aircraft demand.
Airbus's A321XLR aircraft is an example. In October 2022, Airbus said it expected the A321XLR to enter the market in the second quarter of 2024.7 The narrow-body plane has a range of up to 8,700 kilometres, beating its nearest rival (the A321LR) by 1,600 kilometres.
The A321XLR has 180-220 seats and burns 30% less fuel than previous-generation aircraft.8 By flying longer ranges, the A321XLR will create opportunities for non-stop flights worldwide and drive new market growth, Airbus claims. The A321XLR is shown in the picture below.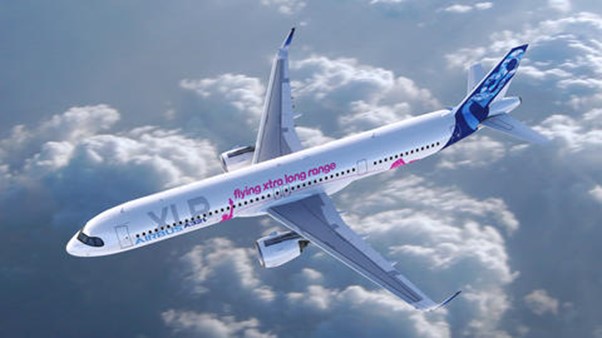 Source: Airbus
PM Capital regards the A321XLR as a 'game-changer' for the global aviation industry. The new plane enables airlines to fly more fuel-efficient narrow-body planes from Europe to the Middle East and India, for example, or from North to South America.
Conclusion
PM Capital believes Airbus is entering an earnings 'sweet spot' due to the travel recovery after COVID-19, market-share gains and the arrival of its A321XLR in 2024.
Longer term, Airbus should benefit from stronger demand for aircraft in developing nations, and the upgrade of its fleet to next-generation aircraft that have higher fuel efficiency.
In terms of risk management, Airbus' fortress-like balance sheet – it has a net cash position of almost €8 billion9 – helps insulate the company from rising debt costs as interest rates increase. Strong free-cash generation adds to Airbus' balance-sheet strength.
On balance, PM Capital believes a low double-digit Price Earnings (PE) multiple for Airbus (based on normalised earnings)10 does not adequately reflect the company's market position or its short- and long-term growth prospects.
We expect earnings growth from Airbus and the re-rating in its shares, evident since the fourth quarter of 2022, to continue over the next few years.
Author: John Whelan, Co-Portfolio Manager - Equities
1 Airbus website. At 27 January 2022. (VIEW LINK)
2 American Airlines newsroom "American Airlines Reports Fourth-Quarter and Full-Year 2022 Financial Results". 26 Jan 2023
3 Airbus, 2022. "Global Market Forecast 2022-2041".
4 Wall Street Journal, 2023. "Boeing Boosts Annual Orders and Deliveries, but Still Lags Behind Airbus". 10 January 2023.
5 ibid
6 Airbus, 2022. "Sustainability Report 2022."
7 Airbus, 2022, "Airbus reports nine-month (9m) 2022 results". 28 October 2022. Airbus website.
8 Airbus, "A321XLR: The single-aisle Xtra Long Range route opener". Airbus website. 27 Jan 2023.
9 Airbus, 2022 "Airbus reports nine-month (9m) 2022 results". 28 October 2022. Airbus website. Net cash position at 30 September 2022.
10 At 27 January 2023.
---
Never miss an update
Enjoy this wire? Hit the 'like' button to let us know. Stay up to date with my content by hitting the 'follow' button below and you'll be notified every time I post a wire.

Not already a Livewire member? Sign up today to get free access to investment ideas and strategies from Australia's leading investors. 
Never miss an update
Enjoy this wire? Hit the 'like' button to let us know. Stay up to date with my current content by
following me
below and you'll be notified every time I post a wire
Welcome to Livewire, Australia's most trusted source of investment insights and analysis.
---
To continue reading this wire and get unlimited access to Livewire, join for free now and become a more informed and confident investor.
We aim to build long term wealth together with our co-investors by finding and exploiting investment anomalies around the world, using a focused, patient and considered approach to finding simple investment ideas.
........
This communication is issued by PM Capital Limited (ABN 69 083 644 731 AFSL No. 230222) as the investment manager for the PM Capital Global Opportunities Fund Limited (ACN 166 064 875, 'PGF') and as the responsible entity for the PM Capital Global Companies Fund (ARSN 092 434 618), the 'Fund'. It contains information only and does not constitute an offer, invitation, solicitation or recommendation with respect to the purchase or sale of any securities of PGF or of the Fund. The information herein seeks to provide an insight into how and why we make our investment decisions, and is subject to change without notice. The communication does not constitute product or investment advice. Nor does it take into account any investors' investment objectives, taxation situation, financial situation or needs. All investors should seek their own financial advice, and must not act on the basis of any matter contained in this communication in making an investment decision but must make their own assessment of PGF and/or the Fund and conduct their own investigation and analysis prior to making a decision to invest. Investors should consider ASX announcements and/or a copy of the current Product Disclosure Statement and the Target Market Determinations which are available from us. Past performance is not a reliable indicator of future performance and no guarantee of future returns, unit/ ASX prices, or liquidity is implied or given. All values are expressed in Australian currency unless otherwise stated. The communication is not intended for any person outside, or non-resident, of Australia or New Zealand.
---
Never miss an update
Get the latest insights from me in your inbox when they're published.
---
---
We aim to build long term wealth together with our co-investors by finding and exploiting investment anomalies around the world, using a focused, patient and considered approach to finding simple investment ideas.
Expertise