Airlines, injuries and oil
---
The passenger injured when dragged from a United Airlines flight last week is now preparing to sue for millions of dollars. His misfortune and subsequent outraged publicity has cost the US airline industry a lot more in terms of market capitalization.

Has this highly publicized event created a buying opportunity in airline stocks?
Regardless of the legal outcome for the unfortunate individual this is not an asbestos style event mainly because of the very close relationship between the airlines and federally mandated regulations focused on safety, reliability and after 9/11, terrorism related rules that provide the airlines with much discretion about how they deal with passengers.

Passengers will still be motivated by price, reliability and convenience.
They will not stop flying regardless of the many risks with elderly and incompetent airline staff, airborne diseases, lost luggage, airline food and a reputation for being quite unfriendly.

There will be continuing publicity related events and airlines generally have a reputation as risky investments the current sell off especially in Alaska Airlines is a buying opportunity for traders. We did not hear anything about Warren Buffett bailing out of his holding in United Airlines.
Oil prices are the key determinant of airline profitability. The forthcoming French election ( read Frexit) is likely to put downward pressure on the Euro and downward pressure on the US Dollar denominated price of oil.
The following three leading airline stocks all dropped last week while the news played out on social media.

                       PE   Return on Equity Price to Book
United            8       32 pct               2.5 times
Delta                 9         35 pct                  3.0 times
Southwest       15         30 pct                  4.0 times
Alaska             12         34 pct                  3.6 times

Profitability has arrived for airlines which are now raising dividends and buying back stock.

This is a very different world to United and American being in bankruptcy. The International Air Transport Association (IATA) estimates that North American airlines will produce profits of $22.9 billion this year about 11 per cent down on 2016.
Low oil prices, higher airline fees and increasing passenger traffic have all contributed. 
Delta Southwest Alaska have all increased dividends by more than 30 per cent.
For those who prefer a more diversified approach the JETS ETF offers exposure to a much wider range of leading airlines including Golin, Latam, Copa, China Southern, International, Jet Blue and Hawaiian.
JETS offers a yield of 1.2 pct is trading on 10 times earnings with a price to book of 2.4 times according to (VIEW LINK). In the last 12 months JETS is up 7 per cent versus 21 per cent for United.
Looking ahead it is said that if you want to know what is happening to the price of oil, and therefore the earnings at major airlines just ask the CEO of any major airline about its hedging policies which have been given a premium rating by the market at Southwest and Alaskan.
---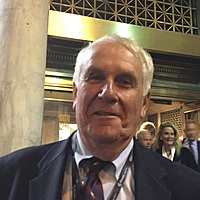 Independent Investment Research
Over 30 years in Australia, South Africa, London and the United States John Kimber has worked in investment research, advisory, and corporate finance at Prudential Securities, BT Alex Brown and Ord Minnett. He completed his series seven...
Expertise
No areas of expertise