America "screwed" unless it hurries lithium supply chain: Brinsden
---
The former Pilbara Minerals MD sees America's 'huge lithium supply problems' as a big opportunity for his new company Patriot Battery Metals. Thailand lithium explorer Pan Asia Metals eyes the same chance in its region. And Bellevue Gold MD Steve Parsons mentions the 'D' word as the countdown to production and cashflow gains momentum.
There is no such thing as a mining conference without a parade of upbeat presentations by explorers and would-be developers.
But it has to be said that Ken Brinsden took things to another level during the week at the Sydney leg of Resources rising Stars' "Summer Series'' conference.
Brinsden needed no introduction to the crowd as he is the guy who picked up the reins of Pilbara Minerals (ASX: PLS) in 2015/2016 when it was setting out to develop its world-class Pilgangoora lithium deposit.
Pilgangoora (and the adjacent Ngungaju operation acquired from the receivers of Altura early in 2021) now accounts for 10% of global supply of lithium raw materials, and continues to grow, with Pilbara now a $14 billion company.
Brinsden moved on from Pilbara in July and after a sabbatical of all of two weeks – "My two weeks of retirement were really well lived so don't feel sorry for me" – he jumped at the chance to become non-executive chairman of the TSX-listed Patriot Battery Metals (PMET).
Patriot is coming to the ASX in a dual listing in a week or two after a small capital raise. On the strength of its Corvette lithium discovery in James Bay Region of Québec, Patriot has become one of the big performers in the lithium space in 2022.
"It is one of the world's great discoveries in lithium raw materials of the last decade," Brinsden, with his Patriot hat on, told the conference.
The company is working towards a maiden resource estimate in March next year. "Our expectations are that it will be a big one," Brinsden said.
"But that's just the start because the whole trend has outcropping pegmatites with spodumene, and each of them we have drilled so far has hit significant intercepts.
"Not to put too fine a point on it, that's why I am involved. This is going to be one of the big hard rock projects globally and we are really just at the start. Again, think 2015/2016 with Pilbara Minerals."
Noting that Patriot was not listed on the ASX just yet, Brinsden said those wanting to get on board with the Corvette story could always buy stock that night on the TSX. And some in the audience did just that, with Patriot shares jumping 7.3% to $C7.28 for a market cap of $C665m ($A732m).
One of the industry's big thinkers, Brinsden said Corvette's location in mining-friendly Quebec meant it was well and truly plugged into the fast-developing North American battery supply chain, and that of Europe's, as distinct from it being a China story.
"EV adoption rates are rapidly scaling up but both (North America and Europe) have huge problems with respect to supply," he said.
"Having discovered how big a challenge it is, they are now actively working at supporting these alternative supply chains so they can wean themselves off China in the coming years."
"I say years because it is not a quick fix. They are going to be reliant on China for the next five to 10 years but there will be – and there already is – big efforts to create these alternate supply chains that help the market grow.
"The maturity that should emerge in our project is really well matched to the maturing supply chain that is being built in North America and as such, this is a North American story now, and maybe European.
"It's not a Chinese story. And I think that is very, very valuable for the corporate development that can emerge for the company as we get ourselves vertically integrated into that emerging supply chain in North America.
"Not to put too fine a point on it, they (North America) are screwed unless they get on with it because they will be reliant on China for quite some time to come unless there is a lot more action than there has been in the last and current decade."
PAN ASIA METALS:
Pan Asia Metals' (ASX: PAM) boss and major shareholder Paul Lock was another at the conference to highlight the rise of regionally-focussed battery supply chains in response to China's current dominance.
One of the five or so emerging is South-East Asia, PAM – trading at 43c for a market cap of $63m – is in the thick of things thanks to its lithium projects in Thailand.
In fact, it is the only lithium explorer in the region. Thailand itself is the biggest auto maker in the region, and the fourth largest in Asia. According to Lock who has been active there for more than a decade, it is a position the Thai government wants to retain as EV uptake explodes.
The country introduced an EV policy a few years back which is focussed on retaining the incumbent ICE producers as they convert over to EVs, as well as enticing new EV producers into the country.
There are currently 18 EV projects underway, and 14 battery projects. Little surprise then that PAM has already been approached by several battery producers about local supply. "We are positioned to reap the benefits of a massively growing EV sector," Lock said.
Again, the audience must have been listening as PAM shares popped 5% higher on Wednesday after Lock's presentation.
PAM's projects are of the low-grade lepidolite type, the same style that underpins China's domestic production. Because no roasting is required, they offer low capex and low opex potential, and an easy route through to the production of value-added lithium carbonate.
Like China, Thailand is a low cost operating environment. Lock reckons a dollar buys two to three times what would be the case for a lithium explorer/developer in Australia.
PAM's plan is to continue to build the resource base at its projects to underpin an initial 10,000tpa lithium carbonate project. It already has a resource under its belt and will be updating it early next year, both in terms of tonnage, and moving material in to the indicated and measured categories.
No difficulty in attracting workforce numbers up there in Thailand either, with the most advanced of the projects all of a 30-minute drive to Phuket.
"When some of my staff aren't around, I know where they are," Lock said.
Bellevue:
While the lithium sector has been the place to be in 2022, a late-year rally by the gold sector has been producing some lithium-like share price performances of late by the leading stocks.
Bellevue (BGL) is an example. It has come up from 64c on June 30 to be $1.10 mid-week, a gain of 72%.
Gold pushing back through $US1,750/oz on easing inflation expectations and a weaker US dollar has obviously helped Bellevue's cause.
But with first production from its namesake high-grade mine in WA fast approaching in the second half of 2023, it is also benefitting from the re-rating cycle that comes as developers become producers.
Bellevue boss Steve Parsons was at the RSS Summer Series conference and reported the project was now 70% complete.
Initially planned as a 200,000oz a year producer, Parsons said the 1mtpa treatment plant had been designed to allow for a simple and low-cost expansion to 1.2mtpa, and 1.5mtpa later on.
But now it is all about derisking the start-up. To that end the company expects to have 200,000t of development ore grading 5g/t gold on the stockpile ahead of the treatment plant commissioning.
Parsons said that the underground contractor, Bill Beament's Develop Global (DVP), has been shooting the lights since arriving at the project, with a 64% increase in development rates. It means more ounces quicker and at lower cost.
The twin focus of continuing to explore while developing the mine continues to pay dividends, with ounces being added to the 3 million ounce resource base at a monthly average of 60,000 ounces at a cost of just $17 an ounce.
Talking about dividends, Parsons said Bellevue's capability to spit out average annual free cashflow of $254m in the first five years of production (AISC of $A1,000-$A1,100) meant dividends to shareholders would not be far off.
Think of it as a fightback by the gold stocks for attention.
Never miss an insight
If you're not an existing Livewire subscriber you can sign up to get free access to investment ideas and strategies from Australia's leading investors.
And you can follow my profile to stay up to date with other wires as they're published – don't forget to give them a "like".
---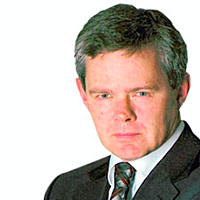 Principal
Independent Journalist
One of Australia's leading business journalists, Barry FitzGerald, highlights the issues, opportunities and challenges for small and mid-cap resources stocks, and most recently penned his column for The Australian newspaper.
Expertise