An inspirational journey - Diane Smith-Gander AO, Chair DDH1, HBF Health & Zip Co
---
We are very lucky to have an awesome opportunity to spend some time in conversation with the wonderful Diane Smith-Gander AO who has built an amazing corporate career over many years covering a wide range of Directorships across different entities, industries and geographies.
Diane was inducted into the WA Womens Hall of Fame in 2017 and in the 2019 Queens Birthday Honours, she was made an Officer of the Order of Australia (AO) in recognition of her "distinguished service to business, to womens engagement in executive roles, to gender equality and to the community"

She has inspired so many with her achievements, the roles she has played and her drive to make a difference.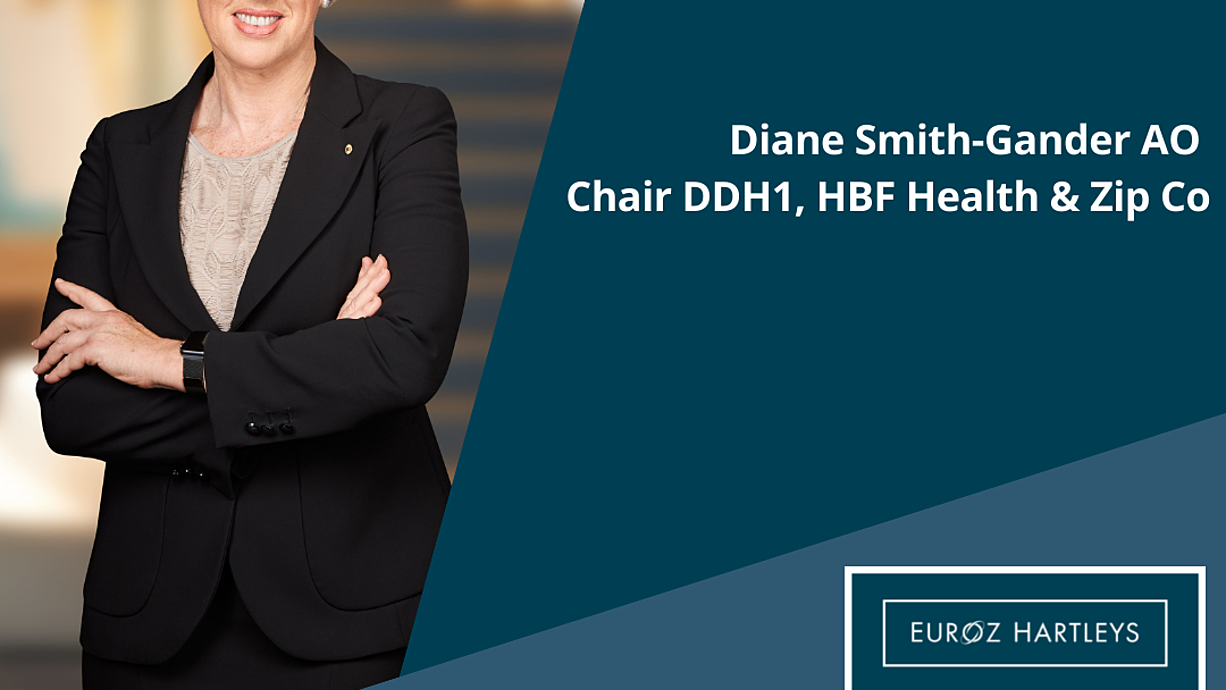 Diane was recently appointed Chair of private health insurer HBF, is current Chair of leading drilling services company DDH1, is current Chair of buy now pay later company Zip Co, is National Chair of the Committee for Economic Development in Australia, is independent Chair of the Nominations Committee for the World Anti Doping Agency and former Director of companies such as Wesfarmers where she was a member of this board for some 11 years, and former President of pre-eminent women's advocacy group Chief Executive Women representing senior women leaders from the corporate, public service, academic and not for profit sectors.
This is such a wide-ranging conversation where Diane shares with us her experiences in life from growing up in Alfred Cove WA to school, education and the massive amount of accumulated experience she has learnt and gained through a hugely decorated corporate career – which is still going.
For more information visit the Euroz Hartleys website.
........
Disclaimer & Disclosure Euroz Hartleys Limited ('Euroz Hartleys') is the holder of an Australian Financial Services Licence (AFSL 230052) issued by the Australian Securities and Investments Commission ("ASIC") and is a participant of the Australian Securities Exchange Group ("ASX Group"), Cboe Australia Pty Ltd (Cboe) and the National Stock Exchange (NSX). Euroz Hartleys and its associates declare that they deal in securities as part of their securities business and consequently may have a relevant interest in the securities participating in the Euroz Hartleys "Finding the Front" Podcast interviews. This may include providing equity capital market services to their issuing company, hold a position in the securities, acting as principal or agent, or make a market therein. Euroz Hartleys declares that it may have acted as an underwriter, arranger, co-arranger or adviser in equity capital raisings, and will have received a fee for its services, for some of the companies that have participated in the Euroz Hartleys "Finding the Front" podcast during the last 12 months. The Euroz Hartleys "Finding the Front" Podcast is general information only. Nothing in the Euroz Hartleys "Finding the Front" Podcast shall be construed as a solicitation to buy or sell a security, or to engage in or refrain from engaging in any transaction. The general advice warning applies in any case that all investors, before making any investment decisions, they should consult their qualified, licensed investment or financial adviser in order to ascertain whether the investment decision (if any) is appropriate, having regard to their investment objectives, financial situation and particular needs. Euroz Hartleys believes that the information contained and discussed within the Euroz Hartleys "Finding the Front" Podcast is correct at the time of compilation, however we make no representation or warranty that it is accurate, complete, reliable or up to date, nor do we accept any obligation to correct or update the opinions in it. The opinions expressed are subject to change without notice. No member of Euroz Hartleys accepts any liability whatsoever for any direct, indirect, consequential or other loss arising from any use of this material. We cannot guarantee that the integrity of this communication has been maintained, is free from errors, virus interception or interference.
---
Follow Euroz Hartleys Ltd's wires
---