Are Alibaba shares oversold?
---
Investors have seen damaging headline after headline of COVID-related, regulatory or supply chain-related issues coming from China. It seems like every day or week there is a new drama that has led to the Chinese market and leading companies being sold off sharply.
Investors would no doubt be asking whether it is now too risky to invest in China.
Yet despite the recent headlines, these regulatory issues are likely temporary, and investors should be turning their minds to the attractive valuations of China's leading businesses which are too compelling to ignore.
One of the standout opportunities is the dominance and growth potential of Alibaba, particularly its cloud operation, Alibaba Cloud. Alibaba's shares have slumped almost 70% since its highs in October 2020. But if we look under the hood of the company, you'll see the vicious sell down is completely unjustified, providing a rare opportunity for investors.

This article was written by Phill Namara, Research Analyst with Montaka Global Investments

China Risk: Transient rather than structural
The first point to make regarding Alibaba is that regulatory concerns are overdone. In the last 18 months, we have seen a slate of regulatory and competitive actions taken against Chinese Internet companies, including Alibaba, summarised in the chart below.
Timeline of recent China Internet and Alibaba-specific events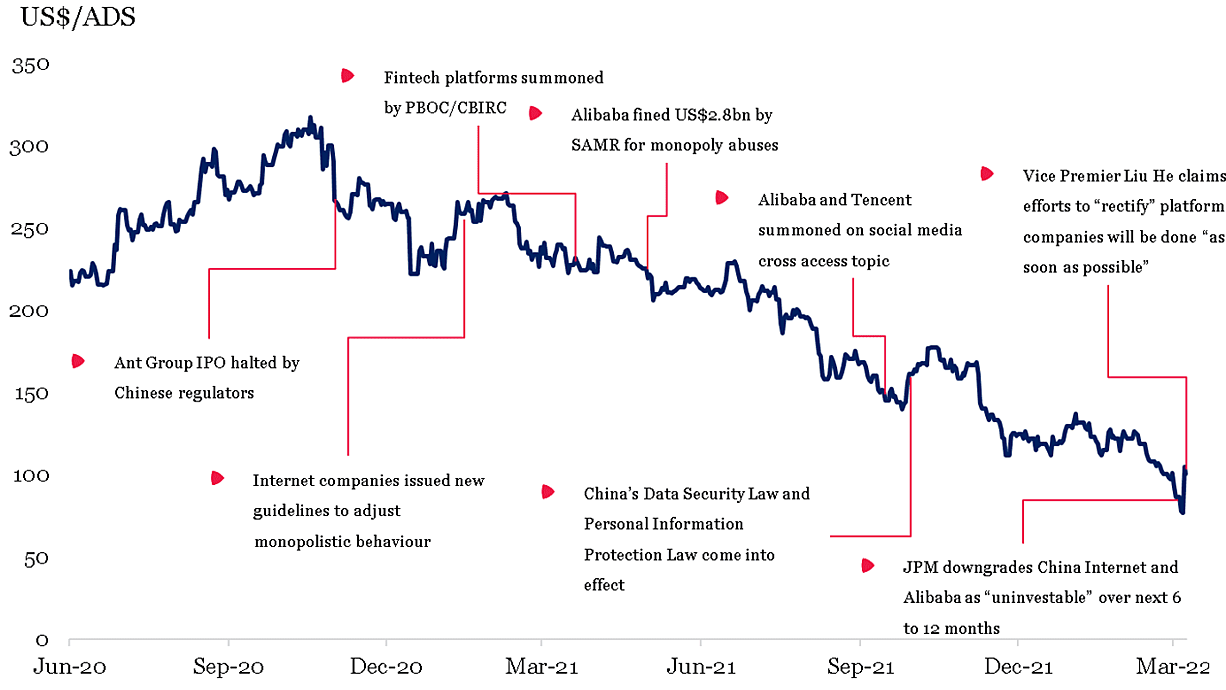 Regulators seem to be attempting to stymie 'rentier' capitalism in internet-adjacent categories like ride-hailing, food delivery, ecommerce, etc. In other words, the CCP doesn't want companies to monopolise areas, such as web traffic, and profit from that monopoly without equivalent economic contribution to society.
The internet companies, Alibaba included, have now successfully adapted to these new laws. They will continue to grow from today's new base, and importantly, their stock prices are not reflecting this.
China's Vice Premier Liu He in mid-March encouraged long-term investors to increase their shareholdings in Chinese Internet firms and made comments that seemed to suggest the unprecedented law enforcement against large technology firms is coming to an end, creating opportunity for patient investors.
A Dominant eCommerce Platform
Those overblown concerns about regulation led investors to overlook the strength of Alibaba's core business. It has China's dominant eCommerce platform which is becoming more powerful because of artificial intelligence (AI).
More than 800 million users have made purchases on Alibaba's China retail marketplaces over the last year, and we estimate more than 80% of China's population aged 15 to 64 make regular purchases on Alibaba's marketplaces, opening the Taobao app on average seven times a day.
Loyal, profitable customer base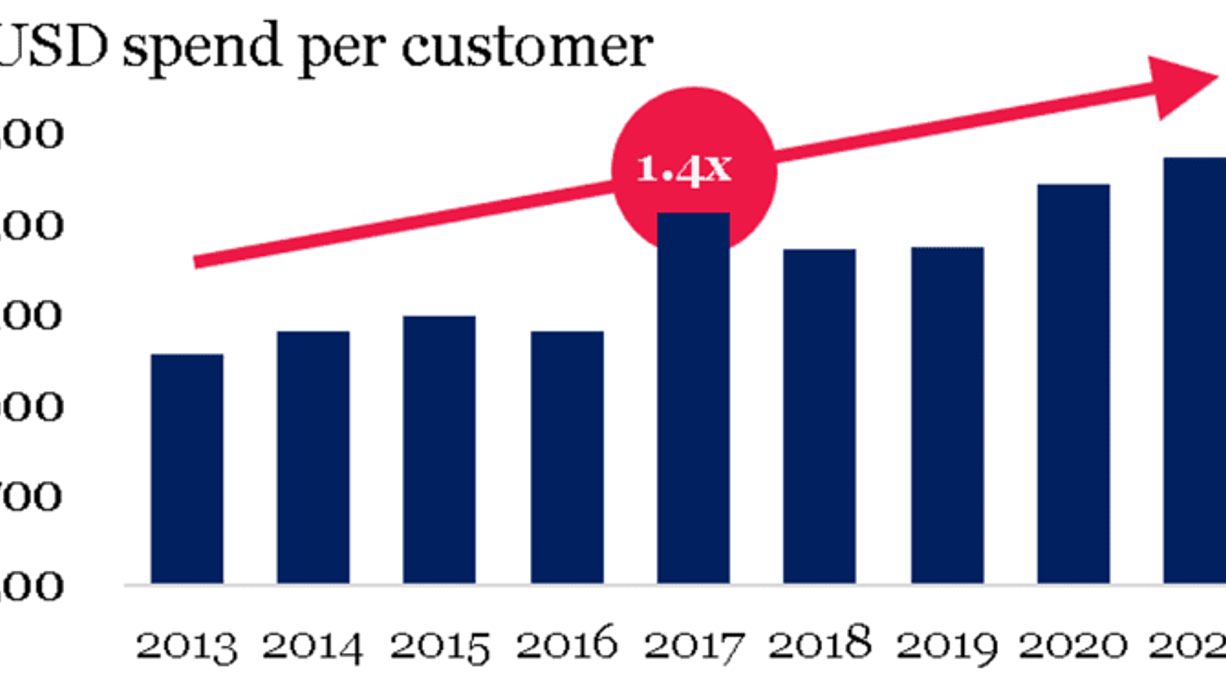 We discussed last month how improving AI is delivering powerful data advantages to the likes of YouTube, Netflix, Spotify and TikTok. But many seem to overlook how AI improves the recommendation algorithms of dominant ecommerce platforms like Amazon and Alibaba.
AI is creating a powerful retail 'flywheel' for Alibaba's core business. As each user ventures into new product categories or new forms of engagement like live-streaming, Alibaba's rich customer data allows their algorithms to offer more personalised ads, which delivers higher transaction volumes and higher returns on ad spend for merchants. That ensures Alibaba's marketplaces are their key selling channel, allowing Alibaba to improve their take-rate (advertising revenue divided by gross merchandise volume).
Ad monetisation improvements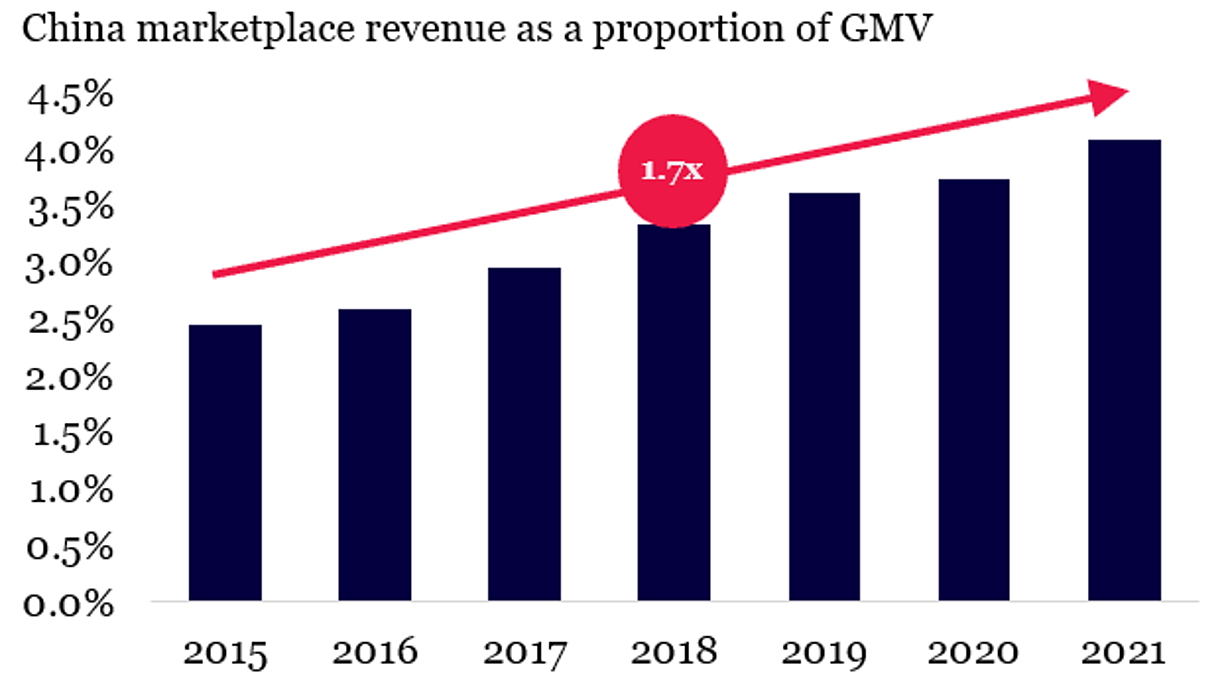 Alibaba Cloud – a mixture AWS and Azure?
But perhaps the biggest opportunity that investors focused on regulatory risk overlook is the amazing growth opportunity in Alibaba's cloud business, Alibaba Cloud.
Alibaba Cloud is a US$12 billion run-rate revenue business, having grown revenues more than 60x over the last six years. It is the largest cloud computing company in China, enjoying 38% market share of China's cloud computing market and has over one million customers.
Despite its rapid growth, Alibaba Cloud only makes up 8% of total Alibaba revenues today and 0% of earnings, so it is easy for the spreadsheet investor to overlook its potential.
Revenue composition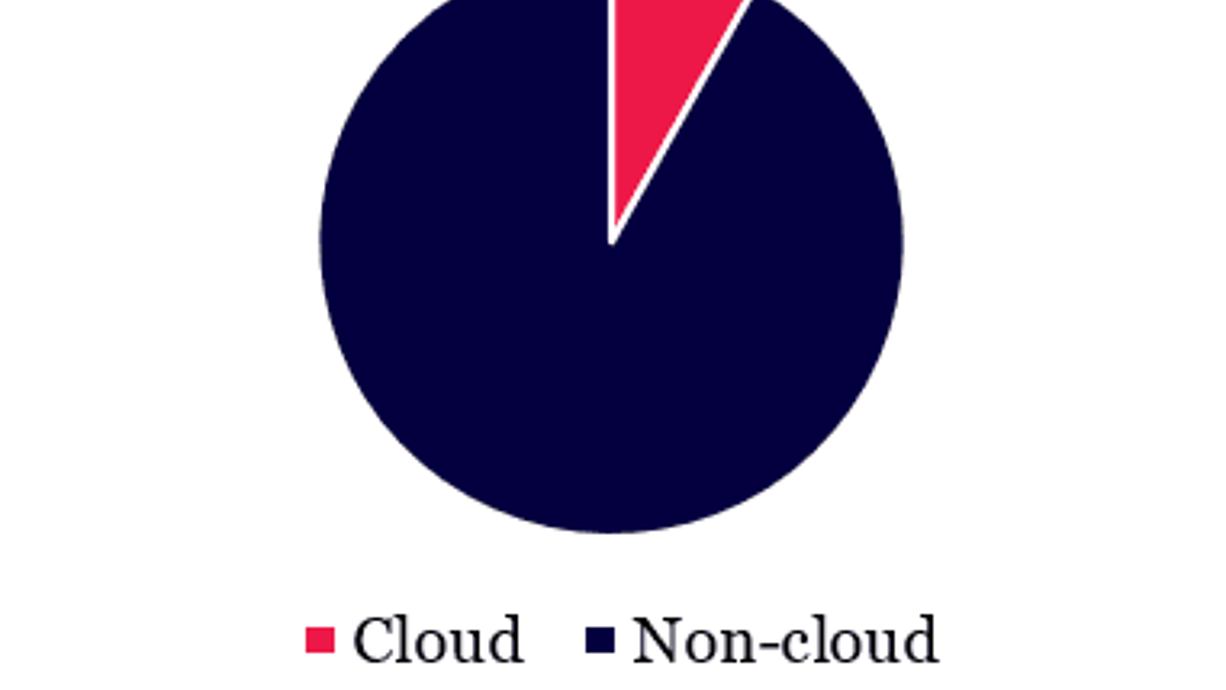 But spend on cloud computing in China will remain strong over the next decade, as illustrated below, and investors are failing to recognise the magnitude of the market and incremental earnings uplift potential for Alibaba. We believe Alibaba Cloud could become as important for Alibaba as AWS is today for Amazon.
China Cloud Market Outlook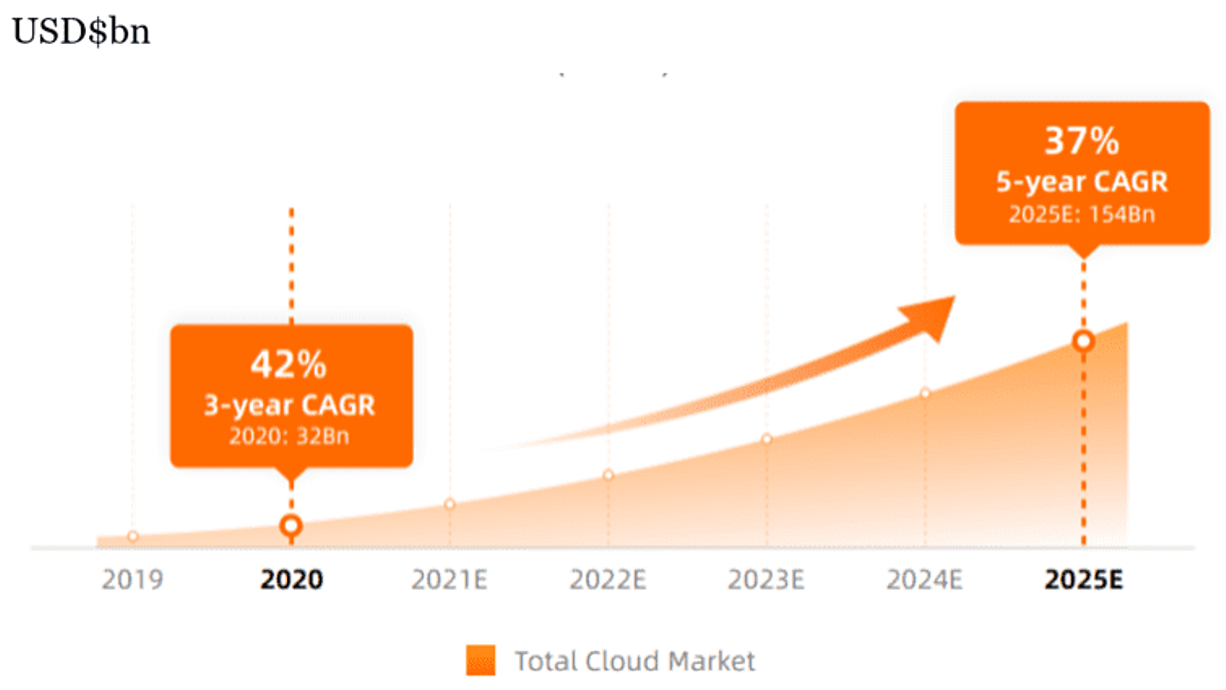 There are three reasons the Chinese cloud market, and Alibaba Cloud will keep growing strongly for years.
1. China's software and consulting ecosystems are relatively underdeveloped
Adoption of the public cloud so far by big enterprises in China has been slow because China has lacked the supporting consulting ecosystem.
Many underappreciate that enterprises in the West shifted to the cloud because they were supported by technology consulting firms like Accenture, Capgemini, as well as the Big 4 accounting firms.
These firms supported their enterprise clients' migrations to the cloud because it ensured they remained under retainer for an extended duration, since cloud migrations can take many months.
But in our conversations with Chinese experts, enterprises don't seem to be using technology consultants as much, particularly within the government sector, which relatively is a larger proportion of China's GDP than in the West.
So, the shift to the cloud may take longer relatively than it did in the West. The corollary, however, is that the duration of elevated growth may be longer too.
2. China's software ecosystem will grow
Similarly, software spend in China as a proportion of GDP and in relation to the installed-base of servers is paltry. Whilst Chinese spend on server and related hardware has grown faster than the US or worldwide off a smaller base, the Chinese software market share has been roughly flat, growing from 2% in 2008 to 3% in 2019 according to Bernstein.
Spending on Software – Global market share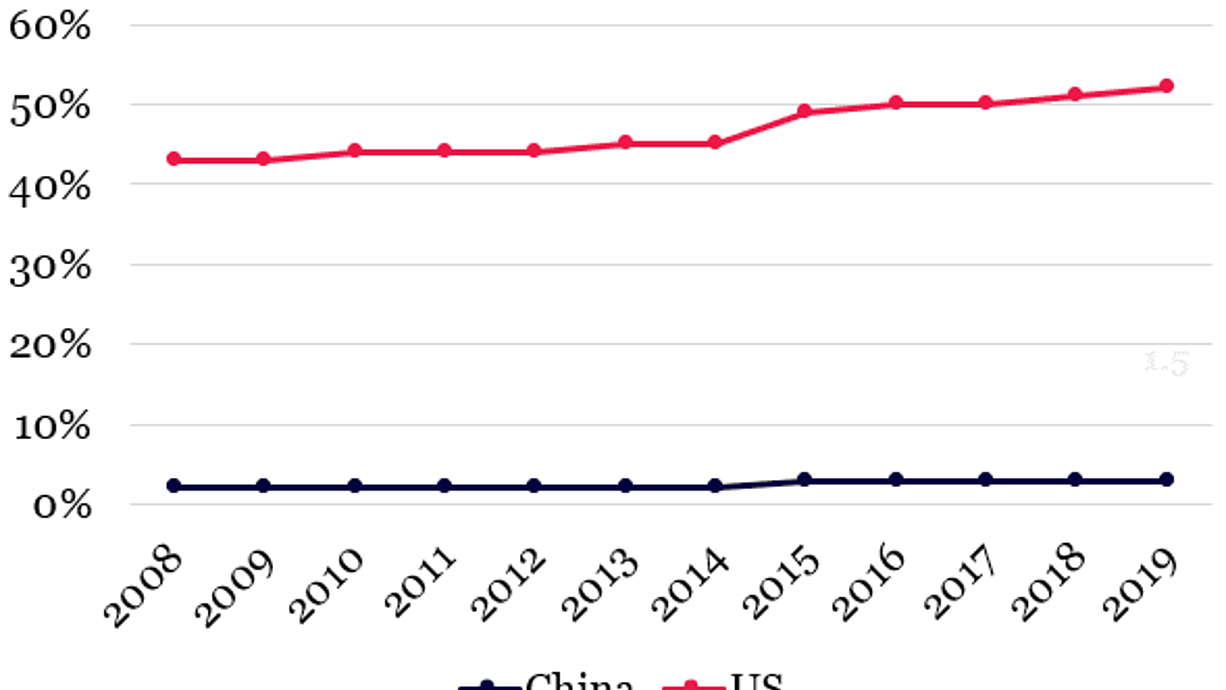 Alibaba and Tencent, another Montaka position, are two of the largest cloud vendors in China, and both are making significant efforts to fast-track the growth of the software ecosystem and its monetisation.
Increasing penetration of software as a portion of IT spend requires enterprises to grow their reliance on cloud resources like networking, storage and compute, leading to a flow of revenue back to the core infrastructure providers Alibaba and Tencent. They are the second derivative beneficiaries of a growing software ecosystem.
3. Cross-selling opportunities
The third reasons that Alibaba Cloud has huge potential is that Alibaba has massive cross-selling opportunities, particularly around DingTalk.
Alibaba's DingTalk was first designed in 2015 as an instant messenger tool, and it has been branded the enterprise analogue of WeChat. DingTalk not only supports workplace collaboration but provides clients easy, integrated access to Alibaba Cloud's big data analytics and AI capabilities. It enables enterprise customers to develop customized applications more easily, so they take advantage of Alibaba Cloud's computing resources.
With over 300 million users, DingTalk is internal communication layer for many enterprises in China, much like Microsoft Teams or Slack. Despite being the incumbent Chinese cloud provider, we see an opportunity for Alibaba to cross-sell additional cloud services to their customers, using DingTalk's productivity and communications tools as their wedge into the enterprise.
DingTalk/Alibaba Cloud is like the Microsoft's Windows and its cloud computing service Azure where the combination of enterprise services and cloud services increases customer's willingness to sign-up with each service.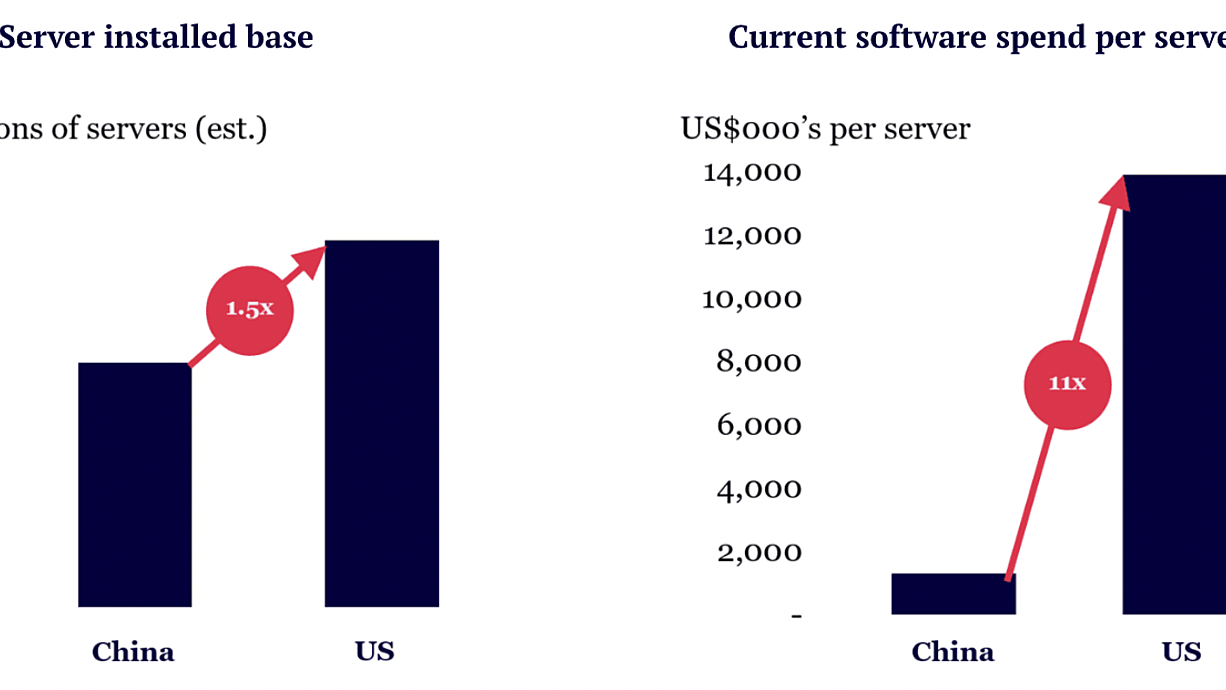 An amazing opportunity
We do not argue that investing in China isn't 'risky' per-se, but rather, investors are likely to be well-compensated for taking those risks. As we have discussed previously, investing in China and other less-democratic regimes requires a strict process and a willingness to stomach natural volatility.
But when it comes to Alibaba, the reward to risk ratio is particularly strong and makes it a compelling investment opportunity.
With shares down more than 70% from their highs, we believe their Cloud business today is worth almost their entire current enterprise value. Investors remain overly focussed on regulatory risks, rather than the margin of upside.
Montaka owns shares in Alibaba

Compound your wealth over the long-term
Montaka Global Investments provides investors with the opportunity to compound wealth over the long term through disciplined global investment strategies and a sophisticated approach to risk management. Get in touch with us through the 'CONTACT' button below
........
Livewire gives readers access to information and educational content provided by financial services professionals and companies ("Livewire Contributors"). Livewire does not operate under an Australian financial services licence and relies on the exemption available under section 911A(2)(eb) of the Corporations Act 2001 (Cth) in respect of any advice given. Any advice on this site is general in nature and does not take into consideration your objectives, financial situation or needs. Before making a decision please consider these and any relevant Product Disclosure Statement. Livewire has commercial relationships with some Livewire Contributors.