Are the building stocks poised to rally?
---
The rally by building stocks caught my attention yesterday in what was another fairly lacklustre session. The 4 local building stocks we are looking at today reside in the large Materials Sector which is illustrated below. At MM we had reduced our exposure to the influential Resources Sector, which also resides in the Materials Sector, in anticipation of this 10% pullback but now the risk/reward has done an almost about full turn with our preferred scenario being another leg to the upside is close at hand, or at least the majority of the pullback is already behind us – a great read through for the building and construction stocks.

MM is becoming bullish the Materials Sector after its 10% correction.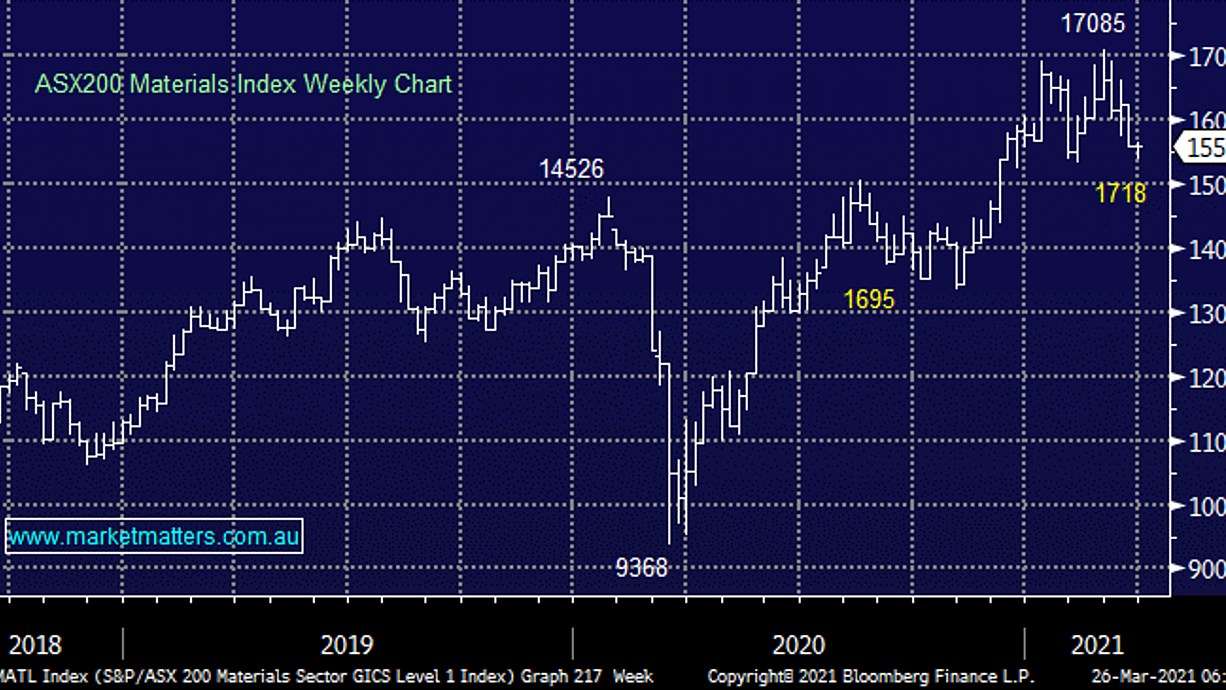 BHP has corrected back to major support which we flagged as likely a few weeks ago, we've illustrated the correction below using the $US ADR chart. From a risk/reward perspective MM now likes BHP which if we are correct will be very supportive of the ASX.

MM is bullish BHP at current levels.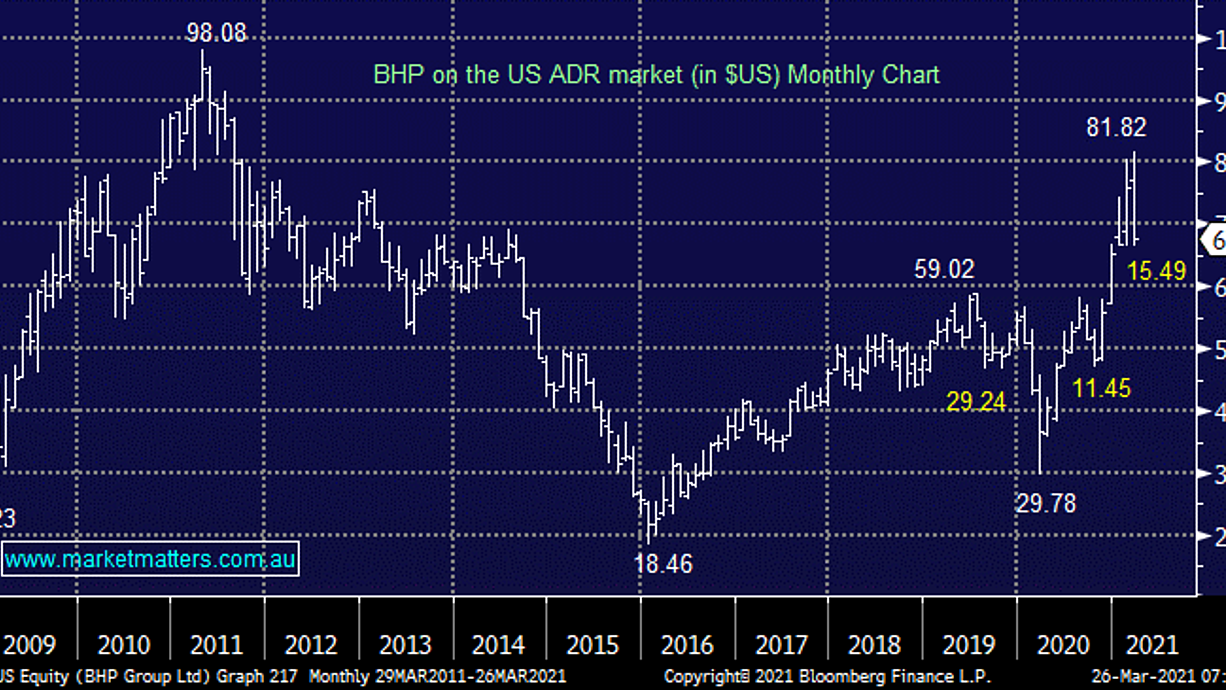 When we cast our eye to the US Building Sector the picture remains very healthy with the Building Products Index shown below up over 100% from its COVID March low. The huge combined tailwind of massive economic stimulus and almost free money provides a bullish outlook for building through 2021.
MM believes the building industry should remain strong through 2021.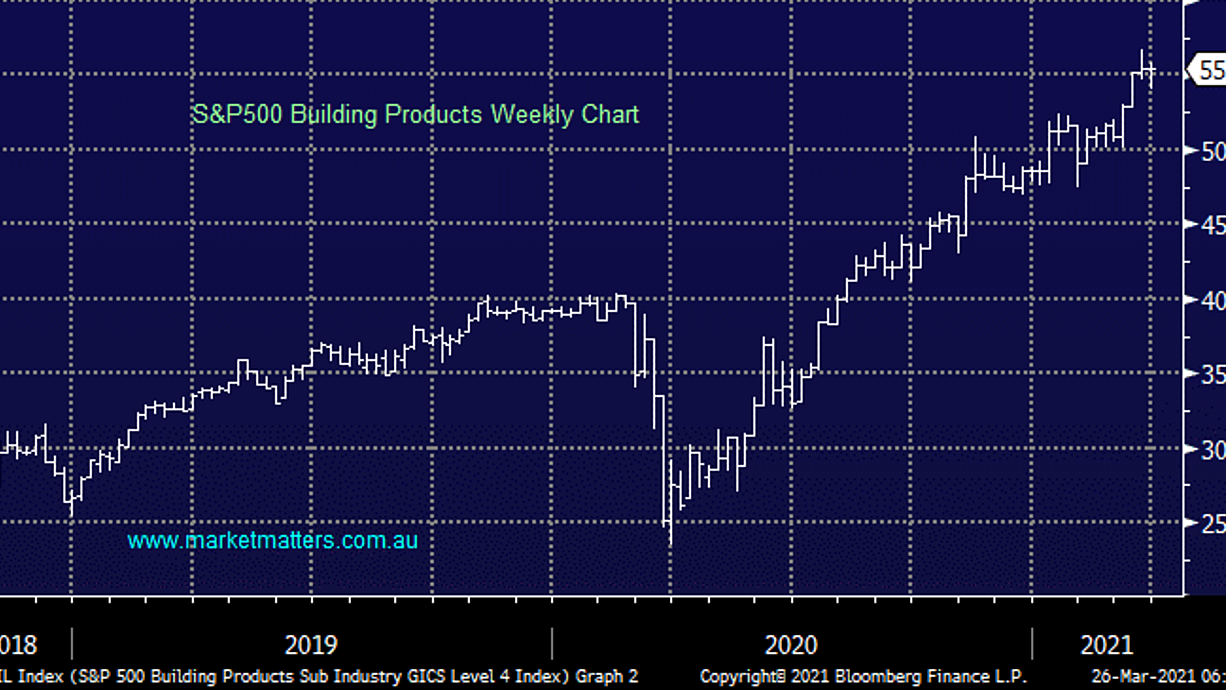 Today I've looked at the 4 best performers in the building sector which as we said dominated the whole market's top performers yesterday.

Adbri Ltd (ABC) $3.39
ABC supplies construction materials such as cement and concrete which we believe should enjoy strength in building through 2021. We like ABC believing it to fairly cheap at current levels plus the forecasted 3.7% fully franked yield over the next 12-months is clearly attractive for investors – after a shocking few years we can see this stock garnering a meaningful recovery bid plus by definition any future pick-up in inflation shouldn't hinder the stock.

MM likes ABC at current levels.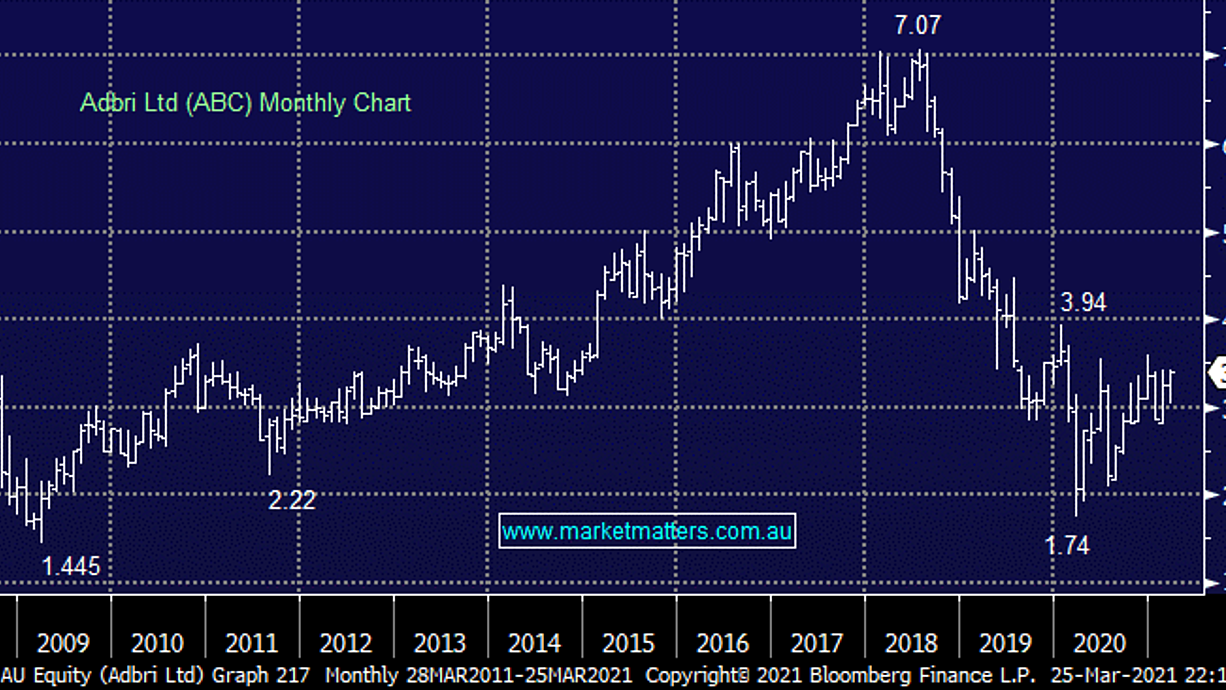 Brickworks (BKW) $19.80
BKW manufactures and sells bricks, pavers and floor tiles, products that clearly enjoy a strong property and construction environment. This has been a solid performer over the last 12-months with a break to fresh all-time highs feeling inevitable in the months ahead. We like BKW but it's not in the cheap bucket although the forecast ~3% fully franked yield is clearly attractive.

MM is bullish BKW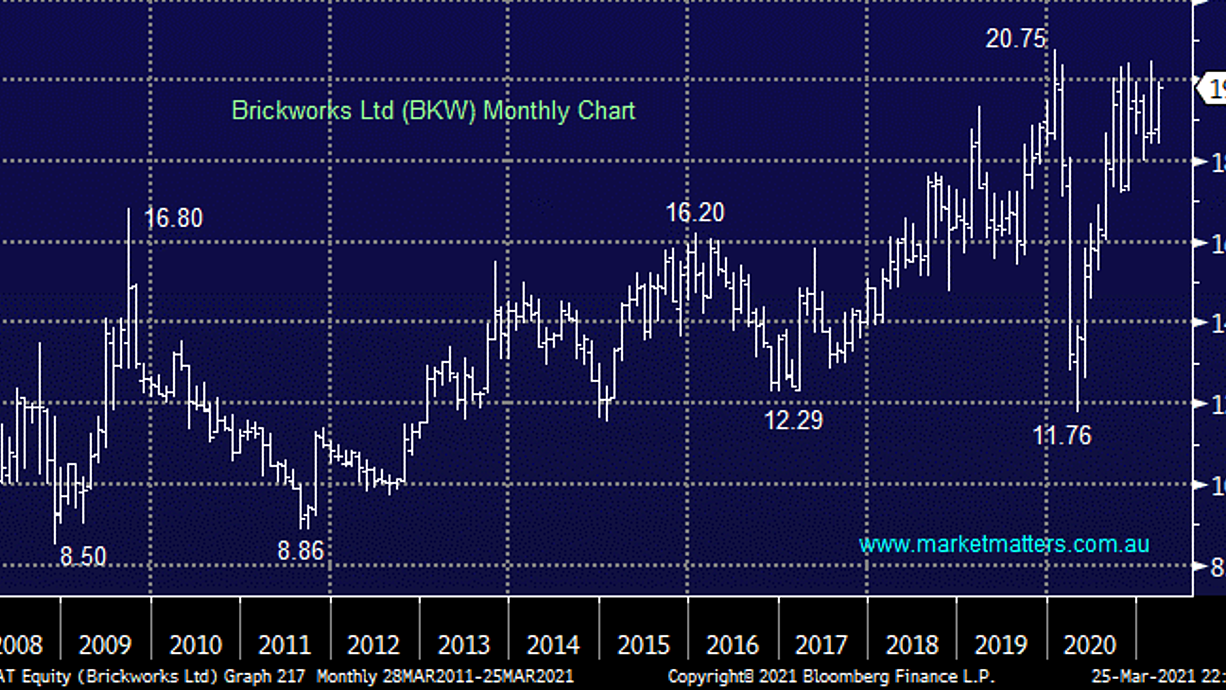 Fletcher Building (FBU) $6.37
FBU is a NZ based manufacturer and seller of building products such as cement, plasterboard and lumber. From a valuation perspective, the stock is cheaper than the Australian names but the dividend yield is not as attractive, we like FBU but the risk/reward looks more appealing under $6.

MM is bullish FBU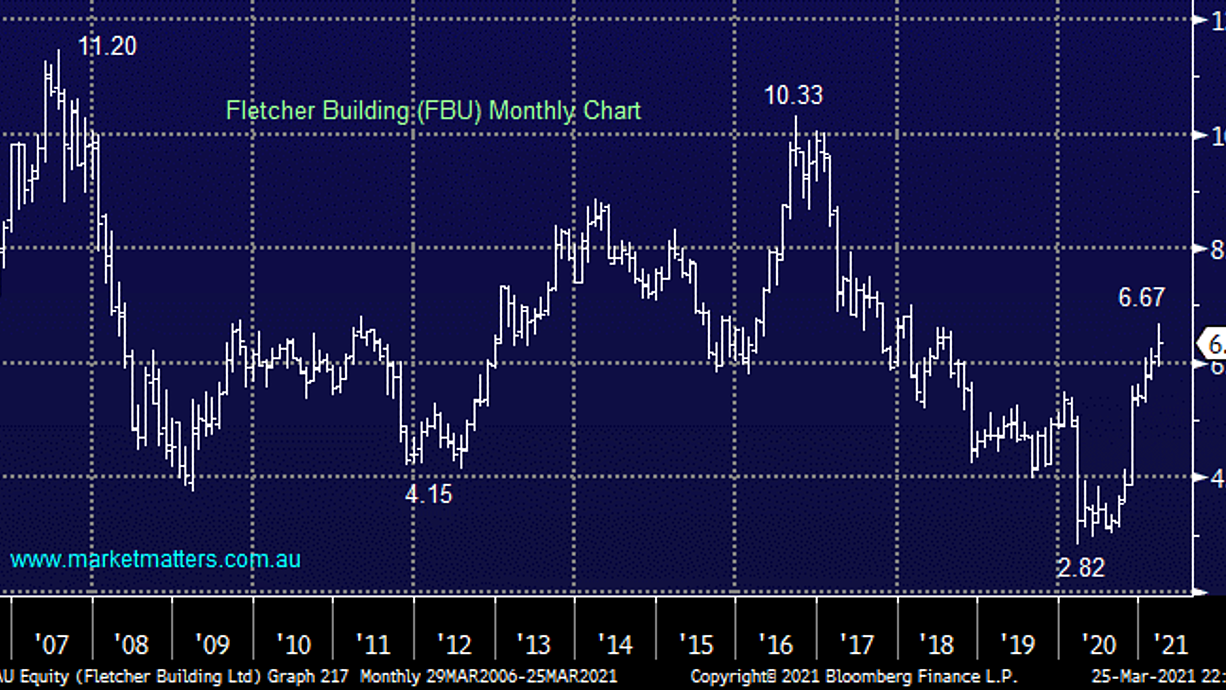 James Hardie (JHX) $38.88
Lastly the sectors top performer JHX which has a substantial exposure to the US market. This is a more expensive growth stock amongst the 4 which is not forecast to return a meaningful yield in the coming years. We are bullish JHX but wouldn't be chasing the stock into strength – sounds like the whole index!

MM is bullish JHX looking for 15-20% upside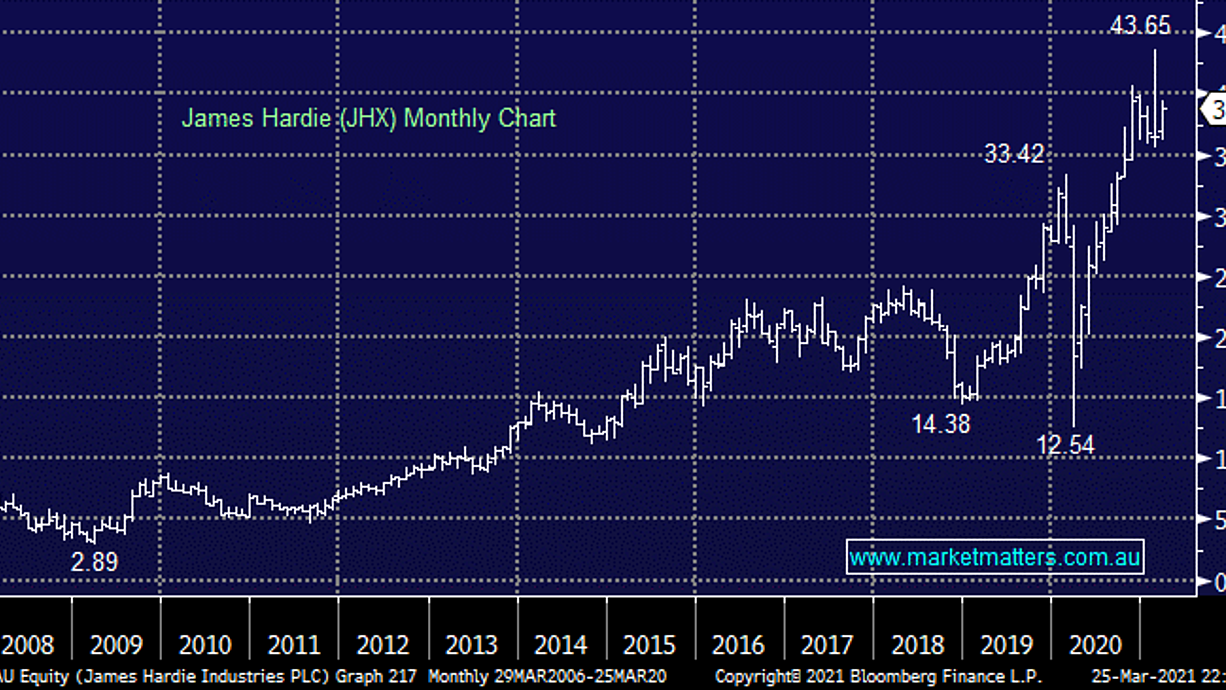 The bottom line
MM likes the building sector initially for a further 15-20% up-side – the 4 stocks looked at today all feel relatively similar.

Make informed investment decisions
At Market Matters, we write a straight-talking, concise, twice daily note about our experiences, the stocks we like, the stocks we don't, the themes that you should be across and the risks as we see them. Click here for your free trial.