Aussie banks prove indestructible
---
In the AFR today I write that Australia's ferocious banking regulator has tried its darndest to blow-up our deposit-takers in the latest iteration of its ultra-aggressive stress-testing regime. The good news for savers, shareholders and creditors is that the Australian Prudential Regulation Authority (APRA) has failed in this effort to blow-up the banks despite it being its toughest-ever trial. Excerpt below:

The stress-test took place immediately following the COVID-19 shock and imposed the harshest assumptions APRA has ever dreamt-up. These included a record jump in the jobless rate to almost 14 per cent, house prices plunging 30 per cent, commercial property values falling an even larger 40 per cent, and two recessions over 2020 and 2021 as the economy suffered from a widespread second COVID-19 wave followed by a more geographically limited third-wave. The economic contraction in 2020 alone was assumed to account for 15 per cent of GDP, more than double what Australia actually experienced.
APRA comments that "the 'severe downside' scenario used in this [stress-test] featured a much sharper and deeper macroeconomic contraction than previous stress tests, reflecting the unprecedented speed and nature of the COVID-19 pandemic". "It also featured a less pronounced recovery, reflecting ongoing uncertainty in both health and economic outcomes domestically and internationally."
In APRA's preceding 2017 and 2019 stress-tests the jobless rate was projected to rise to 11 per cent (compared to almost 14 per cent in this simulation). The ensuing reduction in the banks' first-loss equity reserve buffers in 2017 and 2019 was around 3 to 3.5 percentage points, substantially less than 5 percentage point equity capital loss inflicted by APRA's 2020 test.
And that is a critical point. Notwithstanding cumulative credit losses of $163 billion over the three-years, the banking industry's all-important Common Equity Tier 1 (CET1) capital ratio of 11.6 per cent only shrunk to 6.6 per cent according to APRA.
This is notable for two reasons. First, it is above APRA's minimum CET1 capital requirement of 4.5 per cent. And, secondly, it is higher than the 5.125 per cent threshold at which the banks' hybrid securities are automatically converted into shares. These findings were also true when APRA focussed on the big banks with the median CET1 loss for the four majors sitting around 5 percentage points.
APRA emphasises that this analysis assumes the banks do absolutely nothing to mitigate the crisis: "The outcome from these stress test results is before accounting for any actions banks can deploy in response to stress, which are significant. This would include capital raisings, asset sales, repricing and expense reductions. Together, these steps can substantially offset the impact of credit losses on a bank's capital position."
APRA's characteristic conservatism has been echoed in the federal government's approach to its budget forecasts with Treasurer Josh Frydenberg revealing during the week that the deficit this financial year will be $16 billion smaller than he expected only two months ago as a result of Australia's outperformance during the pandemic.
........
Investment Disclaimer Past performance does not assure future returns. All investments carry risks, including that the value of investments may vary, future returns may differ from past returns, and that your capital is not guaranteed. This information has been prepared by Coolabah Capital Investments Pty Ltd (ACN 153 327 872). It is general information only and is not intended to provide you with financial advice. You should not rely on any information herein in making any investment decisions. To the extent permitted by law, no liability is accepted for any loss or damage as a result of any reliance on this information. The Product Disclosure Statement (PDS) for the funds should be considered before deciding whether to acquire or hold units in it. A PDS for these products can be obtained by visiting www.coolabahcapital.com. Neither Coolabah Capital Investments Pty Ltd, EQT Responsible Entity Services Ltd (ACN 101 103 011), Equity Trustees Ltd (ACN 004 031 298) nor their respective shareholders, directors and associated businesses assume any liability to investors in connection with any investment in the funds, or guarantees the performance of any obligations to investors, the performance of the funds or any particular rate of return. The repayment of capital is not guaranteed. Investments in the funds are not deposits or liabilities of any of the above-mentioned parties, nor of any Authorised Deposit-taking Institution. The funds are subject to investment risks, which could include delays in repayment and/or loss of income and capital invested. Past performance is not an indicator of nor assures any future returns or risks. Coolabah Capital Institutional Investments Pty Ltd holds Australian Financial Services Licence No. 482238 and is an authorised representative #001277030 of EQT Responsible Entity Services Ltd that holds Australian Financial Services Licence No. 223271. Equity Trustees Ltd that holds Australian Financial Services Licence No. 240975. Forward-Looking Disclaimer This presentation contains some forward-looking information. These statements are not guarantees of future performance and undue reliance should not be placed on them. Such forward-looking statements necessarily involve known and unknown risks and uncertainties, which may cause actual performance and financial results in future periods to differ materially from any projections of future performance or result expressed or implied by such forward-looking statements. Although forward-looking statements contained in this presentation are based upon what Coolabah Capital Investments Pty Ltd believes are reasonable assumptions, there can be no assurance that forward-looking statements will prove to be accurate, as actual results and future events could differ materially from those anticipated in such statements. Coolabah Capital Investments Pty Ltd undertakes no obligation to update forward-looking statements if circumstances or management's estimates or opinions should change except as required by applicable securities laws. The reader is cautioned not to place undue reliance on forward-looking statements.
---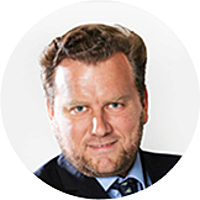 Portfolio Manager & Chief Investment Officer
Coolabah Capital
Chris co-founded Coolabah in 2011, which today runs $7 billion with a team of 33 executives focussed on generating credit alpha from mispricings across fixed-income markets. In 2019, Chris was selected as one of FE fundinfo's Top 10 "Alpha...