Aussie dollar brushes off RBA rate cut
---
Markets started the week on a positive note after the weekend meeting between presidents Trump and Xi. The two leaders reached a truce of sorts in their trade war, with Trump suspending the threat of 25% tariffs on the Chinese imports that are currently tariff-free and Xi pledging increased purchases of US agricultural products.

The US is maintaining the existing 25% tariffs on $250bn of Chinese imports but in a slight surprise, the US will loosen the restrictions on US technology companies' sales to Huawei. This supported equities and the Chinese yuan on Monday. But the Aussie dollar struggled in the countdown to the RBA Board meeting in Darwin on Tuesday.
As it turned out, the RBA cut the cash rate to a record low 1.0%. In the statement and subsequent speech, Governor Lowe reiterated that the rationale for cutting at consecutive meetings was not a deteriorating growth outlook but a desire to drive the unemployment rate lower.
The RBA statement repeated June's final paragraph, with the eye-catching exception of saying further adjustment would occur "if needed". It seems the RBA will make limited changes to its key forecasts in the August quarterly statement. In the meantime, the RBA will no doubt be pleased to see agreement in Canberra this week to pass income tax cuts, so that monetary policy is not the only form of stimulus.
This all points to a period of the cash rate remaining steady at 1%. However, the RBA says it will "continue to monitor developments in the labour market closely" and we expect they will see some higher unemployment in coming months. Our base case is another cut in November, to 0.75%.
But we also expect the Fed to have cut the funds rate 25bp by then, keeping the Australia -US cash rate gap steady. Beyond November, further Fed easing will trim the discount on Australia's cash rate, back to about -1%.
If this is the case, there might not be much more downside for the Australian dollar from yield differentials. The pair is certainly trading as though it has suffered enough for now from RBA easing. As of Friday morning it was around 0.7025, up half a cent since the rate cut.
One source of strength is iron ore exports. The spot price this week rose to US$127 per tonne, a high since 2014. The iron ore rally has helped Australia produce record high trade surpluses, with May's surplus soaring to $5.7bn.
In the week ahead however, FX traders' attention is likely to be mostly on US interest rates. We have important US data including June employment and CPI but the main focus will be Fed chair Powell's semi-annual testimony to Congress. He is likely to welcome the US-China trade truce but will surely remain concerned about the impact of trade tensions on business investment.
There has already been a notable weakening in US manufacturing confidence and inflation remains below target. So Westpac retains its call for 2 Fed rate cuts by year end, but Powell might discourage markets from more aggressive pricing. In particular, pricing of a 30% chance of a 50 basis point rate cut this month seems excessive. If Powell sounds a bit more upbeat, the US dollar should benefit, puncturing the Aussie dollar recovery. 
---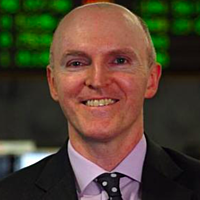 Senior Currency Strategist
Westpac Bank
Sean Callow is Westpac Bank's Senior Currency Strategist, based in Sydney. Sean focuses on the Australian dollar and other G10 and Asian currencies. He has worked in strategy and economics roles in New York, London, Singapore and Melbourne.
Expertise