Aussie fragile despite RBA's steady hand
---
It was a successful week for Westpac's economics teams in Sydney and Auckland as they correctly predicted both the RBA's steady hand and the RBNZ's interest rate cut despite sharply divided market pricing and economists' forecasts. But the fragility of the Australian dollar's rise against the kiwi after the RBNZ decision is a clear sign that the Aussie remains vulnerable despite the RBA's cautious statement.

The RBA's steady hand at 1.5% surprised enough in the market to lift projections of the cash rate well into 2020, with the terminal rate back to around 1.00%. But this means markets are still fully priced for 2 rate cuts, albeit not until May 2020. The first move is now priced by August, as the RBA statement including lower growth and inflation forecasts.
Most importantly, the RBA introduced a policy outlook that, "a further improvement in the labour market was likely to be needed for inflation to be consistent with the target." So it is not enough for the unemployment rate to keep hovering around 5%; it needs to trend lower, otherwise the RBA will cut rates. The monthly jobs report was already in close focus but now will be watched even more closely.
Westpac retains its call for rate cuts in August and November, with the RBA statement reiterating its view that the job market is strong, not a view it is likely to change on one month's data. The RBNZ meanwhile said it cut its cash rate because, "the outlook for employment growth is more subdued and capacity pressure is expected to ease."
Yet the RBNZ now has what it calls "a more balanced outlook for interest rates", with markets pricing only a 40% chance of another cut by the 26 September meeting. So while the RBA and RBNZ now both have their policy interest rates at 1.5%, market pricing is for terminal rates of roughly 1.0% in Australia versus 1.25% in New Zealand.
This meant the Aussie dollar was able to rally only briefly after the RBA meeting, with its fall back under 70 cents reinforced by the deterioration in US-China trade talks. Markets had been increasingly hopeful of an agreement being reached soon but instead President Trump announced a plan to raise existing tariffs on 200 billion dollars of Chinese goods imports from 10% to 25%. He and other US officials accused China of backing out of key agreements at the last minute.
The Aussie dollar has been sensitive to US-China trade relations over the past 12 months so this will remain a focus in the week ahead. The sensitivity remains despite this week's Australian March trade data, which showed another very large surplus.
It is a very important week for Australian domestic data. Along with April NAB business confidence and May Westpac consumer sentiment, markets and indeed the RBA will be closely watching Q1 wages data on Wednesday and then April labour force data on Thursday. Westpac forecasts wages growth to hold at 2.3% over the year, which probably won't concern the RBA too much but it would not be too happy if Westpac's forecasts are correct for a modest 10,000 rise in jobs and an uptick in the unemployment rate to 5.1%. 
---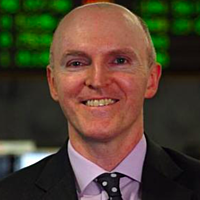 Senior Currency Strategist
Westpac Bank
Sean Callow is Westpac Bank's Senior Currency Strategist, based in Sydney. Sean focuses on the Australian dollar and other G10 and Asian currencies. He has worked in strategy and economics roles in New York, London, Singapore and Melbourne.
Expertise