Aussie house prices rise 3% in 2020 with only one city (Melbourne) suffering price falls
---
Australian house prices continued their gradual rebound from the COVID-19 induced correction with dwelling values across both capital cities and regional markets appreciating by a strong 1.0% in December according to CoreLogic's hedonic indices.
The outperformance of non-metro regional markets remained robust with a 1.6% capital gain in the month of December compared to a still-very-healthy 0.9% price rise for dwellings located in the 8 capital cities.
Over the 12 months of 2020, Australian dwelling values officially increased by about 3.0%. This concealed divergent performance across regional and metro markets: whereas homes in the 8 capital cities could only grind-out a soft 2.0% capital gain, regional dwellings increased in value by a solid 6.9%.
The price rises in December were remarkably consistent across the capital cities at around 1% for the month, which is impressive considering that this tends to be a seasonally-weak month wherein activity dramatically decelerates.
Over 2020, the top performing housing market was Darwin (+9.0%) followed by Canberra (+7.5%), Hobart (+6.1%), Adelaide (+5.9%), Brisbane (+3.6%), and Sydney (+2.7%). 
Notwithstanding all the forecasters predicting large 10%, 15%, 20% or even 30% house price falls post COVID-19, Melbourne (-1.3%) was the only city to suffer a capital loss last year. 
The truly abysmal forecasting performance of analysts in respect of the $7.3 trillion Aussie housing market in 2020 was arguably one of the biggest misses of the year, which extends a long-running trend of private and public sector economists getting the nation's largest asset-class wildly wrong, especially around key turning points (eg, 2008, 2009, 2012-2013, 2017, 2019, and 2020 to name a few recent inflexions). 
Readers might recall that Coolabah had a highly contrarian position in March 2020, projecting only a modest 0% to 5% decline in national dwelling values, which we argued would be superseded by capital gains of at least 10% to 20% commencing in or around September 2020.  
Across Australia, the peak-to-trough loss was just 2.1% according to the latest CoreLogic hedonic index data (capital city homes fell by 2.8%) with the correction coming to an end in September 2020.
Coolabah is forecasting house price growth of 10% to 15% in 2021, a view that many other analysts have slowly come to embrace.
What is not widely understood is just how little net aggregate house price growth there has been since 2017. The enclosed chart highlights the change in dwelling values across different markets since July 2017. Home values in Sydney (-3.88%) and Melbourne (-1.76%) are actually lower today than they were three years ago. This is also generally true across the 8 capital cities (-1.87%) with the biggest laggard being Perth property (-10.2%), which is substantially cheaper than it was in mid 2017.  The flip side of that coin is property in Adelaide (7.79%) and Brisbane (4.91%), which have net increased in value over this period.
It's also interesting to consider the changes in home values since the peak in the market in April 2020. As the chart below shows, dwelling prices across the 8 capital cities are still 1.03% below their high watermark last year. This is driven by Melbourne (-3.80%) and Sydney (-1.61%), which have some reasonable ground to recover just to get parity with their pre-COVID marks.
The next phase of the current housing cycle will likely see the return of investors seeking to capitalise on the unprecedented emergence of "positive gearing" whereby gross rental yields are way above the cost of servicing residential mortgage debt (see the final row of the table below).
Understanding the housing market---and accurately predicting its future trajectory---is hugely important if one wants to have any hope of divining wider economic and hence financial market outcomes. Beyond being the single most valuable household asset, housing is also the banking system's largest exposure. My experience has been that those who get the housing market wrong tend to also misfire when it comes to hitting other macro targets...
........
Investment Disclaimer Past performance does not assure future returns. All investments carry risks, including that the value of investments may vary, future returns may differ from past returns, and that your capital is not guaranteed. This information has been prepared by Coolabah Capital Investments Pty Ltd (ACN 153 327 872). It is general information only and is not intended to provide you with financial advice. You should not rely on any information herein in making any investment decisions. To the extent permitted by law, no liability is accepted for any loss or damage as a result of any reliance on this information. The Product Disclosure Statement (PDS) for the funds should be considered before deciding whether to acquire or hold units in it. A PDS for these products can be obtained by visiting www.coolabahcapital.com. Neither Coolabah Capital Investments Pty Ltd, EQT Responsible Entity Services Ltd (ACN 101 103 011), Equity Trustees Ltd (ACN 004 031 298) nor their respective shareholders, directors and associated businesses assume any liability to investors in connection with any investment in the funds, or guarantees the performance of any obligations to investors, the performance of the funds or any particular rate of return. The repayment of capital is not guaranteed. Investments in the funds are not deposits or liabilities of any of the above-mentioned parties, nor of any Authorised Deposit-taking Institution. The funds are subject to investment risks, which could include delays in repayment and/or loss of income and capital invested. Past performance is not an indicator of nor assures any future returns or risks. Coolabah Capital Institutional Investments Pty Ltd holds Australian Financial Services Licence No. 482238 and is an authorised representative #001277030 of EQT Responsible Entity Services Ltd that holds Australian Financial Services Licence No. 223271. Equity Trustees Ltd that holds Australian Financial Services Licence No. 240975. Forward-Looking Disclaimer This presentation contains some forward-looking information. These statements are not guarantees of future performance and undue reliance should not be placed on them. Such forward-looking statements necessarily involve known and unknown risks and uncertainties, which may cause actual performance and financial results in future periods to differ materially from any projections of future performance or result expressed or implied by such forward-looking statements. Although forward-looking statements contained in this presentation are based upon what Coolabah Capital Investments Pty Ltd believes are reasonable assumptions, there can be no assurance that forward-looking statements will prove to be accurate, as actual results and future events could differ materially from those anticipated in such statements. Coolabah Capital Investments Pty Ltd undertakes no obligation to update forward-looking statements if circumstances or management's estimates or opinions should change except as required by applicable securities laws. The reader is cautioned not to place undue reliance on forward-looking statements.
---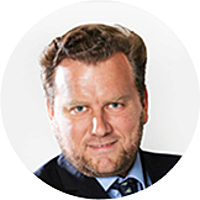 Portfolio Manager & Chief Investment Officer
Coolabah Capital
Chris co-founded Coolabah in 2011, which today runs over $8 billion with a team of 26 executives focussed on generating credit alpha from mispricings across fixed-income markets. In 2019, Chris was selected as one of FE fundinfo's Top 10 "Alpha...