Aussie Housing Fight Night on Sky Business TV
---
Billed as the "property punch-up of the century" by News.com.au, and as "Fight Night" by Sky Business TV, I went head-to-head for 30 heated minutes with mega perma-bear John Adams last night on Peter Switzer's television show. I thought I smashed Adams pretty convincingly, and Switzer appeared to agree in his post-fight analysis, where he concluded:
I think Joye confidently batted off most of John's points and was a better debater...Some might call it a knockout to Chris but I'd make it a points decision by a healthy margin.
You can watch the full battle here:
---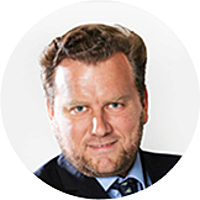 Portfolio Manager & Chief Investment Officer
Coolabah Capital
Chris co-founded Coolabah in 2011, which today runs over $8 billion with a team of 26 executives focussed on generating credit alpha from mispricings across fixed-income markets. In 2019, Chris was selected as one of FE fundinfo's Top 10 "Alpha...