Aussie rebounds with global equities
---
The Aussie dollar had its best week since June, bolstered by equity sentiment linked to US-China trade talks and Hong Kong, while local data was good enough for the RBA. The focus will be mostly offshore in the week ahead.
Australia's data focus this week was GDP. Perhaps the best that can be said for the Q2 national accounts is that the record $20bn trade surplus helped GDP post modest growth.
Indeed it was stunning to see Australia report its first current account surplus since 1975, around 1% of GDP, with the trade surplus a whopping 4% of GDP.
Beyond that though, there wasn't much to cheer. Growth over the year of 1.4% was the weakest since 2009 and slower than population growth. The growth drivers are a concern too, with public consumption spending surging but private demand contracting. Business investment is falling, construction is yet to recover and consumer spending is up just 1.4% over the year.
We can at least hope for better consumption data once the targeted tax cuts reach household bank accounts in Q3. And infrastructure activity should also pick up, as the RBA noted in its statement this week as it held the cash rate steady at 1% as expected. The RBA predicted economic growth would "strengthen gradually to be around trend over the next couple of years."
But this implies no real progress on lowering Australia's unemployment rate and what the RBA terms the "trade and technology disputes" remain a major headwind, even if this week brought a glimmer of hope as the US and China confirmed high level trade talks in Washington in early October.
So when the RBA repeats that it is prepared to "ease monetary policy further if needed", it is surely just a question of exactly when the next rate cut is delivered. Our base case remains October but we can understand why pricing is about 50/50 for an October rate cut but fully priced by November.
The Australian dollar dipped under 67 US cents on Tuesday after the disappointing fall in Australian retail sales in July. But since then, it has rallied to above 68 cents, reaching one month highs.
Lending support were the RBA's steady hand and optimism on growth, the 0.5% rise in Q2 GDP that was at least well ahead of market talk of a flat or even negative outcome and in particular, some unexpected positive news on Hong Kong and the trade war.
The Hong Kong government's formal withdrawal of the extradition bill doesn't mean the end of the protests but it was a positive surprise. This primed markets to a more optimistic outlook when the US and China confirmed trade talks.
The global mood is likely to be key for the Aussie in the week ahead, with the local calendar limited to July housing finance approvals, August NAB business confidence and September Westpac consumer sentiment, which tend not to have a large impact on markets.
Along with the US employment data, Fed commentary and headlines on China and Hong Kong, we will see the latest round of drama on Brexit, where market hope has grown that the UK will be able to avoid crashing out of the European Union on Halloween. And we have a major monetary policy decision on Thursday, when the ECB is expected to loosen policy but there is much debate over how bold they will be.  
---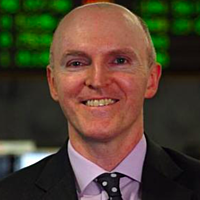 Senior Currency Strategist
Westpac Bank
Sean Callow is Westpac Bank's Senior Currency Strategist, based in Sydney. Sean focuses on the Australian dollar and other G10 and Asian currencies. He has worked in strategy and economics roles in New York, London, Singapore and Melbourne.
Expertise