Australia: Good... but not great
---
In Australia, the outlook remains mixed, labour market and confidence metrics have remained solid early in the year and this is expected to continue. Yet other activity indicators continue to suggest a more modest pick up in growth may be expected with limited price pressures.
The labour market continues to be the standout in the data flow. January's report showed a 'break even' 16,000 person increase in employment, yet was notable for being the sixteenth consecutive increase in this measure – the longest streak of positive outcomes on record.
These data were treated with some caution by markets given the (not uncommon) volatility in the full-time part-time breakdown, the former declining by 49,800 jobs the latter rising 65,000. Nonetheless, overall the report was solid as the participation rate edged lower to 65.6% and the unemployment rate was stable at 5.5%.
Australia: Wage growth and underutilisation Despite solid labour market outcomes spare capacity remains Source: IFM Investors, ABS
Despite strong employment growth through 2017, Q4 wage price data showed little signs of a broad-based pickup in growth. The headline annual growth rate ticked higher to 2.1%yoy prompted by a 0.5% rise in the quarter. But the detail of the data painted a weaker picture as much of the acceleration came from public sector wages that expanded 2.4%yoy through the year. Private sector wages expanded a more modest 1.9%yoy and the Statistician noted that this was supported by an improvement in wages due to a lift from enterprise bargaining agreements that came in to effect in late 2017. It remains the case that wage growth is not as yet being driven higher by market forces and labour force underutilisation in particular suggests there remains significant spare capacity.
Business confidence hit record highs in February and consumer confidence has held on to recent modest gains. Yet the cautious mood of consumers prevailed in December, nominal retail sales data pull back 0.5%mom after an outsized 1.2%mom gain the previous month on the back of iPhone sales and aggressive discounting. This discounting was evident as quarterly retail sales volumes rose 0.9%qoq in Q4 data and was to foreshadow a solid contribution to real GDP growth in the quarter. Consumer caution is also evident in the property market with another monthly decline in median dwelling prices across capital cities. That said rates of housing credit growth have yet to ease materially still expanding at 6.5%yoy, well ahead of incomes. The dwelling construction cycle is also losing momentum, with building approvals trending sideways despite month to month volatility.
In national accounts data for the December quarter economic growth decelerated to 2.4%yoy in Q4 from 2.9%yoy in the previous quarter after a soft 0.4%qoq outcome
Despite a weaker headline the quarterly outcome was impacted by a 0.5pp subtraction from growth from net exports and a resources sector related decline in business investment – both are expected to be temporary pullbacks. Dwelling investment also weighed on growth but is expected to keep doing so for some time to come yet. A positive for not only growth but construction jobs is that public demand, and within that, public infrastructure continues to rebound well.
The surprise in the accounts was the strong outcome on consumer spending that was 1.0%qoq higher in the quarter and 2.9%yoy – the strongest annual growth since mid-2012. This outcome clearly benefited from strong population growth and also, as noted by the Statistician, upward revisions to net tourism spending. Nonetheless, weak wages growth and a running down of the household savings ratio to just 2.7% suggest we should expect a moderation of consumer spending in coming quarters.
The annual rate of GDP growth was just shy of the RBA's forecast of 2½% so there are few if any near term policy implications from these data. Yet through the course of 2018 the RBA expects an uplift in the growth rate to 3¼%yoy – to achieve this sectoral growth drivers will need to align more consistently. Further, the current over-reliance on strong population growth will need to be complemented by improvements in productivity growth that has decelerated in recent quarters.
The RBA left rates on hold at its second Board meeting of the year as broadly expected. Its bias remains unchanged in its press release. However, Governor Lowe made it abundantly clear how the RBA is thinking about the policy outlook in a speech noting that "the Board does not see a strong case for a near term adjustment of monetary policy". This is emphatic but unsurprising given the economic outlook, particularly for inflation. Consequently, market and economist expectations of a rate hike in 2018 continue to fade
---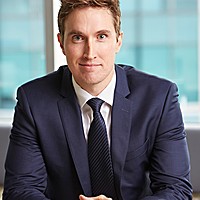 Chief Economist
IFM Investors
Alex is IFM Investors' Chief Economist and has well over a decade of experience in the field. He is responsible for the firm's economic, financial market and policy analysis and forecasting and is also a member of IFM's Investment Committee....
Expertise