Australia's housing boom has not peaked---the bubble will get bigger...
---
After missing the arrival of the housing boom-turned-bubble in 2013, the mindless media are falling over themselves to report the market has "peaked", auction clearance rates are plummeting, and prices are dropping. The hard data suggests this is bollocks. Aussie dwelling values have inflated a healthy 0.5 per cent in the first 24 days of September and by a super-strong 3.7 per cent over the past three months, which is a 15 per cent annual pace...Much-maligned auction markets also remain in rude health. With tighter lending rules and a temporarily frozen Chinese bid (their government is trying to thwart capital flight), capital gains will likely decelerate from their current double-digit pace back to around 3 to 4 times wages growth. Property prices will stay well supported by the cheapest home loan costs borrowers have ever seen, a much lower Aussie dollar that stimulates expat and foreign demand, and the illusion that bricks and mortar, which does not get regularly revalued, is safer than the high-frequency and brain damage-inducing volatility of the sharemarket (and super portfolios overexposed to it). (VIEW LINK)
---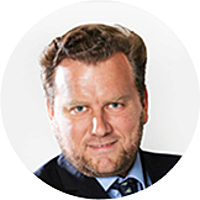 Portfolio Manager & Chief Investment Officer
Coolabah Capital
Chris co-founded Coolabah in 2011, which today runs $7 billion with a team of 33 executives focussed on generating credit alpha from mispricings across fixed-income markets. In 2019, Chris was selected as one of FE fundinfo's Top 10 "Alpha...