Beacon Lighting a standout small cap
---
We don't see small cap stocks as being especially cheap at the moment, however there are some sectors that have been aggressively marked down and appear to offer some opportunities. The retail space for instance, whilst facing a number of headwinds, appears to have been overly punished as the prospect of Amazon arriving in Australia, and a generally weaker consumer, weighs on the space.
The S&P/ASX Small Ordinaries Accumulation Index has underperformed larger cap stocks this fiscal year by around 10%, having outperformed over the previous fiscal year by almost 15%. So you could argue that larger cap stocks have now caught up with the performance of smaller caps.
Small Caps ripe for M&A
The smaller companies space is typically where the cross roads of the capital markets meets entrepreneurialism, and almost all of the M&A and IPO activity occurs in the small cap space. Our view is that we could see a strong revival in M&A activity over the next 6-12 months, which may drive some renewed interest in smaller cap stocks, particularly in areas that have been oversold.
A lot of attributes we find appealing in our investments: good cash flow generation and low gearing for example are also attractive to acquirers. Private equity and foreign corporates are still flush with plenty of capital, have incentives to use the money, and are the likely protagonists in the foray.
Beacon Lighting looks attractive
Many of the stocks that have been sold down have typically had some kind of issue: E.g.: earnings downgrades or a poor outlook statement. The general malaise facing retailers at the moment has also dragged down stocks like Beacon Lighting (ASX:BLX), which has to date not cut market forecasts.
BLX has undoubtedly seen a more subdued consumer, like many of its peers, however it is likely to be able to trade through any downturn more robustly than many of its lighting peers. BLX has a number of high-quality attributes including directly sourcing its own product and a substantial marketing campaign which should see it take further market share for competitors into a downturn.
---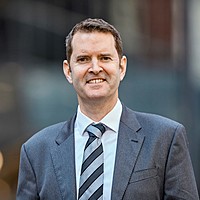 Portfolio Manager
Spheria
Marcus Burns is a portfolio manager at Spheria Asset Management and is a co-founder of the firm. He has managed Australian, European and global equity portfolios out of Australia and London through volatile market cycles for over 20 years. Marcus...
Expertise