Behavioural economics in theory and practice
---
In my 30 years as an analyst and fund manager, I have seen recurring business situations and patterns of behaviour that often lead to mispricing by the market. This attracted me to the idea of behavioural economics, as a validation of some of these insights.
So, like behavioural economists, we are applying the lessons of past outcomes to infer a future outcome in a similar situation. We incorporate these insights into our process where we can.
The theory
Markets often overlook strong signals from company management or boards, in the way they disclose (or avoid disclosing) information, the words they choose, or their actions. We have a whole slide in our fund presentation about recurring patterns of behaviour that can lead to significant mispricings; analyst reputation management, misjudging risk, underestimation of significant change etc.
This is not a substitute for bottom-up business forecasting and stock price valuation, but where we are able to identify a reliable pattern, we can have greater confidence to forecast future business outcomes and the pricing reaction of markets.
However, I think it's hard for everyday investors to apply these lessons to their own investing processes because it's hard for them to be sure they haven't missed something important.
The practice
Sky Television is a stock we shorted but have since closed out. It's a great example of analysts and the market anchoring to its past as New Zealand's incumbent pay TV provider.  It's also a great example of the conservatism of analysts and how slowly they incorporate new pieces of information. This is in direct contrast to the efficient market hypothesis, which states that all new information is instantaneously incorporated by the market into a stock's price. 
Until recently, Sky's subscriber numbers would go up every year, even as it increased its prices.  However, viewing habits are changing, with competition from the likes of YouTube and Netflix meaning that people are watching less traditional TV, particularly younger viewers. The impact is not just on subscriber revenue, but also advertising.  And because of the relatively fixed cost nature of the business, a reversal of revenues reduces its earnings to an even greater extent.
Anchoring and conservatism biases, delayed analysts from including lower numbers in their forecast. Analysts are also generally very reluctant to forecast that a company's revenue or earnings growth will be negative, and so the forecasts hovered in the low positive single digits much longer than justified.
Even now, after Sky's EPS has fallen 17% in calendar 2016, and for 2017 the company is guiding for a similar fall, analyst consensus is for only -3% in 2018 and -1% in 2019.
For further insights from Monash Investors Limited, please visit our website.
---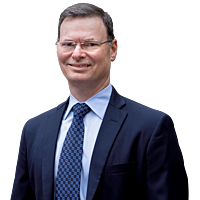 Principal
Monash Investors
Simon has over 30 years experience as an analyst and fund manager. He co-founded Monash Investors in 2012 - a long/short Australian equity manager with an absolute return focus.
Expertise