Behind the stunning rally in Kogan shares
---
Kogan is a stock that we've discussed numerous times on Livewire. In a recent video, I explained why we believed that the market was underestimating the potential for an earnings upgrade. Kogan has since provided a positive earnings update, confirming our thesis. In this note I'll explain what the market was missing and why that created an opportunity. 
Kogan is Australia's largest internet-only retailer, with 1,589,000 customers active in the last 12 months, up 23% from a year ago. As the chart shows, there has been a relentless growth in customers over time.
Source: ASX
It has a growing number of "Verticals." It is not just a retailer of its own private label goods and those of third parties. It also sells for third party retailers on a commission basis through its marketplace service, and it sells services such as mobiles, travel and insurance on a commission basis too.
It continues to add initiatives/verticals such as Kogan Energy Compare (an initial entry into the utilities market), Kogan Cars (to allow customers to secure cars from dealers across Australia) and Kogan First (free shipping for members).
Despite the steady growth in its customer numbers, the Kogan share price has been far from steady. In the last 2 years it's gone from less than $2 to more than $10. As recently as November it was down to $3 again and now 5 months later, it has doubled to over $6. 
Kogan has been a great case study in the stock market over emphasising short term trends, and passing extreme verdicts. A nimble investor that is able to look through such noise and pick sensible entry and exit points, can do well from the volatility.
The most recent rally in the Kogan share price is a recovery from
a badly handled series of sell downs by its founders,
a short term concern for the Australian retail outlook that existed towards the end of 2018,

the impact of changes to the way the Australian government collected GST on overseas sourced purchases, and

short term cycles in the business from mobile phone plan promotions

As a result of all of the above the market had become quite pessimistic on the outlook for its earnings, with analyst consensus forecasting no growth in profit for FY19.
On the other hand, our detailed modelling of the Kogan business led us to forecast that it was very unlikely that the business could possibly have flat earnings, and that there was good reason to believe that despite a weak December half (the six months to December 2018) its FY19 growth should be back on track.
In particular, the pattern of its mobile phone plan promotions gave us cause for optimism. Despite a steady rise in customers, the growth in Kogan mobile phone gross profit typically appears to stall on a quarter-by-quarter basis every second quarter. See the Kogan mobile charts below.
Normally this has little impact on the overall business because of strong growth in other Verticals. But for the final quarter of Calendar 2019 there was no offsetting growth because of the changed GST rules washing through.
Now, the reason why we see this pattern in the mobile phone gross profit is because Kogan alternates between promoting short term plans (30-90 day plans) and long term plans (365 day plans). It may well sell the same number of plans each time, but it makes a lot more money in a quarter where it sells a 365 day plan, than when it sells a 90 day plan.
This is because the plans are paid for by customers in advance and Kogan gets paid its commission when the customer pays. The commission Kogan makes on a 365 day plan is much greater than the commission that it gets paid for selling a single 90 day plan. It is true that Kogan will also get paid additional commission if the plan is renewed, but that is revenue it earns over time, not in the quarter when the initial plan is sold. This gives rise to the gross profit pattern seen in the chart.
As a result of the resumption of the 365 day promotions in the New Year, the result to 31 March 2019 was much stronger. Overall for Kogan, 9 month EBITDA was 15% higher than the prior corresponding period. This led to consensus earnings increasing by about 20%. This flowed on to an exaggerated move in the share price which benefitted not just from the earnings upgrades, but from a re-rating. Over the month the stock price jumped 58%.
Based on our analysis, the portfolio was well positioned for this positive surprise, with a 5% portfolio weight heading into the quarterly sales announcement. The Fund has since reduced its holdings somewhat.
Access the latest Pre-IPO and Microcap ideas
 invest in a small number of compelling stocks that offer considerable upside and short expensive stocks that are at risk of falling. Want to learn more? Hit the 'contact' button to get in touch or visit our website for further information.
---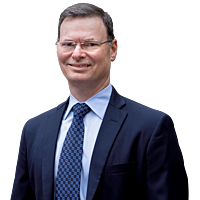 Principal
Monash Investors
Simon has over 30 years experience as an analyst and fund manager. He co-founded Monash Investors in 2012 - a long/short Australian equity manager with an absolute return focus.
Expertise