Boral and its peers in the US
---
The Numbers and The Valuation
Headwaters might be a good business and a good strategic fit but how does it compare with its industry peers? 
We are not drawing a definitive valuation simply pointing out where Headwaters fits amongst its peers.
The US stocks of similar market cap size we have selected are:
Trex
Eagle Materials
Summit
Book Value 
Headwaters trades at six times book and produces a return on equity of 30 percent. Dividing 30 percent by 6 produces a yield of 5 percent.
Trex - 2.6 percent
Eagle - 3.4 percent
Summit - 5.25 percent
Vulcan Materials which is five times the size of Headwaters produces 1.75 percent no doubt reflecting its front-runner position.
Ratio analysis
[BLD.PNG]
Industry
The concretes, and cement sector is up from 102 to 82 out of 197 in the latest week. Miscellaneous building supplies are up from 78 to 71.
We focus on the top industry sectors for our general investment analysis. These industry ratings automatically disqualify us from investing except for a special situation.
Relative Strength
In the past 12 months, the share price for these companies has appreciated by the following amounts:
Trex - 65 %
Eagle - 37%
Headwaters - 21%
Summit - 8%
Earnings growth
Eagle, Headwaters, and Trex are in the top ten percent of earnings growth. Summit is in the top 30 percent.
Louisiana Pacific which was losing money until 2015 trades at 29 times earnings and three times book.
Owens Corning at $6 Billion returns 8 percent on equity and trades at 1.6 times book for a yield of about five per cent.
And for those addicted to franked dividends they are AS important a consideration in US valuations.
Analyst Recommendations
There were eight analysts following Headwaters before the bid.. no sells all buys or outperform. All analysts following Headwaters now have it on a hold.
Conclusion
It does not look like Headwaters is expensive in comparison with its peer group. There is execution risk and risk for the industry itself which although looking better is still not yet in the top ten .. far from it.
There is a break fee for Boral if the deal, which has been unanimously recommended, does not go through - and a few lawyers sniffing around looking for a better price for Headwaters.
---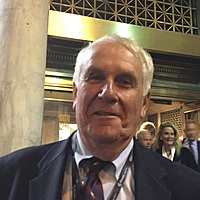 Independent Investment Research
Over 30 years in Australia, South Africa, London and the United States John Kimber has worked in investment research, advisory, and corporate finance at Prudential Securities, BT Alex Brown and Ord Minnett. He completed his series seven...
Expertise
No areas of expertise