Brinsden goes again, putting his renewable rocket up Canadian lithium hopeful
---
And it's not just lithium that's hot. With mineral sands prices booming due to a supply crunch, Strandline is set to make a blockbuster start to production at any moment. So is Iluka looking over the fence?
ASX lithium stocks have rebounded massively from their smashed levels of mid-June when they were dragged down by the general market sell-off.
The rebound is recognition that lithium prices have been largely untouched by the broader commodity weakness that accompanied the equity markets sell-off.
And to prove that point, the ASX-listed producers have been landing bumper profit reports, with the promise of more to come given lithium prices are now well ahead of the average prices received in the June year.
Investor enthusiasm has spread to the lithium explorers, none more so than the Toronto-listed Patriot Battery Metals Inc (TSX-V:PMET) which is in the process of making its way Down Under with a dual-listing on the ASX.
Talk about hotter than hot, Patriot has rocketed from C50c at the start of the year to $C5.86, making it a classic 10-bagger that investors in the junior space dream about.
It is not a junior anymore as it now sports a market cap of $C748 million (fully diluted). What's more, it has just secured the services of former Pilbara Minerals managing director Ken Brinsden as a non-executive director and chairman.
A couple of geologists, Neil Biddle and John Young, first put Pilbara on the map with the discovery of the world-class Pilgangoora lithium project, and it was mining engineer Brinsden that brought home its development over the last six years to make Pilbara the $10.3 billion company it is today.
Brinsden moved on from Pilbara a month ago, and originally at least, he intended to spend more time with the family, more time windsurfing, and more time polishing up the Tesla.
But like others in the world of lithium, Brinsden has been aware for some time that Patriot was on to something special at its Corvette project in the James Bay Region of Québec. There was a buzz around the story at Diggers & Dealers earlier this month.
It is an evolving exploration story but drill intercepts of 1.22% lithium over 150m on part of what is considered to be a 50km trend has certainly got the interest up in Corvette.
"There is so much to like about the Corvette property, with work to-date demonstrating both local and regional potential for a large-scale project ideally placed within the emerging North American lithium raw materials supply chain," Brinsden said of his Patriot appointment.
Because it was Brinsden making the call, there was a new wave of buying in the stock following his Patriot appointment (Aussie mining investors Tolga Kumova and Evan Cranston were on the scene earlier as shareholders).
In the two trading days after Brinsden's appointment, Patriot stock put on 34%.
James Bay is a hydro-intensive part of the world so the prospect of any lithium it produces being of the "green" type is going to be a plus, particularly now President Biden's green plan envisages Canada sending lots of lithium and other critical metals to US industry.
That goes double for the US and European auto industries which currently have next to nothing in indigenous raw materials supply chains for their momentous shift to electric vehicles. They are relying on countries like Australia and Canada to fill the void.
Mineral Sands 
The ASX mineral sands space has also been shrugging off the effects of the broader equity market sell-off for the very good reason that prices/demand for the underlying commodities of zircon and rutile have been super strong.
Mineral sands heavyweight Iluka (ILU) put some colour on that during the week by disclosing that prices - in what is an opaque market - had risen in the June half from $US1,321/t in the previous corresponding to $US1,855/t for zircon, and from $US1,224/t to $US1,506/t for rutile.
It was why Iluka's mineral sands EBITDA surged 69% to $505m. Not quite in the league of the lithium producers but impressive stuff nevertheless against a backdrop of global economic uncertainty.
It goes to the "scarcity" in supplies Iluka pointed to, with the war in Ukraine and "challenges" in the South African industry piling on the pressure.
The global energy crunch is a concern but the prospect of a widening supply gap because of the rundown of existing mines and a lack of investment in new mines is an over-riding issue. It is a scenario that has been talked about for years but which is now clearly in the making.
As Iluka put it, supply-side dynamics remain the dominant feature of the mineral sands market.
Strandline
It is against that backdrop that mineral sands developer Strandline (STA) is tantalisingly close to first production from its Coburn project, 250km north of Geraldton in WA.
The stock was last mentioned here on June 10 when it was trading at 35c and it has since moved up to 42c.
Strandline's managing director Luke Graham heads off from Perth to Sydney next week to present at the Sydney Mining Club and to meet up with up with investors.
No one likes to travel that far without being a bearer of good news. So if Graham has got some to pass on, next week is the go.
Graham was a first time (and only mineral sands) presenter at D & D where he talked about the potential for Coburn to get away its first shipment of heavy mineral concentrate (zircon, titanium and the rare earth monazite) before Christmas, with finished product from a mineral separation plant to follow.
"If we are ahead of schedule, as we are planning, we might even sell two, possibly three shipments. Each shipment, assuming it is about 10,000t, is worth about $10m in this market," Graham told D & D.
"Right now the mineral sands market is booming. There is a real supply deficit," he said, presaging Iluka's comments during the week.
"Mineral sands has got a fantastic macro and prices are 35-40% above what was assumed in the definitive feasibility study (for the Coburn development) two years ago. So it is fantastic timing for Strandline."
Take the annual EBITDA forecast in the DFS of $104m, and apply the 35-40% higher prices, and out pops potential annual EBITDA of $150-$160m. That's interesting for a company with a $520m market cap.
That is particularly so when Coburn's strategic appeal in a market facing scarcity of supply is taken into account.
Ignoring its expansion potential, Coburn will account for 5% of the global zircon market and 10% of the chloride ilmenite (titanium).
Graham noted at D & D that while the company had yet to put a tonne of product on the ground, it was already being asked by its offtakers about Coburn being expanded. "There is a real shortage and there are concerns over sovereign risk in Africa, particularly in South Africa and Mozambique," he said.
Coburn's strategic importance extends further into the corporate sphere as Strandline's trucks will drive past Iluka's mineral separation plant at Geraldton on their way to a storage shed at Geraldton port, adjacent to Iluka's storage facilities.
That's not a tip that Iluka is eyeing off Strandline, just an observation.
Never miss an insight
Enjoy this wire? Hit the 'like' button to let us know. Stay up to date with content like this by hitting the 'follow' button below and you'll be notified every time we post a wire.
Not already a Livewire member? Sign up today to get free access to investment ideas and strategies from Australia's leading investors.   
---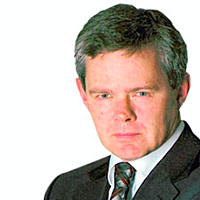 Principal
Independent Journalist
One of Australia's leading business journalists, Barry FitzGerald, highlights the issues, opportunities and challenges for small and mid-cap resources stocks, and most recently penned his column for The Australian newspaper.
Expertise