Building a career, a business & investing in today's world: Paul Moore Founder, Chair & CIO of PM Capital
---
This episode we are so fortunate to have as our special guest on the show veteran Fund Manager Mr Paul Moore, the Founder, Chair and Chief Investment Officer of PM Capital based in Sydney.

Paul began his investment management career in 1985, approaching some 40 years ago and he has seen a lot over this time as you could imagine in building out what has been a very successful funds management and business career.
We cover off on Paul's upbringing in Melbourne and Sydney, his love of AFL - Australian Football League, how he came to become an Investment Management professional and how he arrived at his first investment management role at such a young age with Bankers Trust Australia which was so formative to his future pathway. We discuss family, starting his own business PM Capital in 1998 and the challenges of doing this at the height of the Tech boom of the late 90s. We look at investing through crises and significant market moments, and then drill down on the challenges of present day investing including inflation, interest rates, Russia, labour supply, supply chain constraints, electrical vehicles and the future facing battery metals, oil, gold and the potential outlook for the stock market with this all in mind. Paul is also a former Board member of the GWS Giants and he gives us an insight into the challenges of football in NSW.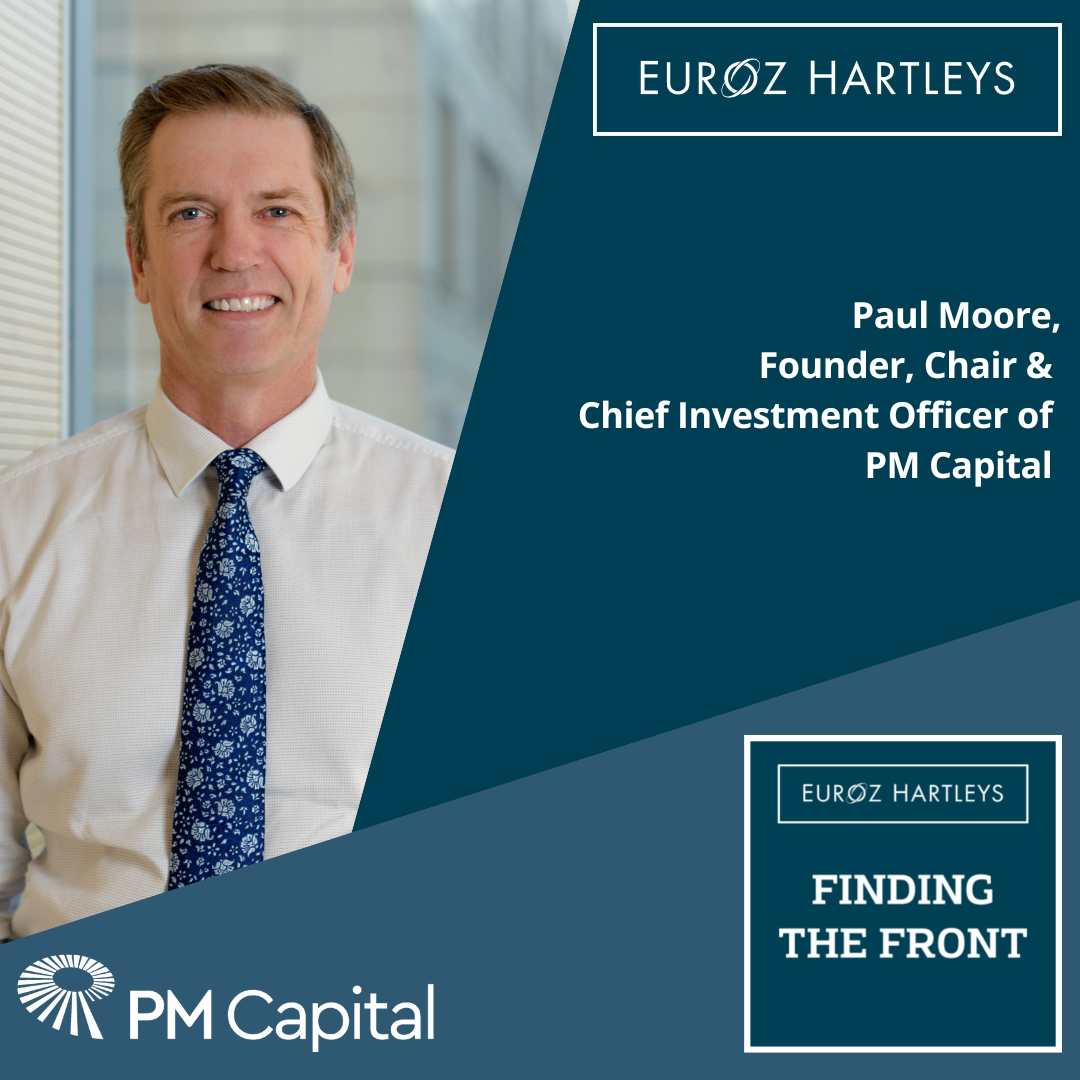 For more information visit the Euroz Hartleys website.

........
Disclaimer & Disclosure Euroz Hartleys Limited ('Euroz Hartleys') is the holder of an Australian Financial Services Licence (AFSL 230052) issued by the Australian Securities and Investments Commission ("ASIC") and is a participant of the Australian Securities Exchange Group ("ASX Group"), Cboe Australia Pty Ltd (Cboe) and the National Stock Exchange (NSX). Euroz Hartleys and its associates declare that they deal in securities as part of their securities business and consequently may have a relevant interest in the securities participating in the Euroz Hartleys "Finding the Front" Podcast interviews. This may include providing equity capital market services to their issuing company, hold a position in the securities, acting as principal or agent, or make a market therein. Euroz Hartleys declares that it may have acted as an underwriter, arranger, co-arranger or adviser in equity capital raisings, and will have received a fee for its services, for some of the companies that have participated in the Euroz Hartleys "Finding the Front" podcast during the last 12 months. The Euroz Hartleys "Finding the Front" Podcast is general information only. Nothing in the Euroz Hartleys "Finding the Front" Podcast shall be construed as a solicitation to buy or sell a security, or to engage in or refrain from engaging in any transaction. The general advice warning applies in any case that all investors, before making any investment decisions, they should consult their qualified, licensed investment or financial adviser in order to ascertain whether the investment decision (if any) is appropriate, having regard to their investment objectives, financial situation and particular needs. Euroz Hartleys believes that the information contained and discussed within the Euroz Hartleys "Finding the Front" Podcast is correct at the time of compilation, however we make no representation or warranty that it is accurate, complete, reliable or up to date, nor do we accept any obligation to correct or update the opinions in it. The opinions expressed are subject to change without notice. No member of Euroz Hartleys accepts any liability whatsoever for any direct, indirect, consequential or other loss arising from any use of this material. We cannot guarantee that the integrity of this communication has been maintained, is free from errors, virus interception or interference.