Buy Hold Sell: 6 stocks supercharging their dividends in 2022
---
Aussie investors love a big dividend, and with markets taking a tumble, those dividends look super precious. The good news is that the ASX is flush with dividend opportunities after 2021 saw a record $87 billion paid to investors*. The ASX is now home to the #1 dividend-paying stock globally, and three Aussie shares feature in the top 10 dividend-paying stocks (see table below).
So, with growth on the nose, we turned to Blake Henricks from Firetrail and Michelle Lopez from abrdn for their views on four stocks that have supercharged their payouts. Our two guests also share their top dividend picks.
Click on the player below to watch the latest episode of Buy Hold Sell, brought to you by Livewire.

P.S. For all of you market wizards, Blake has thrown down a challenge to test your skills (see 1:33 – let us know in the comments).
Note: This episode of Buy Hold Sell was shot on Tuesday 1 March 2022. You can watch the video, listen to the podcast or read an edited transcript below.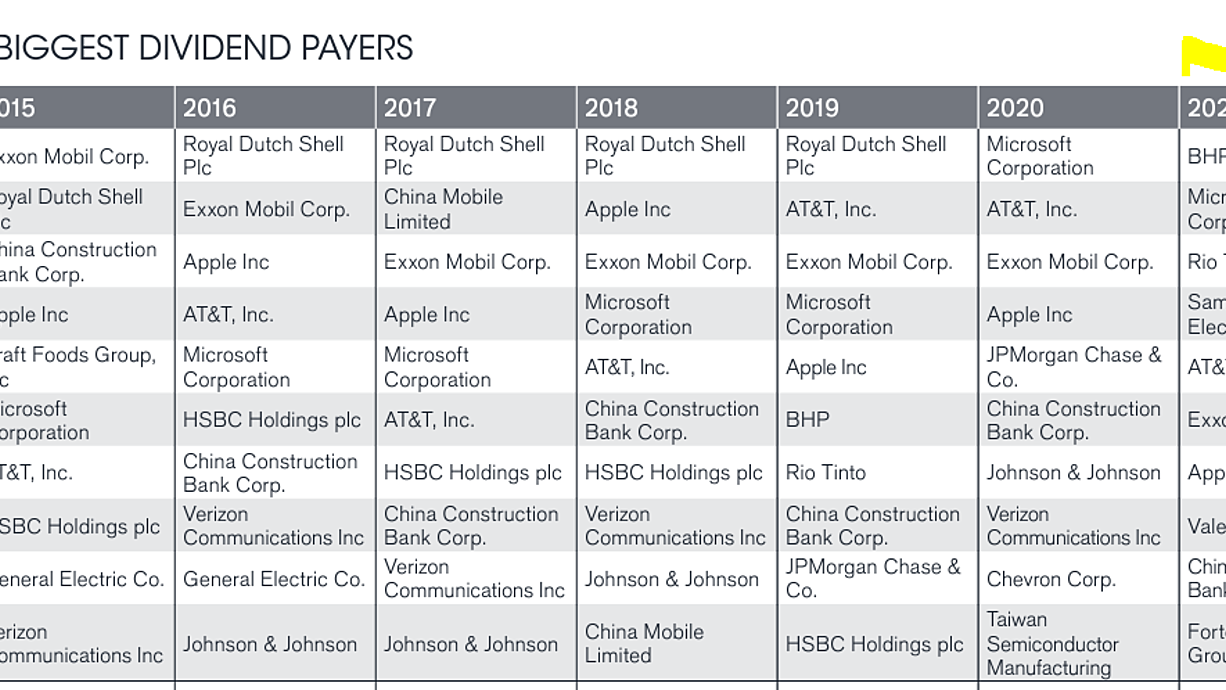 *(Source: Janus Henderson Investors)

Note: This transcript has been edited for length and clarity. 
Matthew Kidman: Welcome to Buy Hold Sell, brought to you by Livewire Markets. My name is Matthew Kidman, and today we're going to wind back the clock and talk about dividends. Yes. Remember that? That's what we used to search for in companies before growth became the dominant theme. 
Now it's back to dividends. And to talk about that, we've got Blake Henricks from Firetrail and Michelle Lopez abrdn.

Michelle, let's start with you. The big Australian BHP, I looked at it, $2.10, 9% running yield. That's not a dividend, that's alpha. Buy, hold, or sell?
BHP Group (ASX: BHP)
Michelle Lopez: (BUY) It's a buy for us. And, yes, it's got to 9% and even a 6% yield going forward as commodity prices come back a little bit, which is our expectation. But, clearly, we've got a very constructive outlook from a demand perspective. 
We've got China, expectations of stimulus coming through. We're starting to see the property market over there pick up again, and infrastructure.
So I think the near term is very well supported from a cash flow perspective, and from valuation perspective, it's trading close to its NAV. So it's a buy.
Matthew Kidman: BHP, well, you've got to own it if you own the index here. It's that big these days, but the dividend was terrific. Buy, hold, or sell, Blake?
Blake Henricks (HOLD): It's a hold. So that 9% running yield, I agree with Michelle, if you run iron ore down into closer to 70, you start looking at a 6% dividend yield. But it's net cash, huge amounts of assets, what's not to like? 
I'll tell you what, there are some better opportunities out there in resource land and I would challenge viewers to find a commodity company that has debt at the moment because they are making more money than they know what to do with.
Smartgroup Corporation (ASX: SIQ)
Matthew Kidman: It's been a bit on the nose recently, but Smartgroup, good result. People liked it. A big dividend. Buy, hold, or sell?
Blake Henricks (HOLD): It's a hold for me. It's just pretty boring. I mean, hey, the industry grows at 2% to 3% to 4%. They're doing their thing. I mean, you look at the margins, they haven't changed for five years. The EBITDA really hasn't changed for five years. It is what it is.
Matthew Kidman: Not bad for a half-year result and you're getting an over 5% yield. Smartgroup, buy, hold, or sell?
Michelle Lopez (HOLD): Well, I'm with Blake on this. It's a hold. And, again, I can't get excited. It is what it is. It's on 15 times. It's paying a 6% dividend yield, if that's what you're after. And to be fair, they've done a very decent job in getting through the challenges of the last couple of years of disruption of vehicle supply, and the outlook's okay. But also, in the back of my mind, I've got this regulatory risk overhang.
Matthew Kidman: Still.
Michelle Lopez: Still. So I know there's bipartisan support for the industry. However, that still lingers for me, so it's a hold.
Cochlear (ASX: COH)
Matthew Kidman: Never thought I'd be saying this, Cochlear, one of the great growth stories of Australia, not a bad yield. Buy, hold, or sell?
Michelle Lopez (BUY): It's a buy. So I agree with you. It's not often I talk to Cochlear as a dividend stock. It isn't a high yielding stock, but what it is, is it's a growth yield and a growth dividend.


This is a company that is spinning off a lot of cash. They're unwinding their CapEx programme. They're at the tail end of that so the free cash flow that they're spinning off is very high. They've got 500 million of net cash on their balance sheet. 
So I think there's further growth in the dividend, but importantly, operationally, they're just executing well. They're super consistent in what they do. They've got a really clear strategy and invest for the future for growth. So ... that runway of growth, whether it's earnings or whether it's dividends, is very clear. So it's a buy.
Matthew Kidman: I like that, growth yield. It's been tough for Cochlear. A couple of years, hospitals closed around the world. Things are opening up. Buy, hold, or sell?
Blake Henricks (HOLD): I think it's a hold, but I think if you're buying it for a dividend, I had a look online and I actually got a three-year term deposit quote from Judo Bank at 1.55%. So that beats Cochlear's 1.5 and 1.5's too. 
So I think, for a dividend, it's a sell. But the market's growing. Their holding share in the U.S., growing a bit in Europe. It's fine, but I'm not buying it for dividends.
Jumbo Interactive (ASX: JIN)
Matthew Kidman: Okay. Lotteries online, we've all had a bit of a taste recently. We had the jackpot, 120 million. Jumbo Interactive, buy, hold, or sell?
Blake Henricks (SELL): Yeah, Jumbo's a sell. We love the migration from in-person to online lotteries. The current penetration is 36%, but we just think the better way to play is Tabcorp. So it's a sell.
Matthew Kidman: Michelle, Tabcorp (ASX: TAH) they've handed the keys over to Jumbo in recent years for that online. Buy, hold, or sell?
Michelle Lopez (HOLD): It's a hold, and it's a hold because at this point they are pivoting the business somewhat. They've got that really neat domestic lottery business, but they've also got the SaaS over in North America and the U.K., and just need to see more operating leverage come through from this business. And from a yield perspective, again, they've actually cut their payout ratio. 
So when they did the last acquisition recently, the payout ratio got reduced. It's now a range of 65% to 85%. And that actually meant that the distribution went backwards. So, from a yield perspective, I think there's better options elsewhere.
Matthew Kidman: Okay, good segue. What is that better option? Give us one stock that did a great dividend that we mightn't have seen.
Spark New Zealand (ASX: SPK)
Michelle Lopez (BUY): The one that always gets missed I find is Spark. So Spark New Zealand is the incumbent telco over in New Zealand and similar to Telstra here. 
But when you think about operationally, they delivered an exceptionally strong result. Their mobile division in particular doing really well. They're paying a 5.5% dividend yield. Telstra's (ASX: TLS) on four. They've got an under-levered balance sheet, which means they can carry on investing and pay out a dividend. 
And then they're looking to monetize their infrastructure assets like Telstra did last year. So we could be coming into a nice pot of cash and further capital management.
I think that's one that's got a very consistent dividend. It's got growth within the dividend, given the cash flow that it's spinning off, the free cash flow, and you could get some capital management in the coming 12, 18 months.
Matthew Kidman: Hard to beat Spark. Got something, Blake?
BlueScope Steel (ASX: BSL)
Blake Henricks (BUY): Oh, well, I've taken a bit of a different tack on this one. I've got BlueScope and the dividend was okay, but they made 700 million of underlying free cash flow in the first half. And they were returning 700 million through a bigger buyback. So they've now got $1 billion buyback underway at the moment.
Matthew Kidman: They're showing off, aren't they?
Blake Henricks: They are showing off. I mean, it's been in rude health because steel margins were so high. We actually think some of those margins have retraced, but demand actually is pretty good for steel. We can't decarbonize without steel. And, on the supply side, particularly in the U.S., you're seeing very rational capacity shuts. So we really like it. Buy.
Matthew Kidman: So you want to give your portfolio a bit of Spark, look for those yields because they're going to make it a lot better for you. If you like the show, give it a thumbs up. And why don't you go out and you can watch it again by signing up to the Livewire YouTube channel?
---
Can't get enough of Buy Hold Sell?

Give this wire a like if you've enjoyed the discussion and hit follow to be notified when new episodes are released.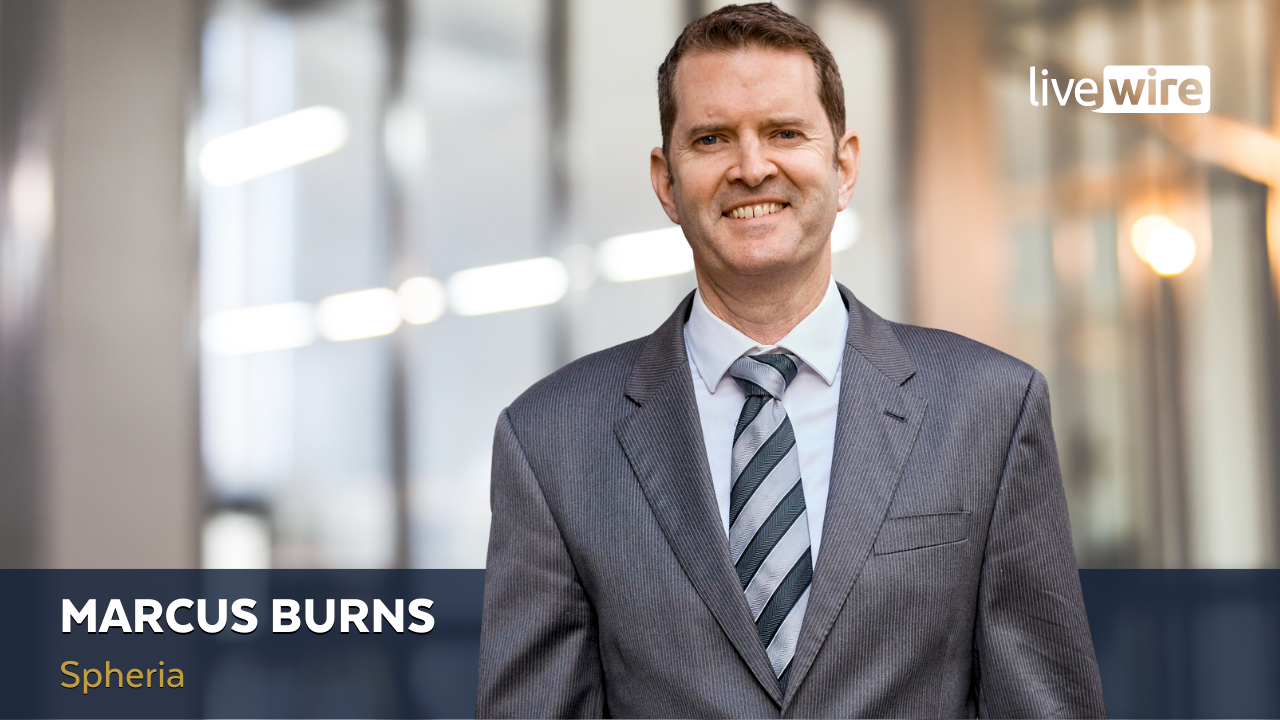 Equities
Three microcaps to beat the macro blues
........
Livewire gives readers access to information and educational content provided by financial services professionals and companies ("Livewire Contributors"). Livewire does not operate under an Australian financial services licence and relies on the exemption available under section 911A(2)(eb) of the Corporations Act 2001 (Cth) in respect of any advice given. Any advice on this site is general in nature and does not take into consideration your objectives, financial situation or needs. Before making a decision please consider these and any relevant Product Disclosure Statement. Livewire has commercial relationships with some Livewire Contributors.